David Cameron brands Jeremy Corbyn a 'terrorist sympathiser' for opposing Syria air strikes
Labour has called for the Prime Minister to apologise for the 'desperate slur', which came on the eve of Wednesday's crucial Commons vote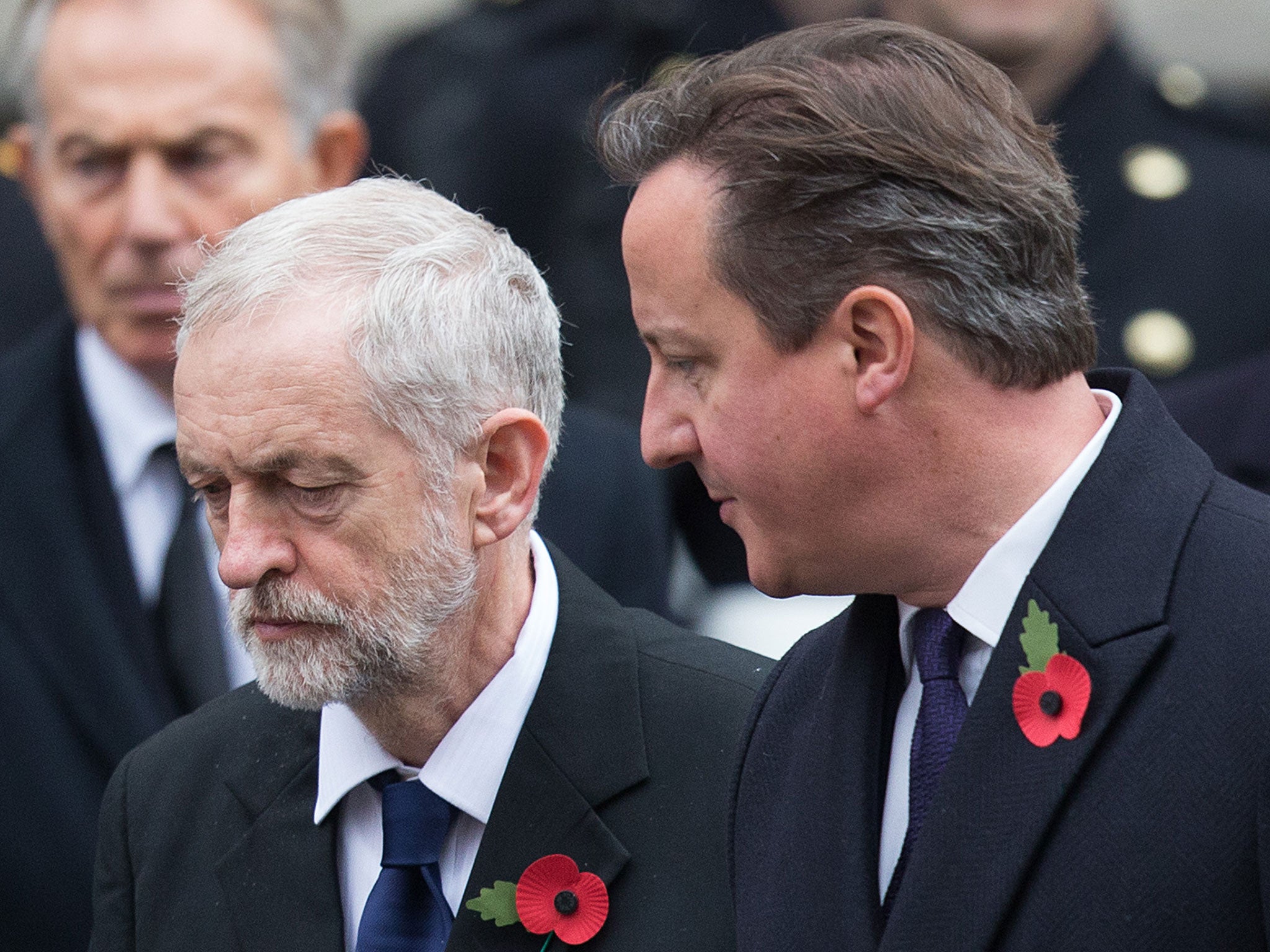 David Cameron has been accused of resorting to a "desperate slur" in the debate on Syria air strikes, after he described Jeremy Corbyn and other opponents of action as "terrorist sympathisers".
The Opposition leader's office has hit out angrily after the Prime Minister's comments, made during a private meeting of Tory MPs the evening before Wednesday's crucial debate and vote on whether Britain will go to war in Syria.
Addressing the influential 1922 Committee, Mr Cameron was reported to have urged them to vote in favour of strikes, saying he needed all Conservatives on side to ensure a majority in the Commons.
And according to MPs who were present, he told them: "You should not be walking through the lobbies with Jeremy Corbyn and a bunch of terrorist sympathisers."
Cameron agrees Syria question
John Baron, an ex-army Tory MP and Foreign Affairs Committee member who is vocally opposed to action, criticised his own leader when asked on BBC's Newsnight how he felt about being described as a "terrorist sympathiser".
"I was a platoon commander in Northern Ireland and I do think we must not resort to such language," he said.
"Instead we should look at the actual evidence before us. There is clearly a lack of ground force to take Daesh on and that is one of the key issues we have got to address."
In pictures: Syria air strikes (2014)
Show all 20
Labour has called for Mr Cameron to apologise for his comments – in stark contrast with the measured statements he has made in urging MPs towards voting for air strikes in recent days.
A YouGov poll for The Times found public opinion moving against air strikes - with the proportion in favour dropping from 59 per cent to 48 per cent and those against rising from 20 per cent to 31 per cent with undecideds unchanged on 21 per cent.
And writing for the Guardian, Mr Corybn said the case for strikes was "coming apart at the seams" - notable the claim of 70,000 moderate forces on the ground to take advantage of air strikes against IS. "He knows that opposition to his ill-thought-out rush to war is growing," he said.
Last night, Mr Corbyn's spokesman described Mr Cameron's comments as "a contemptible and desperate slur which demeans his office".
"He clearly realises he has failed to make a convincing case for military action and that opinion is shifting away from him," he said.
Additional reporting by agencies
Join our commenting forum
Join thought-provoking conversations, follow other Independent readers and see their replies