David Cameron calls Sadiq Khan 'proud Muslim' – weeks after linking him to Islamic extremism
The PM and London mayor were launching the Remain camp's battle bus
Ashley Cowburn Comments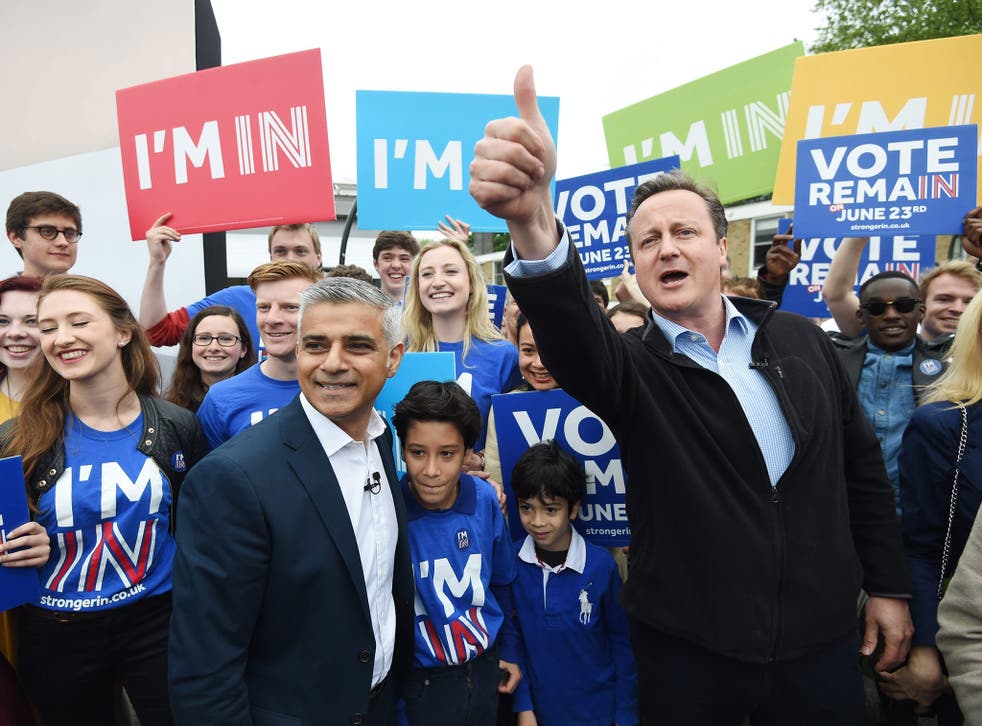 David Cameron has described Sadiq Khan as a "proud Muslim and proud Brit" – just weeks after attempting to link the mayor of London to a supporter of "IS".
Speaking at the launch of a Britain Stronger In Europe battle bus, Mr Cameron sought to deflect attention from a weekend of attacks from his own MPs and hailed the "extraordinary coalition" rallied behind Britain remaining in the EU.
The apparent show of solidarity follows accusations that Mr Cameron was supporting an "Islamophobic campaign" against Mr Khan, when he said he was concerned that Labour's candidate for mayor of London had shared a platform "again and again and again" with people he described as violent extremists.
Mr Cameron said at the time: "Suliman Gani – the honourable member for Tooting [Mr Khan] has appeared on a platform with him nine times. This man supports IS [Islamic State]. I think they are shouting down this point because they don't want to hear the truth."
The Prime Minister was met with cries of "racist" by Labour MPs as he spoke and Mr Ghani later accused him of "defamation at its highest level".
But speaking at the launch alongside Mr Khan, Mr Cameron publicly shook hands with the mayor.
"In one generation someone who is a proud Muslim, a proud Brit and a proud Londoner can become mayor of the greatest city on earth," he said as he offered his congratulations.
"That says something about our country.
"There are still barriers to opportunity that we have to get rid of. There are still glass ceilings we have got to smash. There is discrimination in our country that we have to fight.
Mr Cameron also laughed off suggestions by pro-Brexit campaigners that widespread warnings of an economic shock if Britain votes to leave were "part of some massive establishment conspiracy".
"It would be a pretty exquisite conspiracy that could bring together the Labour mayor son of a bus driver and the Tory son of a stockbroker Prime Minister. Sadiq and I say it for this reason: because we love our country, we want our country to be the best we possibly can, to be the strongest, to be the greatest.
"For our economy to be strong, for families' finances to be secure, to go on creating jobs. This is not, in the end, an argument about Europe. It is an argument about Britain."
He acknowledged there was "uncertainty and confusion" amid claims of scaremongering by both sides and pledged "to speak clearly, to speak positively" for the rest of the campaign.
Vote Leave was quick to respond, with Ukip MP Douglas Carswell saying: "David Cameron cannot be trusted. Just a month ago he attacked Sadiq Khan as a terrorist sympathiser yet today he hailed him as a great politician as he stood next to him on a shared platform."
Nastiest moments in the London mayoral election
Mr Khan, appearing alongside the PM in front of students in south-west London, said he would work closely with the Tory government "where it is in Londoners' interests".
"The reason why London is the greatest city in the world – and it is – we have never taken an isolationist approach, we are open-minded, we are outward-looking, we embrace other cultures and learn from other cultures and ideas as well," he said.
The renewed crticism follows a torrid 48 hours for Mr Cameron. On Sunday, Nadine Dorries said Mr Cameron had "lied profoundly" during the EU campaign and claimed he would be "toast within days" if Britain votes for a Brexit.
Prominent backbencher Andrew Bridgen also said that more than 50 MPs were ready to move against the Tory leader if Britons vote for Brexit on June 23. In another attack, employment minister Priti Patel said Mr Cameron was "too rich" to care about immigration
The Conservative election tactics during the mayoral race – and their candidate Zac Goldsmith – have been condemned by senior party members for harming community relations after Mr Khan swept to victory in early May.
Sayeeda Warsi, the former co-chairwoman of the Tory party, said the campaign was "appalling", while Andrew Boff, the party's leader on the Greater London Assembly launched a devastating attack on the way the campaign was run. He said it had "done real damage" and "blown up" bridges the Tories had built with Muslim communities.
Sadiq Khan's 5 most significant policies

Show all 5
Former Labour deputy leader Harriet Harman, and ex-Cabinet minister Tessa Jowell, have appeared with the Prime Minister, but the head of the party's Remain push, and former home secretary, Alan Johnson, has joined Mr Corbyn in refusing to be seen campaigning with Mr Cameron.
Register for free to continue reading
Registration is a free and easy way to support our truly independent journalism
By registering, you will also enjoy limited access to Premium articles, exclusive newsletters, commenting, and virtual events with our leading journalists
Already have an account? sign in
Join our new commenting forum
Join thought-provoking conversations, follow other Independent readers and see their replies