David Cameron considers switching burden of energy bill cuts to the taxpayer
PM seeks to placate Lib Dems who oppose end of green levies
Andrew Grice
Friday 25 October 2013 00:11 Comments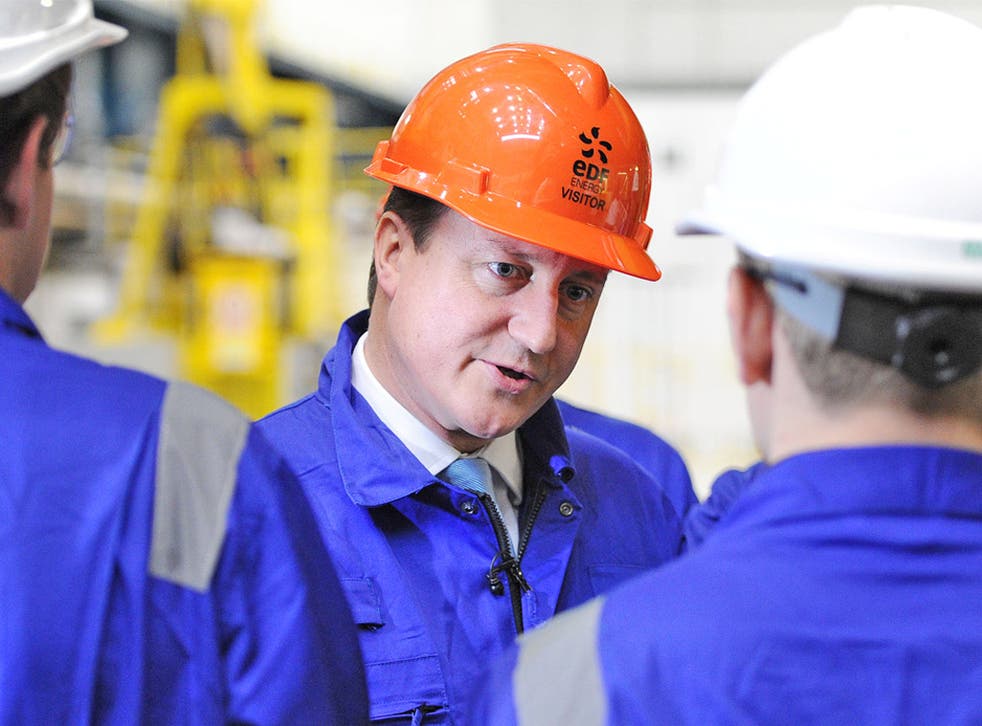 Taxpayers may fund the cuts in energy bills promised by David Cameron as he tries to deliver his pledge to "roll back" the green taxes which add £112 to the average annual charge.
Nick Clegg warned that he would block any moves by the Conservatives to scale back the element of the green levies which help people in fuel poverty, and fund home insulation grants and renewable energy like wind power.
But he opened the door to switching part of the £2.7bn cost from gas and electricity consumers to general taxation. He believes that would be progressive because a bigger share would be borne by the better off, and many poor people who face high energy bills do not pay tax.
But Labour claimed that the move would let the "big six" energy companies off the hook and some Tory MPs warned the Government would merely be "robbing Peter to Paul".
The energy giants came under fire after it emerged that only one of the six, E.ON, will send its most senior executive to be grilled by the Commons Energy and Climate Change Select Committee next Tuesday. The other five will send more junior figures.
Ian Lavery, a Labour member of the committee, said: "It's a disgrace that the same energy bosses who have imposed huge price rises are refusing to defend them in front of MPs.
"The energy bosses aren't just turning their noses up at the House of Commons, they are also turning their noses up at millions of hard-pressed consumers who do not understand why they are facing even higher energy bills this winter."
Pressure on Mr Cameron to act increased as Scottish Power announced that its dual fuel bills will rise by 8.6 per cent, only two days after it was ordered to pay customers £8.5m following an investigation by the regulator Ofgem into its doorstep and telephone selling.
Ed Davey, the Liberal Democrat Energy and Climate Change Secretary, criticised the increase and warned it would backfire as customers switched suppliers. "Companies like Scottish Power can no longer put up bills in this way with no consequences," he said.
Although Tory ministers would prefer to rein back green levies without taxpayers picking up the bill, they may have to swallow that to secure a deal with their Coalition partners. Mr Clegg said: "I'm certainly not going to accept – I don't think anyone would want us to accept – simply scrapping a whole system if levies, which, for instance, helps two million of the poorest households."
He admitted the Coalition was split over green taxes but predicted it would reach agreement "about how we strike the right balance".
Ed Miliband, whose pledge of a temporary price freeze has thrown Mr Cameron on to the defensive, said Mr Clegg's plan would "shift the burden from ordinary [energy] bill payers to ordinary taxpayers." Addressing the Federation of Small Businesses, Mr Miliband said: "The Government proposes a panicked wheeze paid for by taxpayers. We offer a real freeze paid for by the big energy companies." He said annual energy bills paid by small firms have risen by an average of £10,000 since 2010.
Mark Reckless, a Tory MP, said: "I fear it may entrench those green levies in the long term by putting them on to general taxation.
"At least with electricity bills, it's visible how much we're getting ripped off by many of these green levies which are hugely expensive for very little reduction in carbon dioxide.
"I think putting those on to taxes is quite wrong when we're paying enough tax already and we're borrowing too much."
Cold shoulder: Five bosses decline to answer MPs...
Sam Laidlaw
CEO, British Gas
Pay in 2012: £4.97m
Henri Proglio
CEO, EDF
Pay in 2012: €1.6m
Alistair Phillips-Davies
CEO, SSE
Pay in 2012: Not disclosed
Keith Anderson
CCO, Scottish Power
Pay in 2012: £500,000+
Paul Massara
CEO, Npower
Pay in 2012: Not disclosed
... and one who will
Tony Cocker
CEO, E.ON
Pay in 2012: Not disclosed
Register for free to continue reading
Registration is a free and easy way to support our truly independent journalism
By registering, you will also enjoy limited access to Premium articles, exclusive newsletters, commenting, and virtual events with our leading journalists
Already have an account? sign in
Join our new commenting forum
Join thought-provoking conversations, follow other Independent readers and see their replies