David Cameron 'delighted' with EU talks despite warning that union's values are 'non-negotiable'
The Prime Minister's demands for reforming Britain's relationship by changing treaties were overshadowed by the Mediterranean migrant crisis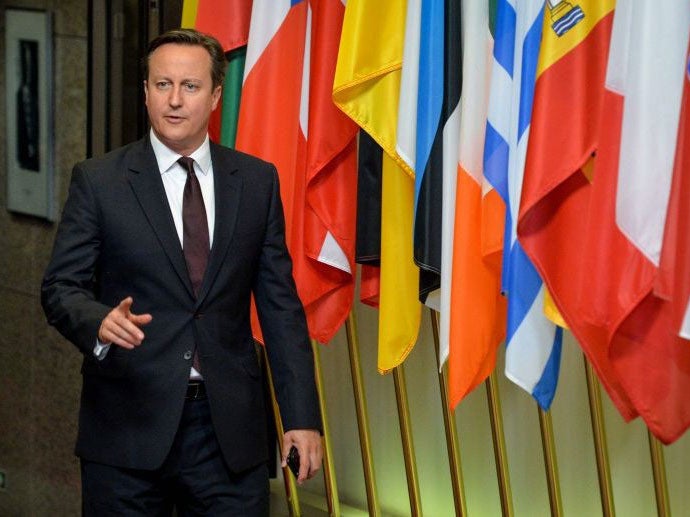 David Cameron has claimed he is "delighted" with progress towards reforming Britain's relationship with the EU at talks in Brussels, despite a warning that the fundamental values of the union are "non-negotiable".
Leaving hours of heated discussions shortly before 3am today, the Prime Minister said: "I am delighted that the process of British reform and renegotiation and the referendum we are going to hold - that process is now properly under way.
"People always say to me these things aren't possible, we will never get them done. Once again, we have proved we will get them done.
"We have started that process and it's under way."
Mr Cameron admitted yesterday that even if he secures the Government's hoped-for changes toEU treaties, the lengthy process of ratifying them in member states mean they would not be in place by the time of the UK's in/out referendum.
Whitehall officials have claimed the Prime Minister will be able to secure "legally-binding and irreversible" assurances of changes that will be made "crystal clear" to voters by the time they walk into the ballot box.
But Jean Claude Juncker, the European Commission President, appeared unsure what reforms Mr Cameron was seeking, asking reporters: "What does he want?"
Meanwhile, Belgium's finance minister Johan Van Overtveldt said it would "not be easy" for Britain to stop greater integration with the EU.
Mr Cameron has secured "technical" talks between UK and Brussels over the next six months on British concerns including restricting welfare for EU migrants, opting out from the goal of "ever-closer union" in Europe, greater powers for national parliaments and protections for countries that do not have the Euro.
The European Council President, Donald Tusk, said: "One thing should be clear from the very beginning. The fundamental values of the EU are not for sale and so are non-negotiable.
"We should consider British concerns, but only in a way which will be safe for all Europe."
Martin Schulz, President of the European Parliament, had warned there was "quite some resistance" among EU states to any changes to the treaties, which he said could take as long as four years.
"Solutions in the EU usually are not brought about by one member state making demands and expecting the others to deliver," said the German Social Democrat.
The Prime Minister's demands were overshadowed at last night's European Council summit by a reportedly furious row over the fate of migrants coming over the Mediterranean.
In the early hours of this morning, Mr Tusk announced that 40,000 arrivals will be moved from where they landed in Italy and Greece to other EU states over the next two years.
A further 20,000 migrants need to be resettled, although there was no agreement on mandatory quotas for individual countries.
The debate, which saw Italian Prime Minister Matteo Renzi pitched against countries including Hungary, Poland and Lithuania, left Mr Cameron only 10 minutes to address his fellow leaders during a break in the discussions.
Mr Renzi was reported to have accused other EU states of lacking "solidarity" because of their unwillingness to take in the thousands of largely Syrian and Eritrean refugees currently in his country: "If you don't want to take the 40,000 you are not fit to be called Europe."
Britain has signalled it will not accept a mandatory quota of migrants and its exemption from EU home affairs means it is not obliged to.
Additional reporting by PA
Join our commenting forum
Join thought-provoking conversations, follow other Independent readers and see their replies