David Cameron 'heartened' after EU reform talks with Angela Merkel
Prime Minister said the German Chancellor was open to the prospect of treaty change but talks come after tough meetings with Polish and French leaders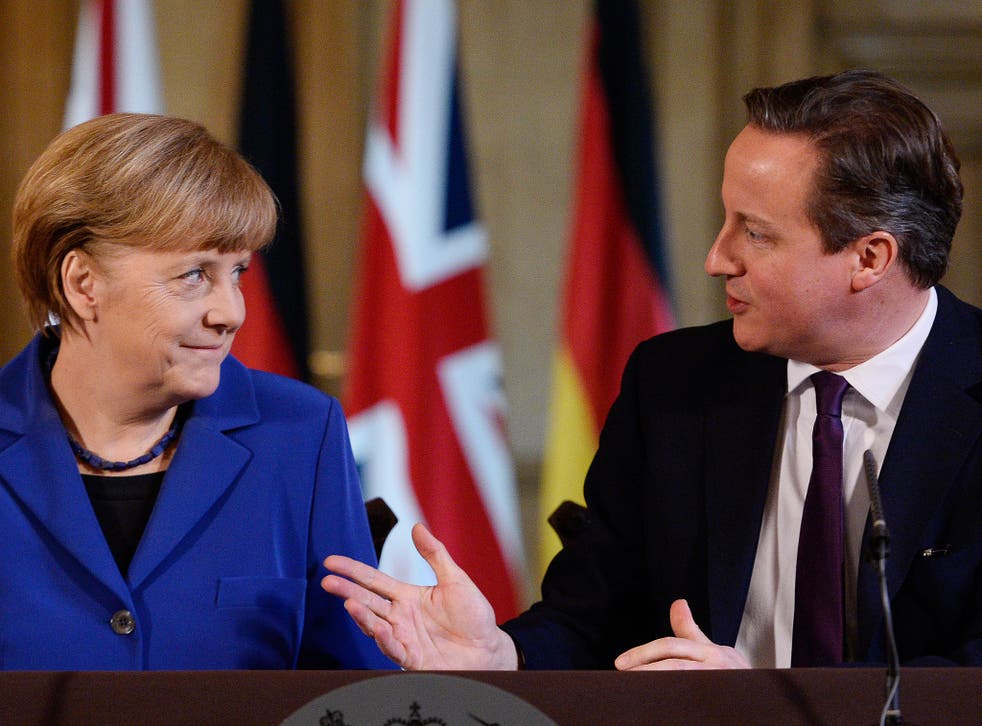 David Cameron has said he was "heartened" by Angela Merkel's language as the two leaders met in Berlin to discuss the Prime Minister's efforts to renegotiate Britain's membership of the European Union.
He said the German Chancellor was open to the prospect of treaty change, which he said was necessary to restrict EU migrants' access to Britain's generous welfare state – the biggest and toughest reform Mr Cameron is aiming to achieve.
His meeting with Ms Merkel finished off a whistle-stop tour of European capitals as he kick-started his renegotiation bid – trying to convince fellow European leaders of the benefits of reform.
He faced difficult talks with French President Francois Hollande in Paris yesterday, before meeting the Dutch Prime Minister and more tough discussions with his Polish counterpart this morning.
But speaking alongside Ms Merkel at a press conference after their talks this afternoon, Mr Cameron struck a more positive tone.
"What matters the substance of what needs to change," he said. "My view is clear: the substance requires changes to the treaty.
"But let's get the substance worked out first and discuss that and then move ahead and move on and make the changes that are necessary and I was very heartened by what the Chancellor said in terms of 'where there's a will there's a way' and if content requires changes in treaties then you can't let that stand in the way of what needs to be done.
He added: "I'm clear: what we want here is for changes that address the concerns that people have and I've set out what those concerns are and as we address them I think people will see it is right for Britain to stay in a reformed European Union and I'm pleased these visits have gone so far."
Mr Cameron was keen to stress the similarities in his and Ms Merkel's politics and the closeness of their relationship, which will be keen in his ambitious efforts to secure necessary reforms to keep Britain in the EU.
"I know together we can get things done," he said. "We're two centre-right leaders with similar outlook on many issues – we believe in fiscal responsibility, both at home and in the European Union; we believe in free markets… we believe in free trade.
"The trading relationship between Britain and Germany is one of the fastest growing anywhere in the world – German companies now invest more in Britain than anywhere else in Europe. We both want to expand free trade globally.
Earlier this morning Mr Cameron met with the Polish Prime Minister Ewa Kopacz in Warsaw, but he failed to secure support for his plans to restrict benefits for migrant workers coming to the UK.
No 10 said the leaders had found "much they could agree on" but plans for benefit reforms "should be discussed further".
Register for free to continue reading
Registration is a free and easy way to support our truly independent journalism
By registering, you will also enjoy limited access to Premium articles, exclusive newsletters, commenting, and virtual events with our leading journalists
Already have an account? sign in
Register for free to continue reading
Registration is a free and easy way to support our truly independent journalism
By registering, you will also enjoy limited access to Premium articles, exclusive newsletters, commenting, and virtual events with our leading journalists
Already have an account? sign in
Join our new commenting forum
Join thought-provoking conversations, follow other Independent readers and see their replies