David Cameron interview: Prime Minister urges people to vote in EU referendum 'or you'll find we're out'
Exclusive: David Cameron talks to Political Editor Tom McTague about the vote and the EU
Tom McTague
Political Editor
Saturday 19 March 2016 23:03 Comments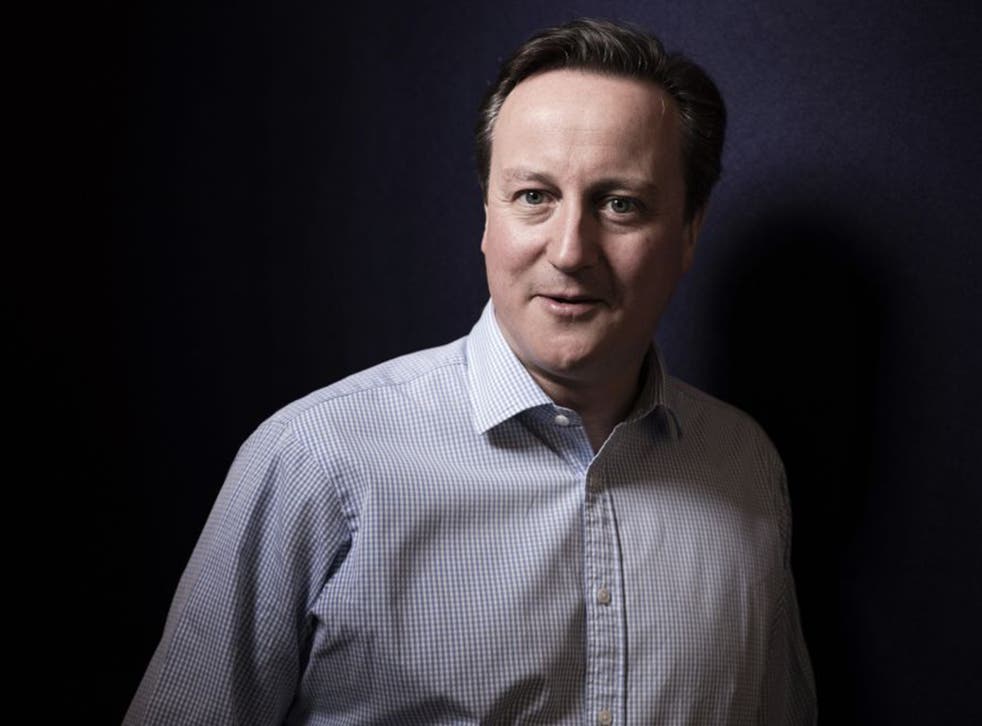 David Cameron has admitted for the first time his "fear" Britain could sleepwalk out of the EU – as the Tory civil war over Europe exploded into the open following the dramatic resignation of Iain Duncan Smith.
In an exclusive interview with The Independent on Sunday, Mr Cameron conceded that the result of the 23 June referendum was now on a knife edge and revealed his biggest concern was in persuading enough people to turn out to deny victory to the Brexit campaign.
On 19 March Downing Street battled to fend off claims Mr Cameron had "lost control" of his party over Europe, amid a series of budget rebellions that threaten the Government's bid to eradicate the deficit by the next election.
Mr Duncan Smith quit late on Friday with a bombshell resignation letter that blamed "indefensible" cuts to disability benefits, despite the Government's U-turn on the measure after a backbench backlash.
The Prime Minister hit back at Mr Duncan Smith, saying he was "surprised and puzzled" by his resignation. Downing Street sources said he had failed to voice any concerns to No 10 "at any stage" before quitting.
"As late as Thursday he was saying he would happily go out to defend them," the source added.
Mr Cameron swiftly replaced Mr Duncan Smith by promoting the Welsh Secretary, Stephen Crabb – a pro-European brought up by a single mother on a council estate.
The row exposes the increasingly hostile divisions within the Tory party over the EU referendum, which threaten to derail No 10's bid to keep Britain in Europe.
Speaking to The IoS in its final edition, Mr Cameron issues his most impassioned appeal to wavering voters yet, imploring older Eurosceptics to keep Britain in the EU – for the sake of their grandchildren.
The Prime Minister asks parents to "think about your children", warns against jeopardising European peace – and claims Britain's relationship with Europe could be frozen for a decade if there is a vote to leave.
Speaking candidly about his time in No 10, Mr Cameron also admits that the attempts to stop Libya sliding into chaos after the 2011 toppling of Muammar Gaddafi have "not been sufficient" and – intriguingly – refuses to rule out serving in a future government after the 2020 general election. But it is Mr Cameron's provocative call to arms over Europe which is likely to provoke the strongest reaction from Conservative MPs in the wake of Mr Duncan Smith's resignation.
Sipping black coffee in his private office in No 10, the Prime Minister admits he is concerned about the state of the polls – the latest of which showed a slight lead for the out campaign.
What's the European Parliament ever done for us?

Show all 5
"My fear is turnout," he says, bluntly. "I think a lot of people might think: 'Well, in the end, it's the rational thing to stay, but I'll let other people make that choice for me.' Don't. This is very close, no doubt about it." Turnout, he says, is going to be a "really important" factor in the result.
"Whether you either passionately think we should stay in, or on balance think we should stay in, or on a balance of risks think we should stay in – for heaven's sake get out and vote in, because you might wake up and find out you're out."
Mr Cameron is concerned the "rational" argument for staying in the EU will not be enough to defeat the out campaign. "I feel very confident that the case for remaining in a reformed Europe has all the strongest arguments," but, he admits, "there is also a very important inter-generational and emotional case that needs to be made."
He wants older voters to feel a sense of duty not to pull the rug out from under the next generation. "Think about your children, think about your grandchildren, think about the country and the world you want them to grow up in. It must be a world in which we are trying to co-operate and work together more with other countries.
"It is worth standing back and thinking here we are, the 70th anniversary of the end of the Second World War … This continent which was in conflict for so much of the 20th century has found a way of peaceful coexistence, and that is something we should want to be part of and want to share in."
Mr Cameron says he is teaching his own children that Britain is "special" and should belong to international organisations in order to "shape the world's future as well as its past".
"I think the world I want my children to grow up in is [one] where there's a big, bold, brave Britain at the heart of these institutions trying to deliver a world based on the values we care about – democracy, freedom, rights… That's the kind of country I want my little ones to grow up and inherit."
He calls on young voters to talk to their parents and grandparents to ask them to vote "in". "I think that would be quite a strong message from young people starting out on life." Mr Cameron wants to inject some passion into the debate: "I think the 'inners' need to grab hold of all the rationality we can – because we are winning that argument – but also put in a dose of emotion and patriotism about Britain's place in the world and our future."
Despite his appeal to the higher ideals of European unity, Mr Cameron insists it is still necessary to warn people of the more mundane dangers of leaving. "It's not frightening people, talking about the alternatives – it's just 'project reality'. We've just got to talk about what life might be like."
He claims a vote to leave could set the country back years. "Britain would spend the next seven to 10 years trying to work out what the future was like outside the EU and what our relationship would be with it.
"That to me is a bit like pressing pause on your country's future; and when you press pause in the modern world you actually go backwards, because the rest of the world doesn't stand still while you figure out what your relationship is. The rest of the world moves on."
In contrast, he believes Britain can be a "swashbuckling, trading, successful, buccaneer nation of the 21st century" within the EU.
Mr Cameron also claims leaving the EU would embolden Britain's enemies. He comes close to saying Russia's president, Vladimir Putin, would welcome a Brexit vote.
"I think he probably…" he starts to say, before checking himself. "I don't know, I haven't asked him." But, he adds: "Putin has an interest in trying to divide and weaken the West. He respects strength and unity, not weakness and division."
A slightly menacing sign of Russian strength is on display behind Mr Cameron's desk, where four ornamental swords sit on the mantelpiece, including one from Mr Putin. "There's probably a listening device in there," the PM jokes as he poses for photographs.
It's not the only gift from the Kremlin which has pride of place in Mr Cameron's office. He shows off a special Russian doll of British prime ministers. The largest doll is of Mr Cameron, with Gordon Brown and Margaret Thatcher both nestled inside – but for some reason no Tony Blair.
Perhaps fearing his own place in history could be similarly wiped out if he loses the referendum, Mr Cameron is keen to enlist all the help he can get. The PM is adamant that Barack Obama should not shy away from intervening during his visit to Britain next month – despite the pleas from Tory Eurosceptics to stay out of the debate.
"I think it's good that our friends and allies around the world are saying what they think, but the British people will make up their minds on their own."
He says Mr Obama will "say his piece in his own way". Mr Cameron could be forgiven for being less welcoming to the US President after being publicly chastised by him over the descent into chaos in Libya. Mr Obama accused the Prime Minister of being "distracted" after helping to remove the former dictator, allowing the country to slide into anarchy.
The PM insists he is not "angry" with the US President. "No, not at all." He adds: "We all have to accept that what has been done hasn't been sufficient … Everyone has to take responsibility for the fact that Libya is in a bad condition." But he insists the UK and France were right to intervene "to stop Gaddafi from butchering people in Benghazi".
"Frankly, we're better off without him," he says, adding: "There's still Semtex washing around in Northern Ireland that came straight from Gaddafi." But Mr Cameron does appear bruised by the disaster that has unfolded in the country. He admits that "in spite of all our efforts, we haven't seen progress in Libya towards a single unified government". That, he admits, is a "real problem".
Mr Cameron sets out – with an almost resigned weariness – the measures he took to help the new Libyan regime. "In my defence, I would say we piled in with aid; we helped to train Libyan defence forces; we got the Libyan prime minister to the G8; we set up international meetings to help support him; we went to the UN to pass resolutions to help the new government."
But, he says: "The truth is the Libyan political factions have not been able to agree on unity and the disbanding of militias and all the things necessary to build a functioning state, so everyone has to take their responsibilities."
Despite receiving a rare public rebuke from the White House, Mr Cameron carefully sidesteps getting involved in the US elections after being asked if he is alarmed at the rhetoric emerging from the presidential race.
"Look … we're two countries united by a common language and we have some similarities in our politics, but a lot of our politics is very different. But it's a lively contest.
"One of the things I most admire about America is they have created a genuine melting pot society, a country of opportunity; you can be of any religion, colour, ethnicity, persuasion and make it to the top of your chosen field. And that's something I admire about America and hope they continue with."
It's hard to imagine this patrician Tory admiring anything about Donald Trump, but he's canny enough to avoid saying so. After all, he may have to deal with him in little over six months time – as long as he's still in his own job.
At just 49 years old, six years into being Prime Minister, Mr Cameron looks remarkably unaffected by the strains of office. He is a politician on whom the burden of power rests more lightly than most – despite the stresses of such a tumultuous week.
Surely he looks across the Dispatch Box at his 66-year-old rival Jeremy Corbyn and wishes he had not ruled out standing for a third term? "No, I think it was the right thing to say, the right thing to do." But he still plans to stand again as an MP. Does this mean he could serve in a future Tory government?
"I don't want to get into more speculation," he says – flatly refusing to rule it out. "I have said enough about all this. I have said I will serve a full second term as Prime Minister, and my intention is to stand again as an MP."
At the moment, Mr Cameron is less concerned about his future after 2020 than being forced out of Downing Street before he has even turned 50 in October.
The picture of his wife Samantha and their children on his desk probably goes along way to explain his commitment to stand down. But if he can survive the next few months, perhaps 2020 may not be the end of Mr Cameron after all.
Register for free to continue reading
Registration is a free and easy way to support our truly independent journalism
By registering, you will also enjoy limited access to Premium articles, exclusive newsletters, commenting, and virtual events with our leading journalists
Already have an account? sign in
Join our new commenting forum
Join thought-provoking conversations, follow other Independent readers and see their replies