David Cameron did 'absolutely nothing wrong' lobbying Rishi Sunak for bank, Tory minister says
Greensill Capital later collapsed, leaving taxpayer potentially on the hook for loans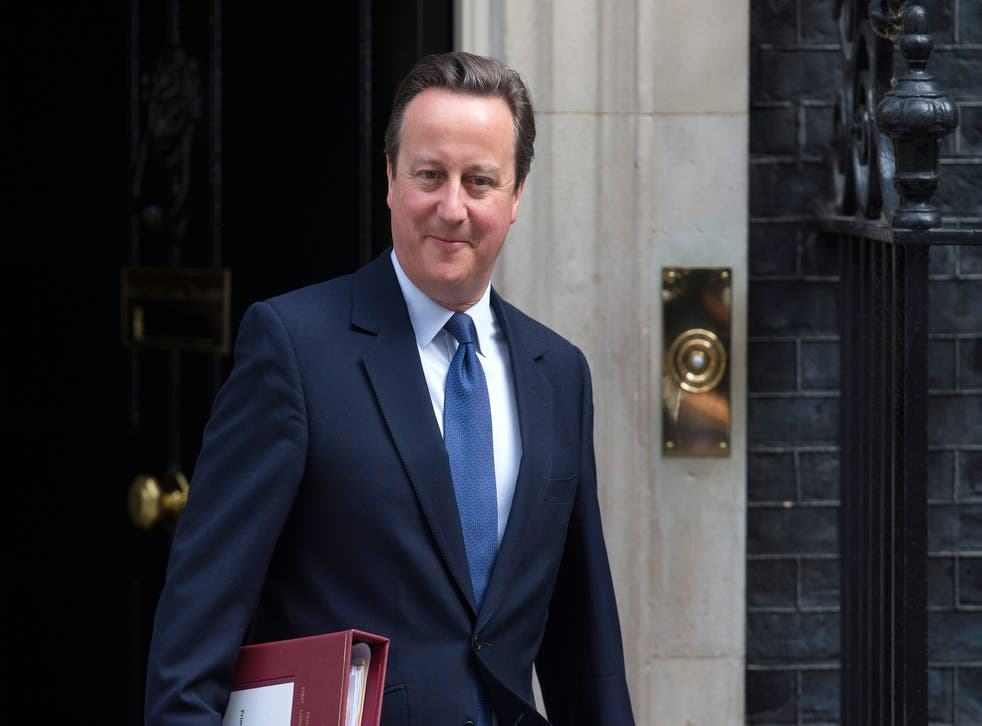 David Cameron did "absolutely nothing wrong" lobbying for a since-collapsed bank to have access to a state-backed loans scheme, a Tory cabinet minister has said.
Kwasi Kwarteng on Tuesday defended his former party leader, claiming lack of transparency was "not a problem in this case".
Mr Cameron has come under scrutiny for his role working for Greensill Capital, who he lobbied the Treasury on behalf of at the height of the pandemic.
The bank has since collapsed and potentially left taxpayers on the hook for loans underwritten by the Treasury.
Labour and Sir Alistair Graham, former chairman of the Committee on Standards in Public Life, have both called for an inquiry into the affair.
Read more:
But cabinet minister Kwasi Kwarteng said people should "move on" and stop probing the issue.
"As far as I know David Cameron did absolutely nothing wrong. He was a public servant for a long time, he's now gone into private life and is working for Greensill Capital," Mr Kwarteng told Sky News.
"People have looked into his role, people have looked into the fact that he may or may not have contacted people, officials in the Treasury. As far as I know everything was above board. He's been largely exonerated and I think we should just move on."
"I think there's been a lot of transparency actually, there's been a lot of information about what David Cameron... what he said, who he contacted within the Treasury, I think they've been very open about what's happened. Lack of transparency I don't think is a problem in this case."
It emerged on Monday that while in power Mr Cameron had blocked tighter controls on lobbyists that would have covered his work for the collapsed bank.
The rules, proposed as amendments to the 2014 Lobbying Act, would have required Mr Cameron to register are a lobbyist – but were blocked by Tory peers.
Labour said it was "disgraceful" that that the former prime minister had ordered MPs to vote against controls whose absence he was now benefiting from.
The prime minister has been advising the bank Greensill Capital since 2018. His work reportedly included lobbying chancellor Rishi Sunak by text message.
There is no suggestion that Mr Cameron has broken any rules.
As PM Mr Cameron's government introduced a statutory register of lobbyists, but its narrow terms mean it does not appear to apply to him.
UK news in pictures

Show all 50
Amendments to the Lobbying Act 2014 proposed by Labour would have required many in-house lobbyists to register in the same way as external consultants do.
But the amendments were defeated by 218 votes to 185 in the House of Lords after resistance from Tory peers.
It comes as the opposition party called for the Committee on Standards in Public Life to examine the role of the bank's founder in Mr Cameron's coalition government.
The Sunday Times at the weekend claimed that Lex Greensill was given "privileged access" to government departments under the Tory leader.
Mr Cameron and Mr Greensill have not commented on the affair.
Register for free to continue reading
Registration is a free and easy way to support our truly independent journalism
By registering, you will also enjoy limited access to Premium articles, exclusive newsletters, commenting, and virtual events with our leading journalists
Already have an account? sign in
Register for free to continue reading
Registration is a free and easy way to support our truly independent journalism
By registering, you will also enjoy limited access to Premium articles, exclusive newsletters, commenting, and virtual events with our leading journalists
Already have an account? sign in
Join our new commenting forum
Join thought-provoking conversations, follow other Independent readers and see their replies