David Cameron met vaccines minister shortly before award of contracts to company he advises
Former prime minister took on paid role with US genomics firm in 2018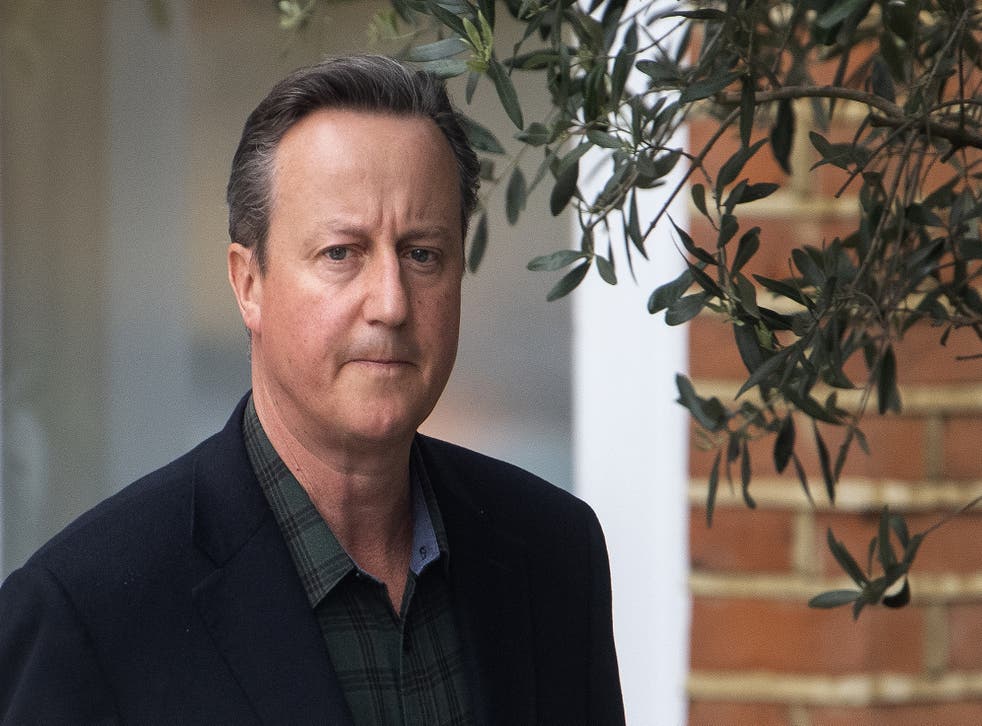 David Cameron met vaccine minister Nadhim Zahawi with representatives of a private health firm which he advises, two months before the US company won public contracts worth up to £870,000.
The meeting, uncovered by Open Democracy, is listed in official government transparency records as taking place between Mr Zahawi, Mr Cameron and Illumina on 1 March 2021 "to discuss UK genomics sequencing".
Shortly afterwards, on 29 April, Illumina Cambridge Ltd was awarded a £697,788 Public Health England contract to supply medical equipment, pharmaceuticals, personal care products and laboratory, optical and precision equipments. A week later on 7 May, a second PHE contract worth between £34,564 and £172,824 was awarded to the company for a similar range of supplies.
But a spokesman for the former PM insisted that he had never lobbied the government on behalf of Illumina, and the Department for Health and Social Care said that the 1 March meeting was "in no way connected to government contracts".
Mr Cameron was appointed as an adviser with Illumina in 2018. Applying for clearance to take up the role, he told the Advisory Committee on Business Appointments that he would be paid for working two to three days a month for the company.
His role involved assisting Illumina's engagement with foreign governments and stakeholders as the company expanded into other countries, he said, and he would also be expected "to provide strategic advice; assist with business development, particularly in an international context; and perform other duties, as reasonably requested by the board".
Mr Cameron informed Acoba that he would not play any role in contract negotiations between Illumina and the DHSC or Genomics England – a DHSC-owned company which he set up while he was PM in 2013.
UK news in pictures

Show all 50
And Acoba said he assured them that while his role might involve "some very limited contact with UK ministers from time to time", he "would not lobby ministers or the UK government in any way on behalf of Illumina or its partners".
The revelation of the meeting comes shortly after a parliamentary inquiry found that Mr Cameron showed "a significant lack of judgement" in his intensive lobbying of government ministers on behalf of finance firm Greensill Capital, which was seeking involvement in Treasury coronavirus support schemes in 2020.
Labour's deputy leader Angela Rayner told Open Democracy: "David Cameron's behaviour is evidence that the rules that are supposed to regulate lobbying are completely unfit for purpose and need a radical and urgent overhaul.
"There appears to be nobody in government who the former prime minister has not lobbied in an effort to enrich himself and his clients during this pandemic."
But a DHSC spokesperson said: "This meeting was in no way connected to government contracts and none were discussed.
"Proper due diligence is carried out for all government contracts and we take these checks extremely seriously."
And spokesman for Mr Cameron said: "David Cameron has never lobbied the UK government on behalf of Illumina and has never discussed commercial contracts or terms. 
"He had a Zoom call with Nadhim Zahawi in March, at the minister's suggestion, following his work on global pandemic surveillance, including the role of genomic sequencing.
"The meeting was to learn more about the government's pledge to offer its genomics expertise to poorer countries in order to help them identify new varieties of Covid-19. The meeting did not involve lobbying or any conversation about government contracts."
A spokesperson for Illumina said: "Illumina always follows the correct and necessary process in its negotiations with customers.
"We have worked with Genomics England since 2013, when we won a competitive tender process for the £78m contract for the 100,000 Genomes Project. Our ISO-accredited facilities in Cambridge were chosen by Genomics England as being the most appropriate in the UK in terms of being able to deliver this advanced genomics programme.
"The vast majority of David Cameron's work with Illumina is outside the UK, representing the best practices of the UK in genomics to other countries."
Join our new commenting forum
Join thought-provoking conversations, follow other Independent readers and see their replies