David Cameron pleads with junior doctors to call off 'damaging strike'
The ballot of 30,000 junior doctors is expected to vote convincingly in favour of strike action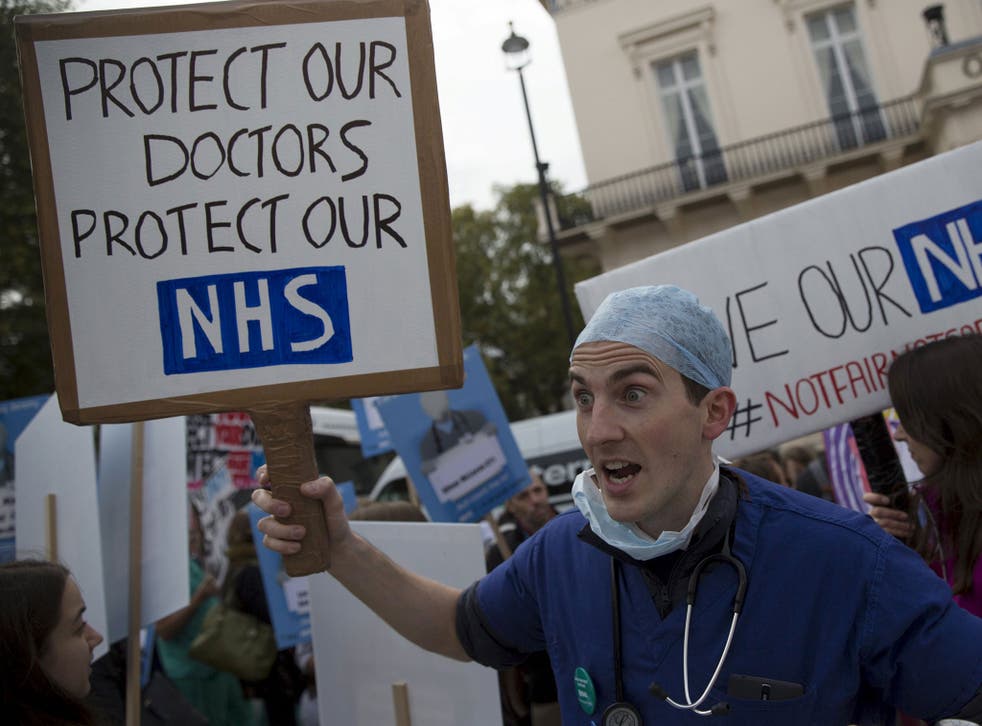 David Cameron has pleaded with the doctors union to call off its "damaging strike" as he claimed the new contract offered to junior doctors would not make them worse off.
The ballot of 30,000 junior doctors is set to vote convincingly in favour of holding three strikes next month, with the result expected to be announced on Thursday morning.
Ministers fear the strike action could cripple the NHS at one of its busiest periods of the year.
In a last-ditch attempt to persuade the British Medical Association to scrap industrial action, Mr Cameron said the new contract would not lead to longer hours or a cut in pay for junior doctors.
But Labour MP Tulip Siddiq said the ballot, which closes at 5pm on Wednesday, was evidence of a health service suffering from "low morale" and said the new contracts threatened patient safety.
Responding to Ms Siddiq at Prime Minister's Questions, Mr Cameron said: "What I would say to all junior doctors is please look very carefully at what the Government is offering before you decide to go on offer,.
"What is on offer is not an increase in hours – indeed for many doctors it will mean less long hours – it is not a cut in the pay bill for junior doctors; it's actually an 11 per cent basic pay increase, it'll mean a better rostering of doctors, including at weekends, with more support for consultants."
He added: "Go on the Department of Health website, look at the pay calculator and see how you'll be affected because we've given a guarantee that anyone working legal hours will not be worse off under this contract.
"This is good for the NHS, good for doctors, good for patients and even at this late hour, I hope the BMA will call off their damaging strike."
The BMA has said that if junior doctors vote to strike, a 24-hour action will take place from 1st December, with a walkout from all but emergency care.
However, if the Government does not alter its position, two further strike days on the 8th and 16th December would see a full walk out of junior doctors from 8am till 5pm, including from emergency services.
The BMA has defended the threat of industrial action, saying: "No junior doctor, nor the BMA, takes the possibility of industrial action lightly. It is precisely because we believe the government's proposals are bad for patients as well as junior doctors that we are taking this action.
"The BMA has been clear that we want to get back around negotiating table. In order to do this the government must remove the threat of imposition and provide the reasonable assurances we need on a contract that is safe and fair, and delivers for patients, junior doctors and the NHS as a whole."
Register for free to continue reading
Registration is a free and easy way to support our truly independent journalism
By registering, you will also enjoy limited access to Premium articles, exclusive newsletters, commenting, and virtual events with our leading journalists
Already have an account? sign in
Register for free to continue reading
Registration is a free and easy way to support our truly independent journalism
By registering, you will also enjoy limited access to Premium articles, exclusive newsletters, commenting, and virtual events with our leading journalists
Already have an account? sign in
Join our new commenting forum
Join thought-provoking conversations, follow other Independent readers and see their replies