David Cameron pledges to review how veterans exposed to asbestos are compensated
Due to laws preventing the MOD from being sued for illness or injury caused before 1987, Navy veterans may die of mesothelioma on just war pension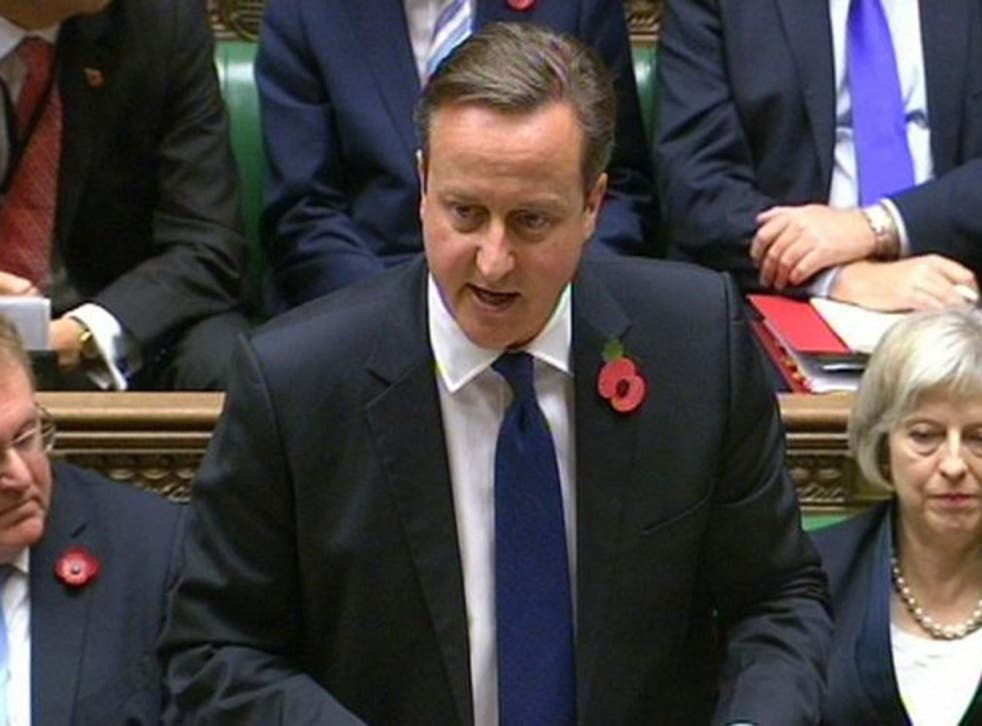 The Prime Minister is to review the way in which veterans dying due to being exposed to asbestos during their military service are compensated, it emerged yesterday.
During Prime Ministers Questions, David Cameron was challenged by Labour MP Dave Anderson over the unfair treatment of former service personnel suffering from mesothelioma, a deadly lung cancer caused by asbestos.
The law protects the Ministry of Defence (MoD) from being sued for compensation for illness or injury caused before 1987. This means some 2,500 Royal Navy veterans who will die of mesothelioma from asbestos exposure on ships decades ago can only apply for a war pension.
At around £31,000 a year, this is a fraction of the £180,000 lump sum a 63-year-old can expect under the Government's compensation scheme for civilians, claims the Royal British Legion.
The Prime Minister described the military covenant as "one of the most important things that we have - when we make a promise to our military that, because of the sacrifices they make on our behalf, they should not have less good treatment than other groups of people."
Mr Anderson asked Mr Cameron to look into the issue of veterans who "stand to lose out massively when compared with people in civilian life," in what the Labour MP said was "a moral outrage" and "a clear breach of the military covenant."
In response, the Prime Minister said: "I'm very grateful to the honourable gentleman for raising this issue, I understand that the Defence Secretary is looking at it." In relation to the military covenant, the Government has tried to make progress on issues such as "particular groups who have been disadvantaged in some way," he said. "I'm very happy to go away and look at the points that he makes," added Mr Cameron.
The decision comes days after The Independent revealed the gulf in compensation given to civilians and veterans suffering cancer from asbestos exposure, prompting service charities and former military chiefs to demand action.
Chris Simpkins, director general of The Royal British Legion, said: "We welcome the fact the Prime Minister has said that both he and the Defence Secretary will look into the current situation regarding compensating veterans suffering from cancer as a result of being exposed to asbestos while serving."
He added: "The fact that veterans could receive around £150,000 less in compensation than their civilian counterparts is a clear breach of the Armed Forces Covenant. We look forward to the Government coming forward with a solution soon."
Asbestos victims demand worldwide ban

Show all 1
And Rhod Palmer, a 62-year-old retired commodore diagnosed with mesothelioma earlier this year, said: "It would be terrific if the Prime Minister brought his full weight to bear on the subject and ensured that Service sufferers of mesothelioma, current and not just future claimants, would be properly compensated and not disadvantaged in comparison to civilian victims of asbestos."
Another veteran with the disease, Fred Minall, 74, a mechanical engineer in the Royal Navy between 1957 and 1965, commented: "It was heartening to hear the Prime Minister to say that he will look into the matter and hopefully his comments will encourage the Defence Minister and Service Chiefs to give this unjust and shameful situation urgent consideration."
He added: "People who are currently suffering this dreadful disease have served the Country, they deserve to be treated like all citizens and they should not be left in the knowledge they will probably die before the Government will do the honourable thing."
The Prime Minister needs to act swiftly, warned Mr Anderson. "We need action not warm words...in the week that we recognise the sacrifice that our Armed Forces gave to this country we should look into removing any obstacles that prevent equal access to compensation for all," he said.
And Madeleine Moon MP, a member of the Commons Defence Select Committee, commented: "Sadly time is not on the side of those who were exposed to asbestos. The PM must give a firm commitment to bring RN personnel into the same compensation scheme as civilians."
Register for free to continue reading
Registration is a free and easy way to support our truly independent journalism
By registering, you will also enjoy limited access to Premium articles, exclusive newsletters, commenting, and virtual events with our leading journalists
Already have an account? sign in
Register for free to continue reading
Registration is a free and easy way to support our truly independent journalism
By registering, you will also enjoy limited access to Premium articles, exclusive newsletters, commenting, and virtual events with our leading journalists
Already have an account? sign in
Join our new commenting forum
Join thought-provoking conversations, follow other Independent readers and see their replies