David Cameron, Rebekah Brooks and the emails kept from Leveson
Prime Minister took legal advice on withholding dozens of 'embarrassing' messages from judicial inquiry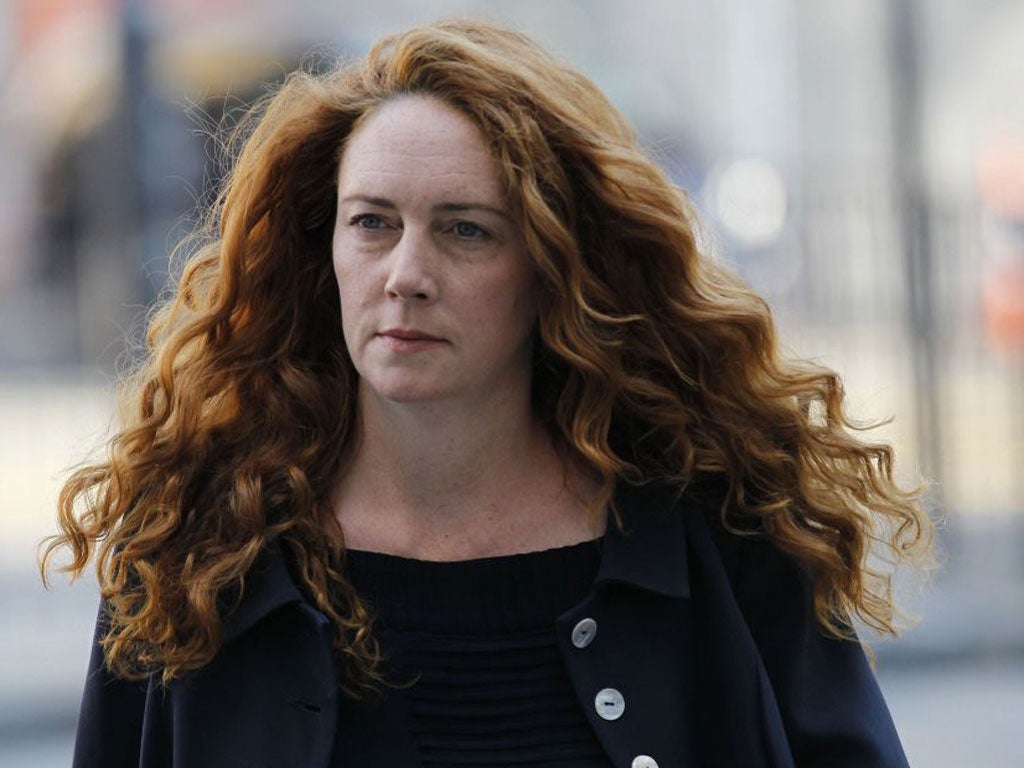 Private emails between David Cameron and the former News International chief executive Rebekah Brooks have been withheld from the Leveson Inquiry after the Prime Minister sought personal legal advice, The Independent can reveal.
The cache of documents, which runs to dozens of emails and is also thought to include messages sent to Andy Coulson while he was still a Rupert Murdoch employee, was not disclosed after No 10 was advised by a Government lawyer that it was not "relevant" to the inquiry into press standards.
The contents of the private emails are described by sources as containing "embarrassing" exchanges. They hold the potential to cast further light on the close personal relationship between the Prime Minister and two of the media mogul's most senior lieutenants.
However Mr Cameron, as part of legal briefings he received before and after his appearance before the inquiry, was said to have been advised that the Brooks-Coulson emails were outside Sir Brian Leveson's remit and so he did not need to offer them up to form part of his report, expected to be published next month.
Although the Leveson Inquiry agreed to keep private a number of text messages between Mr Cameron and Mrs Brooks – disclosed by News International – after accepting that they were "irrelevant to its terms of reference", no agreement was made for any emails or texts originating from Downing Street.
Sources within the inquiry have indicated that while documents detailing Mr Cameron's meetings with media figures were received from No 10, it had received none of the Brooks-Cameron emails. An inquiry source confirmed: "Everything we got from No 10 we published."
During his evidence to the inquiry in June, Mr Cameron said his officials would continue to search for emails related to News Corps' controversial bid for control of BSkyB. He promised: "If any are found, I will make them available to the inquiry." Leveson sources said that No 10 had not subsequently told the inquiry it had turned up anything.
Downing Street told The Independent last night that "no further relevant material had been found" following the PM's appearance. Downing Street made no comment on who made the decision on what was deemed "relevant" and what was not. A spokeswoman said: "In common with previous Prime Ministers, the PM sought legal advice in order to co-operate fully with a judicial inquiry."
The disclosure of the existence of the emails may be embarrassing for Mr Cameron, who personally ordered the Leveson Inquiry in the wake of the News of the World phone hacking scandal.
A senior Labour MP last night called for the dossier to be released, saying it was vital for the Prime Minister to have given full disclosure.
Chris Bryant, a victim of hacking who has been one of the leading campaigners on the issue, said: "If the Prime Minister has taken any steps to prevent any material, relevant or not – whether texts, emails or notes of conversations, between David Cameron and Rebekah Brooks, Andy Coulson and News International – from coming into the public domain, then people will think this is yet another instance of the Prime Minister being less than straightforward with the country."
Mr Bryant, a shadow Home Office spokesman, said it should not be up to a lawyer inside Downing Street to decide whether a text or email was relevant to the Leveson Inquiry: "The PM must make sure that every single communication that passed between himself and Brooks and Coulson is made available to the inquiry, and more important, to the public."
The relationship between Mr Cameron and Mrs Brooks, who is awaiting trial on charges she denies of conspiring to hack phones and conspiring to pervert the course justice, and Mr Coulson, who became the Conservative leader's media chief in 2007, was closely scrutinised by the inquiry.
The former editor of The Sun and the NOTW was asked by the inquiry's counsel, Robert Jay QC, about the frequency of contact between herself and Mr Cameron when she was News international's chief executive. She said they texted each other sometimes twice a week, occasionally signing off using the acronym LOL, which Mr Cameron stopped using when told it stood for "laugh out loud" and not "lots of love". Mrs Brooks did not mention email exchanges.
News International provided the inquiry with text messages between Mrs Brooks and Mr Cameron over three months between 2009 and 2011 which had been retrieved from her phone.
During Mr Cameron's evidence to the inquiry in June, its lawyer Robert Jay QC said it had been decided that all but one of the text messages was "irrelevant" to Lord Justice Leveson's terms of reference.
In the disclosed message, sent in October 2009, Mrs Brooks wished the then Leader of the Opposition good luck with his conference speech, adding that "professionally we're definitely in this together".
News International provided texts to the inquiry following a request under Section 21 of the Inquiries Act, which was used to compel witnesses to provide evidence.
No politician who gave evidence to Leveson did so under section 21 rules.
A spokesman for the Leveson Inquiry said: "We haven't given a running commentary on the background to evidence and we will not do so now."
Join our commenting forum
Join thought-provoking conversations, follow other Independent readers and see their replies