David Cameron refers to 83-year-old Labour MP Dennis Skinner as 'Jurassic Park'
It isn't the first time the Prime Minister has mocked the 'Beast of Bolsover' for his old age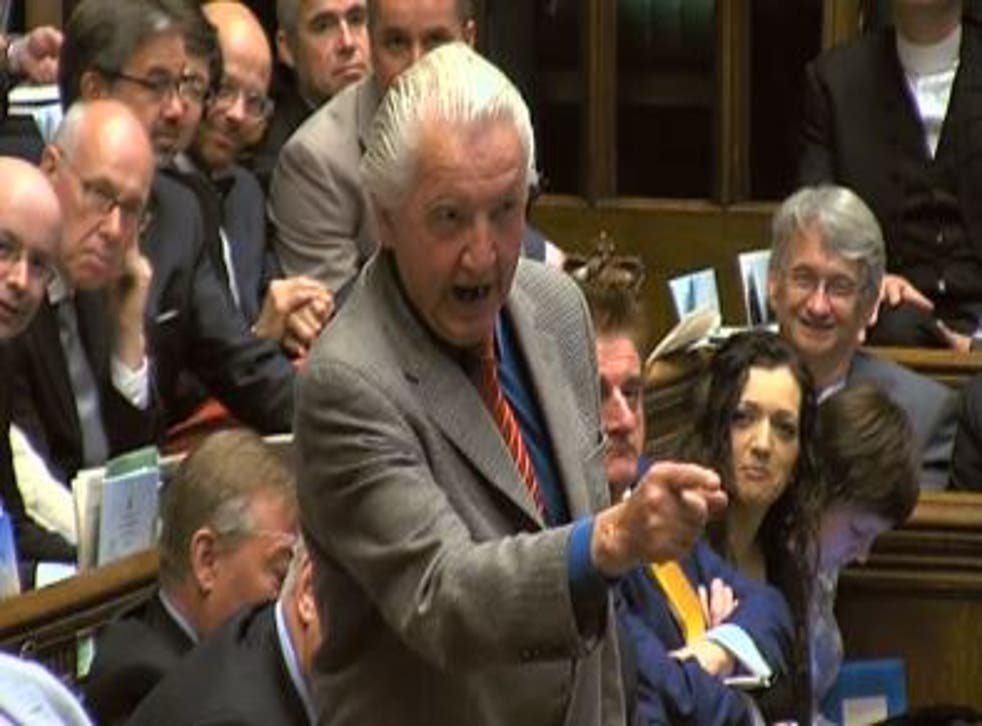 David Cameron has mocked an 83-year-old Labour MP for his old age, referring to him as "Jurassic Park" during Prime Minister's Questions.
Dennis Skinner, the second oldest MP in the House of Commons, attacked Mr Cameron for failing to have claimed state aide from the European Union to save miners hit by the closure of Doncaster's Hatfield Colliery - one of Britain's three remaining deep coal mines.
The "Beast of Bolsover", as he is nicknamed, claimed the Tory leader had "masqueraded as a workers' champion" during the general election campaign.
But Mr Cameron hit back, saying the Government had offered £20 million to the colliery's owners, before making fun of Mr Skinner's age.
"It's very good to see the Labour Party in full voice cheering on Jurassic Park," he said to laughter from the Tory benches. "I would stick to the movie," he added.
The last time the Prime Minster referred to Mr Skinner as a dinosaur (yes, he's done it before), he was forced to apologise, but he couldn't find it in him to do the same after today's insult.
Back in 2012 Mr Cameron replied to a typically lively question from Mr Skinner by saying: "I often say to my children 'no need to go to the national history museum to see a dinosaur, come to the House of Commons at about half past twelve."
And later that year he again mocked him for his old age, telling Mr Skinner that he "has the right at any time to take his pension – and I advise him to do so."
It's unlikely Mr Skinner will be too perturbed by Mr Cameron's latest slight on his age, however. In an interview with The Independent three years ago he was asked what he made of Mr Cameron's frequent jibes at his age.
"I don't let that worry me – never have. I think it diminishes him," he said.
But Mr Cameron's remarks today angered Mr Skinner's colleagues on the red side of the House:
Bang out of order for Cameron to refer to Dennis Skinner as Jurassic Park. You can be robust without being insulting. #PMQs

— Wes Streeting MP (@wesstreeting) July 1, 2015
Scottish nationalists are 'behaving like goons' in the House of Commons, says longest-serving MP
Principled Skinner rises above the fray
'Beast of Bolsover' Dennis Skinner takes Ukip MP Mark Reckless to task moments after he is sworn in
Who would dare deprive Dennis Skinner of his seat?
The major political figures who lost out in the General Election

Show all 16
Register for free to continue reading
Registration is a free and easy way to support our truly independent journalism
By registering, you will also enjoy limited access to Premium articles, exclusive newsletters, commenting, and virtual events with our leading journalists
Already have an account? sign in
Register for free to continue reading
Registration is a free and easy way to support our truly independent journalism
By registering, you will also enjoy limited access to Premium articles, exclusive newsletters, commenting, and virtual events with our leading journalists
Already have an account? sign in
Join our new commenting forum
Join thought-provoking conversations, follow other Independent readers and see their replies