David Cameron risks reopening 'bitter' Tory wounds over Europe - senior Tory MP warns PM over his 'extraordinary back me or resign' stance
David Davis says the PM's 'my way or the high way' approach to the EU endangers the party's unity just one month after election triumph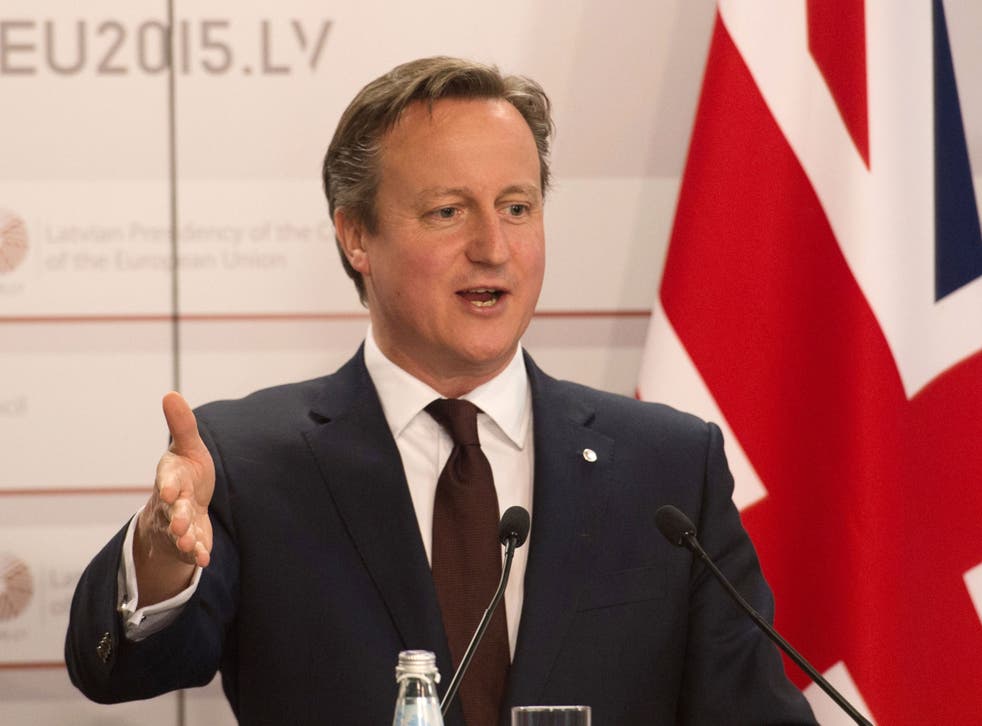 David Cameron risks reopening the "bitter" internal divisions within the Conservative party over Europe after telling ministers they face the sack if they campaign in favour of Britain quitting the European Union.
The Prime Minister insisted yesterday that the government would not be "neutral" on the question of Britain's membership of the EU, but his robust stance on the issue has ended his honeymoon with his slim majority of MPs, just one month after his shock election triumph.
But David Davis said the Prime Minister's "my way or the highway" approach to party management exposes a lack of confidence that he will secure the reforms he hopes to achieve as he bids to renegotiate Britain's membership of the EU before an in-out referendum before the end of 2017.
And he is in danger of turning a "decent debate" over the EU into "a bitter argument" within the Tories, returning it to the damaging rows that split the party under John Major in the 1990s.
The 1992 Maastricht Treaty sparked years of trouble for Mr Major and his small majority gave his backbench rebels significant influence and Mr Davis warned Mr Cameron, who has an even smaller majority, that he must be more delicate in managing his own party than yesterday's words suggested.
Appointments in David Cameron's Tory government

Show all 7
"This is a once-in-a-lifetime, history-changing event. For many people, it's the reason they got into politics. Not mine, but for some it is," he told the Today programme.
"And yet the only people who will not have the freedom to vote and speak on it, according to this, are ministers in the Government, which, of itself, is extraordinary.
"That will likely lead, I'm sorry to say, to some people resigning from the Government or being fired.
He added: "This doesn't show a great deal of confidence in the outcome of those negotiations, that he has to say now 'My way or the highway, stay and play the line, or leave'."
It comes after Mr Cameron was warned yesterday that 100 Tory MPs will vote for Britain to leave the EU unless he wins the reforms they have demanded.
The Conservatives for Britain group, which launched yesterday, claimed that up to nine Cabinet ministers could support a No vote to the EU in the referendum.
They would have to resign from the government, after the Prime Minister made clear that his ministers would be bound by collective government responsibility and therefore forced to back his position.
He also made it clear he was not prepared to compromise with former Cabinet ministers, such as Owen Paterson and Liam Fox, who have called for a period of purdah before the referendum during which the government machine would remain neutral, as it does before elections.
Speaking at the G7 summit in Germany, he said: "If you want to be part of the Government you have to take the view that we are engaged in an exercise of renegotiation and that will lead to a successful outcome," he said.
"The Government isn't neutral in this we have a clear view; (we) get a deal that is in Britain's interest and then recommend that Britain stays in. Everyone in government is signed up to the programme set out in the Conservative manifesto."
The Prime Minister's stubborn approach was backed up by communities and local government minister James Wharton, who piloted the legislation for an EU referendum as a backbencher in the last parliament.
He toldToday: "If the Government is taking a Government position, if collective responsibility is applied, if you don't want to support that position you have to leave. You are then free to campaign for whatever you want, to vote however you want.
"If we get to a position where the Government's position is that this renegotiation has been successful - and the details will be there for all to see at that point - then it is reasonable to expect that collective responsibility will apply."
Conservatives for Britain: What you need to know about the group
Who are they?
More than 50 Tory MPs have signed up. The co-chairmen include Steve Baker, MP for Wycombe and David Campbell Bannerman, an MEP and former deputy leader of Ukip
Former Cabinet ministers Owen Paterson and John Redwood have signed up
Other Tory MPs include Bernard Jenkin, Julian Lewis and Adam Afriyie and newly-elected James Cleverly, Tom Pursglove, Craig Mackinlay and Anne-Marie Trevelyan.
What do they want?
They say they want David Cameron to succeed in his bid to negotiate "fundamental change" to Britain's EU membership terms. But most members are likely to vote No in the referendum whatever he wins
What are their specific demands?
The group says it is not setting out non-negotiable "red lines" yet
However, it wants to restore the sovereignty of the British Parliament by allowing it to veto any EU law that threatens the UK. Ministers say that it unrealistic and are working on a "red card" system under which several EU parliaments to block a law from Brussels
The group wants reform of freedom of movement rules, an EU tablet of stone. Mr Cameron is focusing on limiting state benefits to EU migrants after Germany refused to back changes to freedom of movement
The group wants a free trade relationship with the EU but also "a common market with the world" so that the UK can strike deals with fast-growing economies without "European barriers". Pro-Europeans argue that Britain would have less negotiating clout if it left the biggest single market in the world.
Join our new commenting forum
Join thought-provoking conversations, follow other Independent readers and see their replies