David Cameron's constituency office calls police on food bank campaigners Bishop of Oxford and Reverend Keith Hebden
Door was shut in church leaders' faces as David Cameron wrote for The Church Times on his Anglican faith
Felicity Morse
Tuesday 22 April 2014 19:25 Comments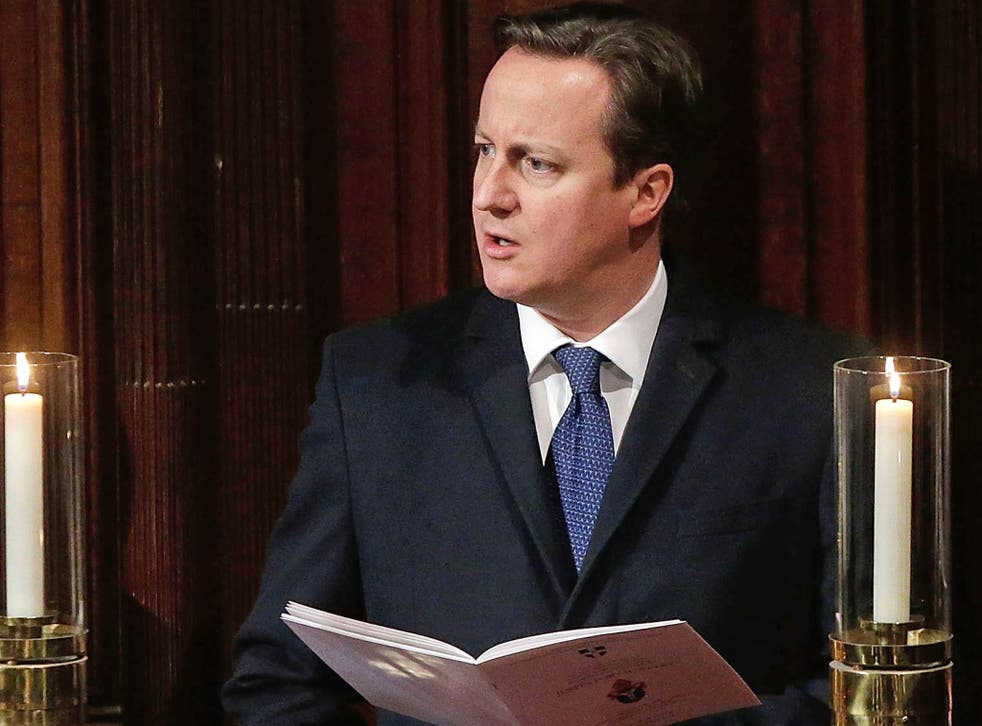 David Cameron's constituency office has come under fire for calling the police on the Bishop of Oxford and Reverend Hebden as they attempted to present him with an open letter on food poverty.
Their letter, part of the End Hunger Fast campaign, was signed by 42 Anglican bishops and more than 600 clerics and called on the three party leaders to work with the parliamentary inquiry into food poverty to implement its recommendations.
However, despite David Cameron's Witney office expecting their visit, they were barred from presenting the letter and instead greeted by three police officers. Around 40 people had walked to his office following a service, and while the congregation stood on the opposite side of the road, the Rt Revd John Pritchard and Rev Hebden went to deliver the letter on their own. The police "weren't there very long" when they realised the situation, Reverend Keith Hebden told The Independent, saying that they could see Cameron's office staff looking out the window as they were forced to abandon their visit.
He added: "It is deeply ironic, to say the least, that on the same day David Cameron was writing in the Church Times talking about what a good Anglican he is, he was wasn't able to receive his own bishop in his constituency office. I think this speaks volumes.
"They were expecting us, we had phoned ahead. Most of my surprise was reserved for them not even opening the door. The letter was positive and addressed to all three party leaders, so it wasn't political."
In pictures: Food banks

Show all 9
David Cameron said in the Church Times that Britain should be "evangelical" about its Christianity and in a separate claim made earlier this month that the Conservative party's "Big Society" initiative was continuing Jesus' work.
Dr Hebden and the Bishop of Oxford were presenting Cameron with the letter as it was revealed more than 900,000 people were given emergency food in the past year, an increase of 163 per cent, according to figures from the Trussell Trust, the biggest food bank charity. The explosion in demand has coincided with an increase in those seeking help following a benefit sanction.
Speaking about food banks and the impact of the current raft of welfare reforms being brought in by the coalition, Rev Hebden said: "We are facing a national moral crisis and actions speak louder than words.
"We the people have taken on our moral responsibility by fasting, volunteering at food banks and showing compassion to those affected. The government are not only failing to recognise the problem but failing to act with any compassion."
In its most hard-hitting report to date, the Trussell Trust said the Government's use of sanctions was "increasingly harsh" and that half of those referred to food banks in 2013-14 were as a result of benefit delays or changes.
Eight out of 10 of their food banks saw more cases relating to benefit sanctions over the past year. Tougher punishments for those on jobseeker's allowance were introduced by the Coalition last October, raising the minimum sanction from one to four weeks. Benefits can now be stopped for up to three years.
In total, 913,138 people received three days' emergency food from Trussell Trust food banks in 2013-14, compared with 346,992 in 2012-13.
Reverend Dr Keith Hebden went without food for 40 days and 40 nights during Lent to draw attention to the astronomic rise in the use of food banks and the need for the government to do more to tackle falling living standards.
Register for free to continue reading
Registration is a free and easy way to support our truly independent journalism
By registering, you will also enjoy limited access to Premium articles, exclusive newsletters, commenting, and virtual events with our leading journalists
Already have an account? sign in
Join our new commenting forum
Join thought-provoking conversations, follow other Independent readers and see their replies