EU deal: Tusk to table draft agreement between UK and Brussels after breakthrough in talks with Cameron
The PM wants to restrict in-work benefit payments to EU migrants for four years after they arrive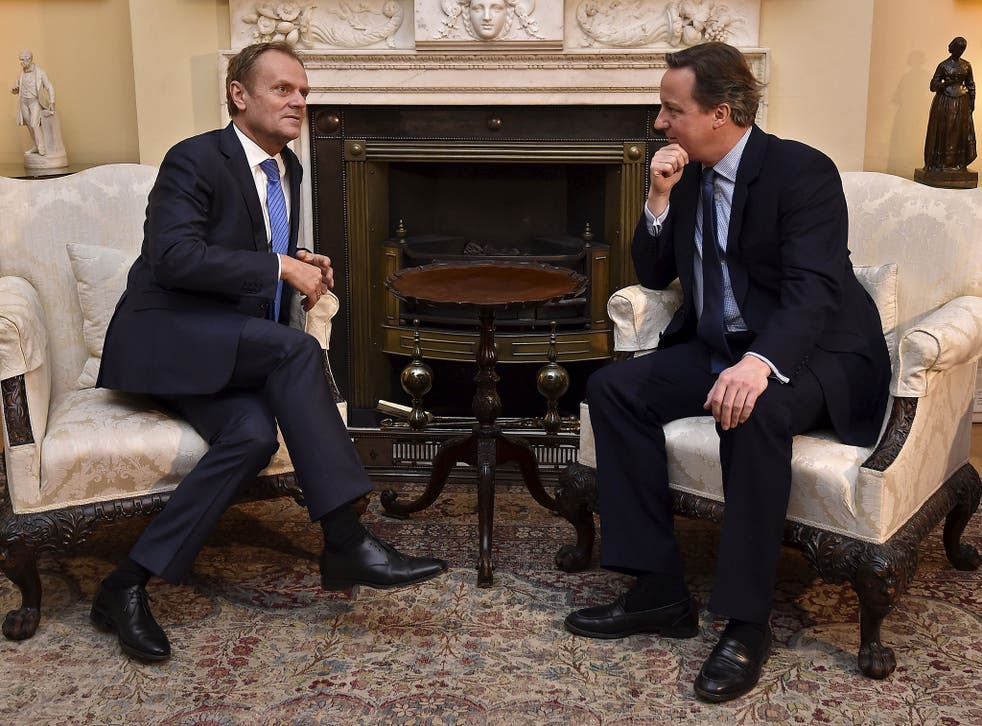 European Council president Donald Tusk has said he will table proposals for an agreement between the UK and Brussels on the renegotiation of the country's EU membership tomorrow.
Mr Tusk - who attended a private meeting with David Cameron last week - said the pair had made "good progress" in the talks but there were still "outstanding issues" to be addressed.
It comes as Downing Street has said the Prime Minister's proposal to restrict in-work benefit payments to EU migrants could be imposed "immediately" after the EU referendum.
"There is more work to do in all four areas – more work in some areas than in others," the spokesperson told a press briefing, according to the Reuters news agency.
"There is more hard work to be done both in terms of the proposals that are tabled and how far they go in addressing the reforms we are seeking, but then - let's be clear - in the run-up to either the February European Council or whenever we get a deal, there will be a lot of hard work to get 27 other member states signed up to what we need."
David Cameron has asked the EU to restrict in-work benefits for EU migrants, to slash regulations, to protect the single market for countries outside the euro and to exempt the UK from "ever-closer union".
The PM has said that once he renegotiates these aspects of membership he will hold a referendum on whether to stay in the EU, which is due by 2017.
There have however been reports that the plebiscite could be held earlier, possibly as soon as this summer.
Refugee crisis - in pictures

Show all 27
The main plank of Mr Cameron's proposals is the four-year waiting period for EU migrants before they can claim UK in-work benefits.
The people coming from other EU countries would still be entitled to out-of-work benefits and would not be restricted from coming to or working in the UK, however.
Some eurosceptics, including Ukip's leader Nigel Farage, have branded the renegotiations a "charade" and say that even if Mr Cameron achieved all his goals they would not significantly change Britain's relationship with the bloc.
Negotiations are currently on-going between the UK and the president of the European Council, Donald Tusk. Officials have been given a 24 hour extension to find a deal.
Register for free to continue reading
Registration is a free and easy way to support our truly independent journalism
By registering, you will also enjoy limited access to Premium articles, exclusive newsletters, commenting, and virtual events with our leading journalists
Already have an account? sign in
Join our new commenting forum
Join thought-provoking conversations, follow other Independent readers and see their replies