David Cameron's 'firm aim' is to remain in EU and he will highlight 'risky' consequences of Brexit - leaked memo
PM believes British voters will 'ultimately vote for the status quo'
Matt Dathan
,
Andrew Grice
Friday 26 June 2015 23:10 Comments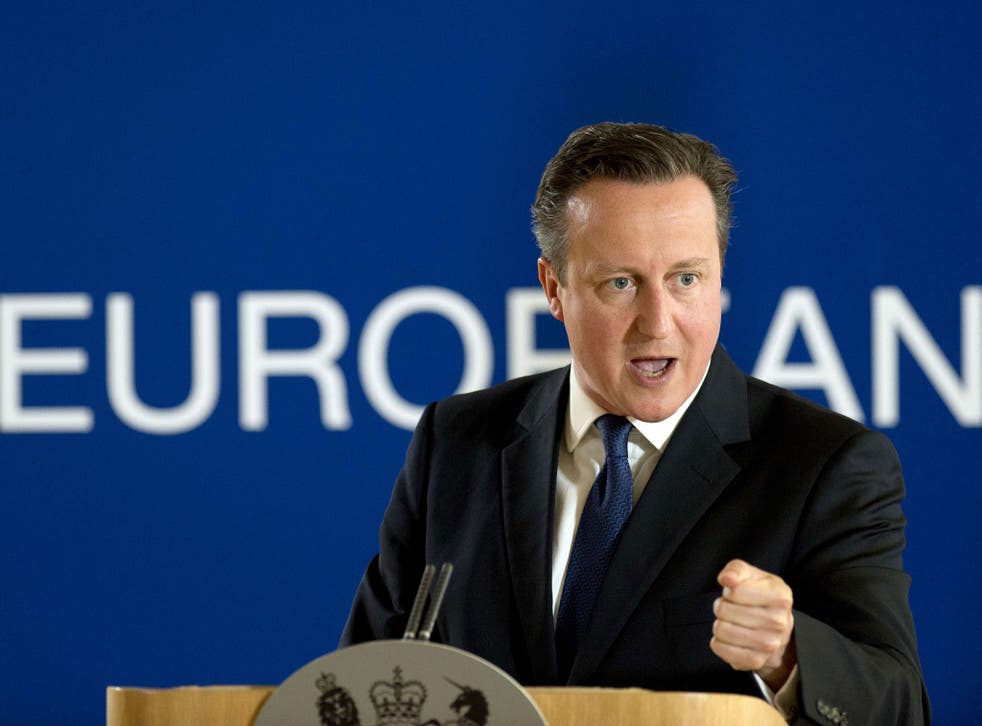 David Cameron will persuade the British public to vote in favour of the UK remaining in the European Union by highlighting the "risky" implications of leaving, according to leaked notes of a meeting between the Prime Minister and one of his 27 EU counterparts.
It is his "firm aim" to remain in the EU, Mr Cameron is reported to have said, and he has told fellow EU leaders that he believes British voters will "ultimately vote for the status quo" in the in-out referendum that he has pledged to hold before the end of 2017.
The words drew comparisons with the warnings by the Better Together campaign before the independence referendum in Scotland, which was labelled "Project Fear".
Nigel Farage said the memo, obtained by the Guardian, is proof that Mr Cameron's vow to renegotiate Britain's membership of the EU is "a complete con job".
It comes after Mr Cameron laid out his case for reforming Britain's membership of the EU at a dinner of all 28 EU leaders last night. The summit was largely overshadowed by more urgent talks on the deadlocked Greek debt talks and the Mediterranean migrant crisis.
The Prime Minister hopes to reform Britain's membership of the EU in four key areas: restricting EU citizens' access to welfare; securing an opt-out of the 'ever closer union' clause enshrined in the EU's treaties; greater powers for national parliaments; and securing protections for non-euro member states.
Mr Cameron was only given five minutes during a break in discussions on the migrant crisis to discuss his plans for a renegotiation and the only response came from Belgium's Prime Minister, Charles Michel, who said other EU nations must be given a say before final proposals are drawn up.
Mr Cameron nevertheless said he was "delighted" with the agreement that technical talks will begin shortly between EU and UK officials, before EU leaders return to the renegotiation proposals at their December summit.
He admitted that the referendum is likely to take place before any reforms on the UK's membership are written in a new EU treaty, but officials insisted that the new deal would be "crystal clear" to the public and have "legally binding" guarantees that would amount to an "irreversible lock."
Asked about the leak, Mr Cameron insisted: "My view is a wholly positive one.
"I am making positive arguments about how Britain's relationship can change, how Europe can change, so I can make a positive argument about Britain staying in a reformed EU.
"I have always said, if I don't succeed in that, I rule nothing out." Taavi Roivas, the Estonian Prime Minister, said the reforms could require a new EU governing treaty – triggering "referendums all around the EU and that would cause some difficulties as well".
Mr Cameron admitted there was opposition to his plans, saying: "They are going to be tough to negotiate."
He acknowledged he did not have the support of all 27 fellow leaders for his reforms but said he was "confident" of reaching a deal that would lead to him recommending a Yes vote in the in-out referendum.
Eurosceptic Tory MPs

Show all 7
The document said the Prime Minister preferred the option of staging the referendum next year. Shedding light on which of his fellow leaders were most supportive of his plans, the memo suggested Angela Merkel, the German Chancellor, and Matteo Renzi, the Italian Prime Minister, were the most positive in their talks with Mr Cameron.
However Francois Hollande, the French president, was "warier" about Mr Cameron's desire to restrict entitlements to welfare.
The note said: "The PM said that he had deliberately not produced a lengthy shopping list and had been careful in formulating his wish list, but he needed to get satisfaction on these reform demands. He said that he needed to win the middle ground and, if he is to achieve this, then moderate people needed to feel that the things that bother them about the EU have been dealt with."
The Prime Minister's official spokeswoman said: "We have said there would be noise during this process. We are not going to give a running commentary on these negotiations."
Register for free to continue reading
Registration is a free and easy way to support our truly independent journalism
By registering, you will also enjoy limited access to Premium articles, exclusive newsletters, commenting, and virtual events with our leading journalists
Already have an account? sign in
Join our new commenting forum
Join thought-provoking conversations, follow other Independent readers and see their replies