David Cameron's response to the refugee crisis is 'clearly inadequate' says coalition of 27 charities
Groups including Oxfam, Amnesty International, and the Refugee Council and calling for more to be done in 2016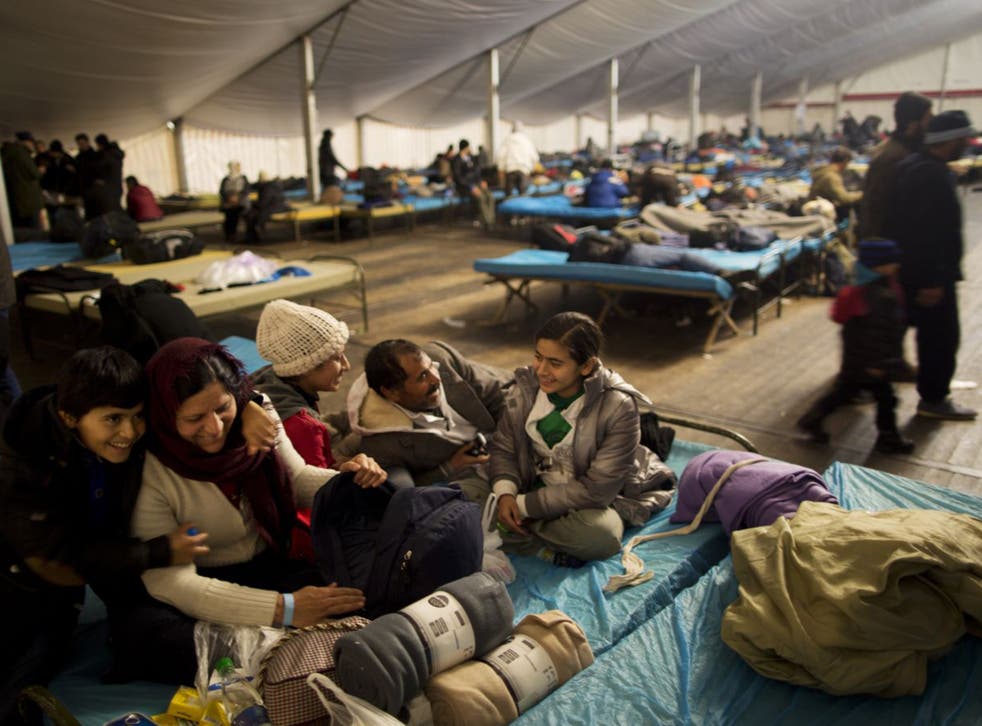 David Cameron's response to the refugee crisis is "clearly inadequate" and should be improved in 2016, a coalition of 27 charities has said.
The organisations, including Oxfam, Amnesty International, and the Refugee Council, say Britain must establish safe and legal routes for refugees across Europe.
They have also endorsed proposals drawn up by 350 top lawyers and former judges for Britain to take a fair share of refugees.
Better access to fair procedures to determine elegibility should be given to people travelling to the UK, they add.
"Last year's announcement that the UK will resettle 20,000 Syrian refugees over five years was a welcome first step, but given the numbers of people searching for safety across the globe, this response is clearly inadequate: it is too slow, too low and too narrow," the joint letter says.
"The UK can and should be doing much more to ensure that refugees are not compelled to take life-threatening journeys or forced into smugglers' hands."
Other groups to have signed the letter include Christian Aid, Cafod, the International Rescue Committee, Greenpeace, Islamic Relief, Joint Council for the Welfare of Immigrants, Liberty and World Vision.
The Government says the UK is playing a "leading role" in providing aid to the region and that its own resettlement targets have been met.
The UK is currently committed to taking only 20,000 refugees over the parliament – 4,000 people a year.
Refugee crisis - in pictures

Show all 27
By contrast Germany's Government processed that many refugees in one busy weekend and has said could take over a million over the next year.
The UK has also refused to accept refugees who have travelled to European under their own steam and is only relocating people from camps near the Syrian conflict zone.
Additionally, Britain has refused to take part in an EU refugee scheme to redistribute people claiming refuge in southern European countries, where services are already at breaking point.
Ministers have previously said they believe provision for refugees coming to Europe - including search and rescue cover for those travelling by boat - would encourage more people to make the journey.
The European Commission says three million refugees are set to enter the European Union by 2016.
A government spokesperson said: "The terrible images we have seen in the last year have moved us all, strengthening our resolve to help prevent more people suffering such a fate.
"That is why we are resettling people directly from the countries neighbouring Syria, to which so many refugees have fled, and we have already met our target of welcoming 1,000 of the most vulnerable before Christmas.
"The UK is also playing a leading role providing life-saving aid to those most in need, both in the Syrian region, where we have pledged over £1.1bn in humanitarian aid, and in Europe. It is essential that we focus our support where we can make the biggest impact."
Register for free to continue reading
Registration is a free and easy way to support our truly independent journalism
By registering, you will also enjoy limited access to Premium articles, exclusive newsletters, commenting, and virtual events with our leading journalists
Already have an account? sign in
Join our new commenting forum
Join thought-provoking conversations, follow other Independent readers and see their replies