David Cameron says he's 'delighted' that tax credit cuts are going ahead
Cuts are estimated to cost 3.2 million families an average of £1,300 but the Prime Minister said he was pleased the reforms had passed latest Commons test
Matt Dathan
Online political reporter
Wednesday 21 October 2015 13:44 Comments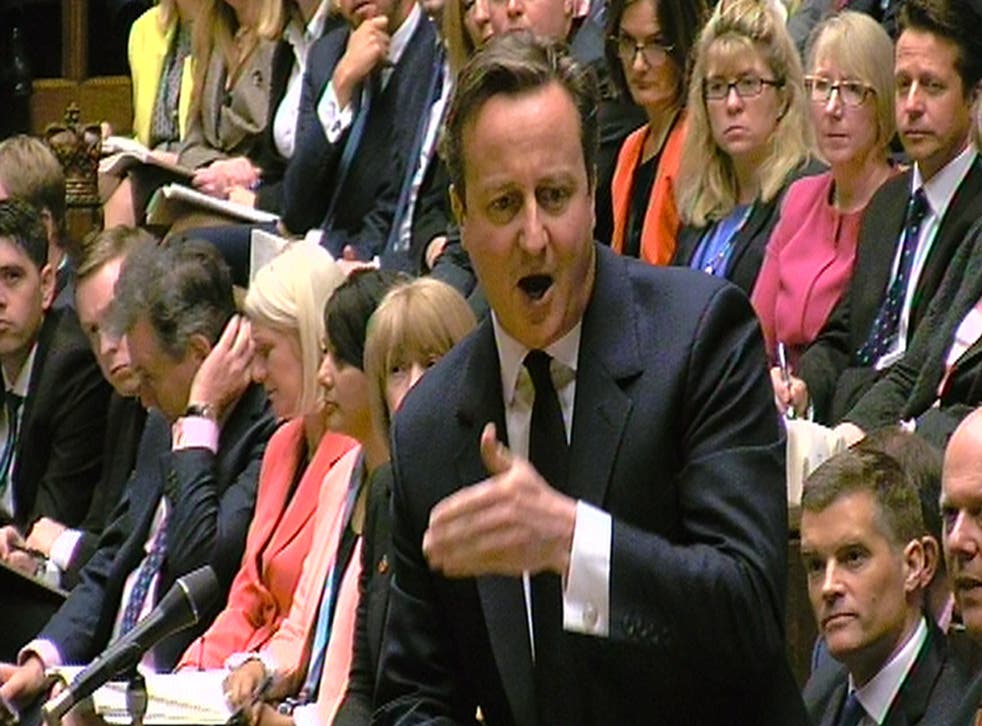 David Cameron has said he is "delighted" that tax credit cuts are going ahead as he refused to budge on Government plans to implement the £4.5bn savings next April.
The Prime Minister and George Osborne have come under increasing pressure to soften the impact of the cuts to working tax credits, which will lower the amount you can earn before working tax credit starts to reduce from £6,420 to £3,850 from April 2016.
Jeremy Corbyn seized on criticism of the plans by Conservative MPs in a debate on the reforms on Tuesday. Heidi Allen warned that the "poorest and most vulnerable" by the package of cuts, which are estimated to make 3.2 million families an average of £1,300 worse off.
Quizzing Mr Cameron at his third Prime Minister's Questions, the Labour leader asked: "Where was she wrong?"
Mr Cameron replied: "The tax credit changes are part of a package, a package that includes a higher national living wage and tax reductions.
"I think that is the right approach for our country - let's make work pay, let's allow people to earn more, let's cut their taxes and let's make welfare affordable.
"I'm delighted that once again this measure passed the House of Commons last night with a big majority," he said.
Labour's Opposition Day motion was defeated by a majority of 22, but the Government faces the prospect of a Tory rebellion after veteran poverty campaigner Frank Field was granted a Commons debate on his proposals to introduce safeguards, which will be held on October 29.
Labour jumped on Mr Cameron's comments, describing them as "shameful". Shadow Cabinet office minister Jon Ashworth said: "David Cameron showed the true face of the Tory Party at PMQs today when he talked about his 'delight' at tax credit cuts. This Tory cut will mean over 3 million families losing on average £1,300 a year.
It's shameful that David Cameron is 'delighted' the cuts were voted through the Commons again last night. Despite his rhetoric yet again we see the Tory Party is not the party of the common ground."
Register for free to continue reading
Registration is a free and easy way to support our truly independent journalism
By registering, you will also enjoy limited access to Premium articles, exclusive newsletters, commenting, and virtual events with our leading journalists
Already have an account? sign in
Join our new commenting forum
Join thought-provoking conversations, follow other Independent readers and see their replies