David Cameron says he wants TV debates and his rivals are 'running away'
He calls for 'proper set of rules' after his refusal to take part unless the Greens are represented
David Hughes
Monday 12 January 2015 15:59 Comments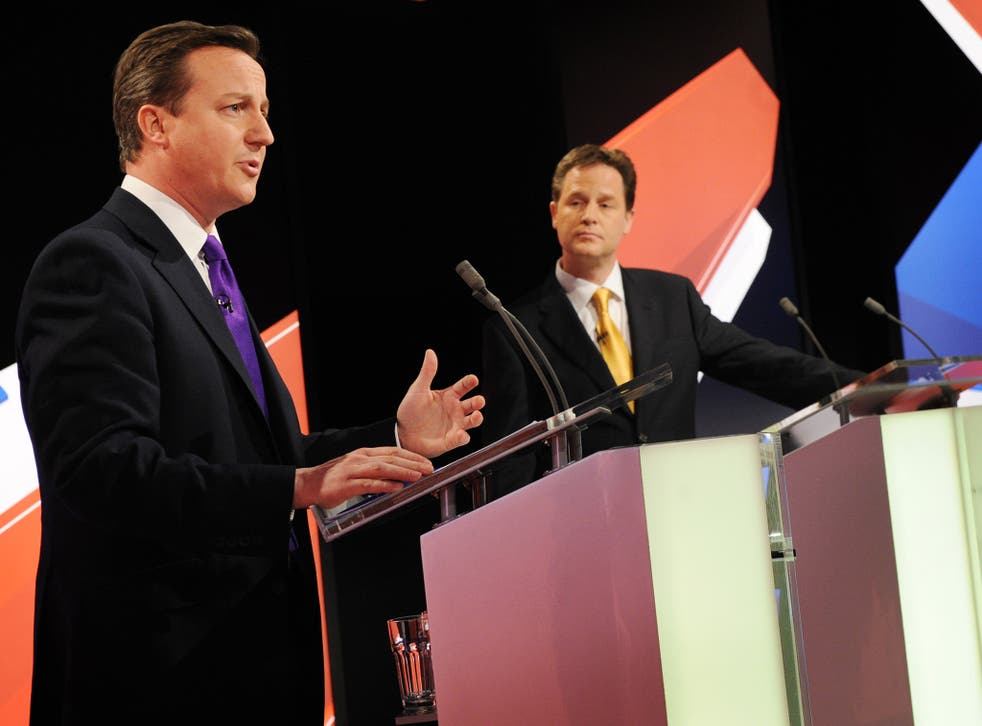 David Cameron has insisted Westminster rivals are "running away" from TV debates in the run-up to the general election - despite his own refusal to take part unless the Greens are represented.
The Prime Minister has ruled out appearing in the debates under the current format proposed by the broadcasters, which would see Ukip's Nigel Farage take part but not Green leader Natalie Bennett.
Labour leader Ed Miliband said broadcasters should "empty-chair" Mr Cameron if he refuses to appear in televised leaders' debates ahead of the May 7 general election, while former Tory chairman Lord Tebbit warned that voters will conclude Mr Cameron is "frit" if he dodges the live TV showdowns.
Asked about his opposition to the format proposed by broadcasters, Mr Cameron said: "I don't want to pass up the opportunity of talking to millions of people about these vital issues.
"I think the debates were successful last time, I think they were good and I would like them to happen again.
"But we have got to have a proper set of rules. It seems to me that if people want one minor party - Ukip - to be involved, you can't exclude another minor party, the Greens.
"So I have made, I think, a perfectly reasonable point, which is if you are going to have one, you had better have the other."
Under plans put forward by the major broadcasters last year, the Prime Minister would take on Mr Miliband alone in one debate, with another featuring the three mainstream party leaders and a third also including Mr Farage.
Speaking at an event in Nottingham, Mr Cameron suggested it was Labour and the Liberal Democrats who were standing in the way of the Green leader being invited to take part in a debate.
He said: "I can quite understand why Labour and the Liberal Democrats are running away from this because they see the Greens as a threat to them. Well, tough.
"They beat the Liberals in the European elections, they have got a Member of Parliament. I don't see any logical argument for excluding the Greens if you are going to include Ukip."
Mr Cameron has also been challenged to take part in a digital debate with the leaders of Labour, the Liberal Democrats, Ukip and the Greens.
The pre-election debate would be broadcast over the internet and hosted by the Telegraph, the Guardian and YouTube.
Asked about the idea, Mr Cameron said: "I'm happy to look at all of the many proposals. There will be proposals for digital debates, online debates.
"All we need to have is a fair way of arranging these things. You can't include some and exclude others."
PA
Register for free to continue reading
Registration is a free and easy way to support our truly independent journalism
By registering, you will also enjoy limited access to Premium articles, exclusive newsletters, commenting, and virtual events with our leading journalists
Already have an account? sign in
Join our new commenting forum
Join thought-provoking conversations, follow other Independent readers and see their replies