David Cameron says Scottish Tories should drape themselves in 'red, white and blue' to win votes from people worried about second referendum
'We always said we were the party of the Union, but now it's clear we're the only party of the Union'
Chris Green
Scotland Editor
Friday 04 March 2016 16:52 Comments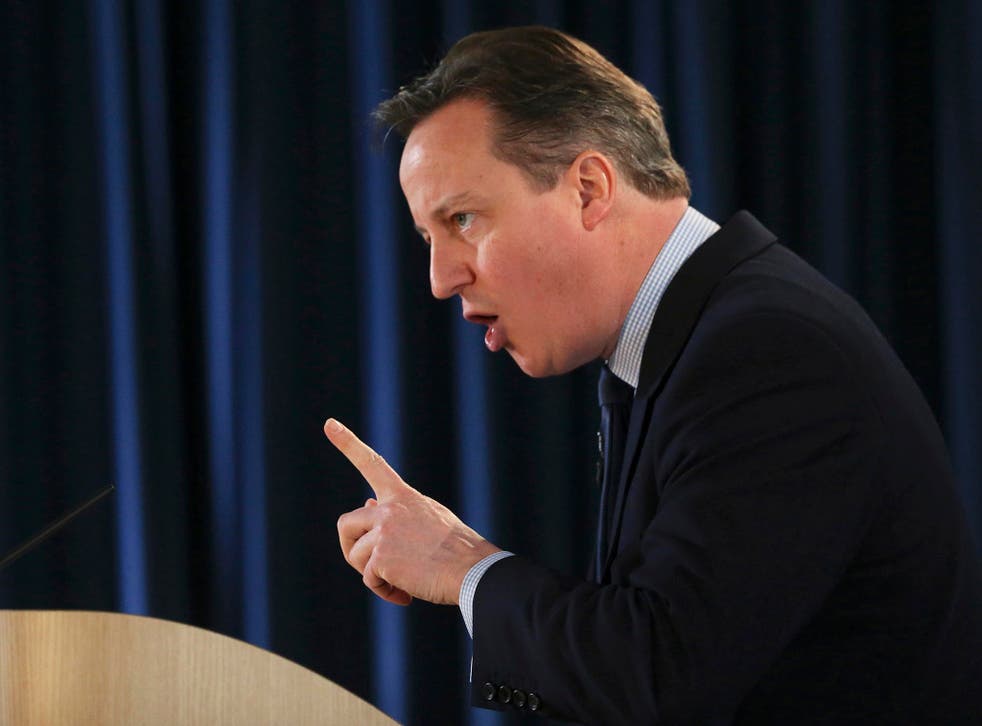 The Scottish Conservatives should drape themselves in "red, white and Saltire blue" in the run up to May's Holyrood election to win the votes of people who are worried about the prospect of a second independence referendum, David Cameron has said.
In a speech to the Scottish Conservative conference in Edinburgh, the Prime Minister told activists that the election was "our moment" to overtake Labour and become Scotland's official party of opposition, laying out four strategic areas which could help the party achieve this goal.
The Tories should play up its commitments to preserving the United Kingdom, ruling out tax rises and maintaining strong national defences as well as highlighting Labour's ineffectiveness in opposition to persuade Scottish voters that the party is the only "strong alternative" to the SNP, he said.
"We always said we were the party of the Union, but now it's clear we're the only party of the Union," Mr Cameron told delegates at Murrayfield Stadium in the Scottish capital. "For the SNP, it's still independence or nothing despite us settling the matter for a generation."
Accusing Labour and the Liberal Democrats of "effectively abandoning their support for the Union" by allowing their politicians to campaign either way if a second referendum should take place, he added that the Tories were the "one party" who could speak up for the two million Scots who voted No in 2014.
The Prime Minister, who is currently trying to build widespread support for Britain remaining in the EU ahead of the referendum on 23 June, argued that Scotland would be able to enjoy the "best of both worlds" as part of a United Kingdom which also had a say in Europe. Leaving could be costly for Scotland, he warned, suggesting that increased tariffs may be placed on key food exports such as salmon, lamb and beef.
"You can be a strong, successful, proud Scot - and be part of the United Kingdom and European Union," Mr Cameron added. "Being in these two clubs doesn't diminish Scotland's identity. It doesn't make you less of a Scot, or less patriotic."
The SNP earlier accused Mr Cameron – who arrived in the Scottish capital late on 3 March and left almost immediately after delivering his speech – of patronising the country by taking a "day trip" north. It also emerged that the Scottish Conservatives chose to hold their conference at Murrayfield, the home of Scottish rugby, specifically due to the security requirements needed to accommodate the Prime Minister, who spoke for less than 20 minutes.
Register for free to continue reading
Registration is a free and easy way to support our truly independent journalism
By registering, you will also enjoy limited access to Premium articles, exclusive newsletters, commenting, and virtual events with our leading journalists
Already have an account? sign in
Join our new commenting forum
Join thought-provoking conversations, follow other Independent readers and see their replies