David Cameron to warn Vladimir Putin would be the winner from Brexit
Prime Minister expected to echo a warning by shadow Foreign Secretary Hilary Benn over effects of withdrawing from EU
Andrew Grice
Thursday 11 February 2016 19:32 Comments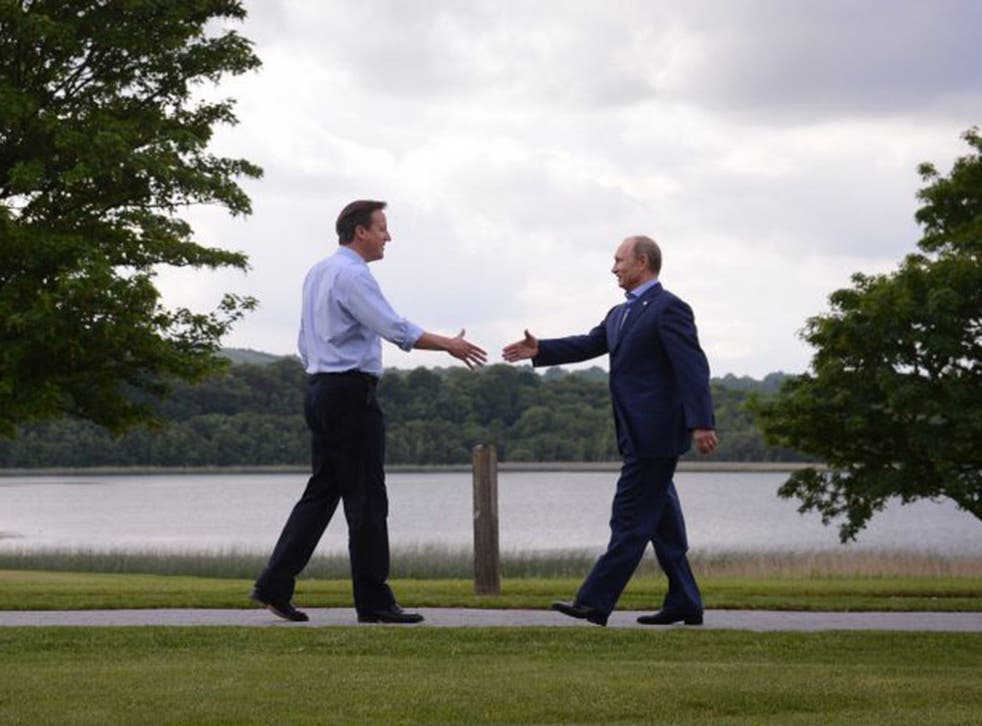 The campaign to keep Britain in the EU is to argue that Vladimir Putin would be the winner if the public votes to leave the 28-nation bloc in the coming referendum.
David Cameron is expected to echo a warning by Labour that the Russian President would welcome a decision by Britain to withdraw from the EU. A Downing Street source said: "Who would most love to see Britain leave the EU? President Putin. He would see it as a sign that Europe is falling apart."
National security, including standing up to Russian aggression and co-operation on crime and terrorism, is seen by pro-Europeans as a way to neutralise the impact of the migration crisis, which is thought likely to boost the Out campaign. Some pro-Europeans believe they could then win the referendum on the economic benefits of membership.
Hilary Benn, the shadow Foreign Secretary, was accused by Eurosceptics of scaremongering after saying in a speech on Thursday: "President Putin would shed no tears if Britain left the European Union. He would see Brexit as a sign of our weakness and of the weakness of European solidarity at the very moment when we need to maintain our collective strength."
Speaking to the Chatham House think tank, Mr Benn cited Europe's co-ordinated response to Russia's aggression in Crimea and Ukraine. He argued: "Our national security is served by both our membership of NATO and of the EU. To walk away from our membership and leadership of the EU would be a grave strategic error because Britain's role in promoting international peace and security around the globe is greatly enhanced by being part of Europe."
What has the EU ever done for us?

Show all 7
But Matthew Elliott, chief executive of Vote Leave, said: "Pro-EU campaigners cannot make a positive case for remaining in a political project that is incapable of dealing with the challenges of the 21st century. Instead of accepting that we need a new relationship with the EU, they are whipping up fear about dictators and economic doom despite the fact that neither are remotely credible. Voting Leave is the safe option as it will allow us to make our own trade deals, end the supremacy of EU law and invest in our priorities."
Mike Hookem, Ukip's defence spokesman, said: "Putin would be more scared of Britain leaving the EU and regaining her place on the world stage than being tied down by a militarily spineless organisation whose contribution to international military affairs has been to waste huge amounts of money in Mali and march up and down outside EU buildings....when it comes to dealing with Russian hostilities, the EU has been utterly useless."
Mr Benn rejected Jeremy Corbyn's attempt to swing Labour behind a policy of unilateral nuclear disarmament by opposing renewal of the Trident weapons system. The shadow Foreign Secretary told his audience: "If we gave ours up I don't believe for a second any one of the other nuclear powers in the world would say: 'Well, if you are not going to keep yours any more, we are going to chuck ours in the dustbin.' It would not happen."
Mr Benn added: "Who can predict what the threats will be in 20, 30, 40 years' time?
The deterrent is intended to deter and I think it has succeeded in doing that. And finally, who fancies living in a world in which everyone else has given up their nuclear weapons and North Korea still has its nuclear weapons? If you fancy that put your hands up."
Register for free to continue reading
Registration is a free and easy way to support our truly independent journalism
By registering, you will also enjoy limited access to Premium articles, exclusive newsletters, commenting, and virtual events with our leading journalists
Already have an account? sign in
Join our new commenting forum
Join thought-provoking conversations, follow other Independent readers and see their replies