David Cameron under pressure to raise human rights in Kazakhstan
Mr Cameron will be the first serving British Prime Minister to visit the former Soviet republic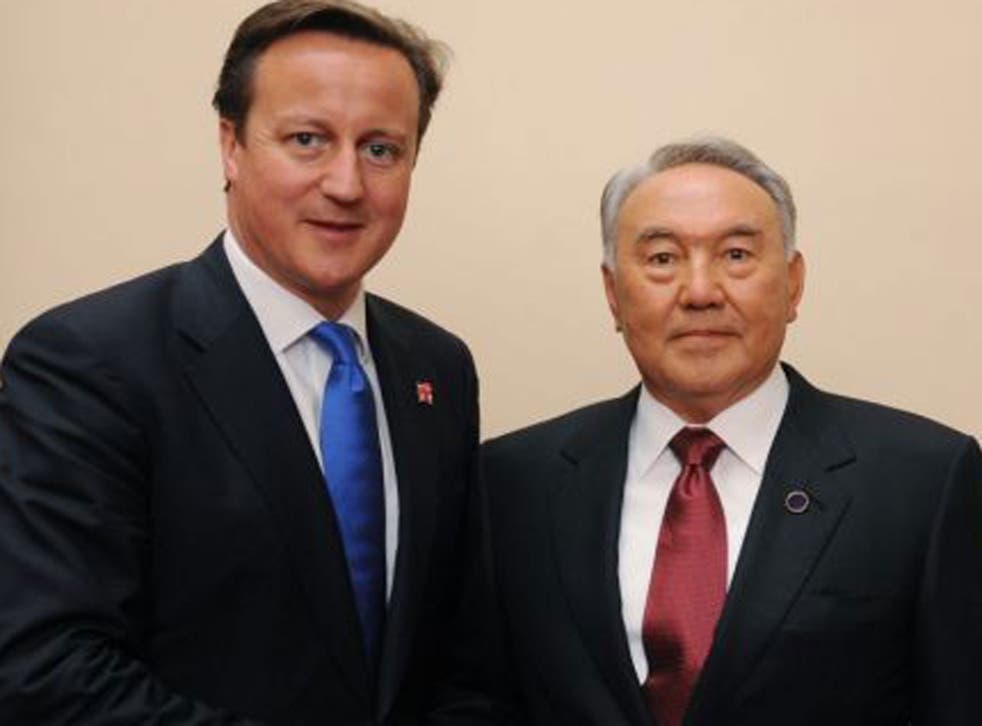 David Cameron has been challenged to stand up to Kazakhstan's authoritarian leader over "deteriorating" human rights during his forthcoming visit to the former Soviet republic.
Ahead of his trip to the oil-rich state in the coming days, Human Rights Watch urged the Prime Minister to confront Nursultan Nazarbayev over "credible allegations" of abuses including torture in the past 15 years.
Mr Cameron will be the first serving British Prime Minister to visit Kazakhstan, as he continues to make boosting trade a key plank of his Government's foreign policy. The trip is intended to cement commercial and political links with the Central Asian republic, which has huge reserves of gas and oil. A series of deals covering energy and transport are expected to be signed. Downing Street also hopes to rubber-stamp agreements to transport tonnes of military equipment through Kazakhstan as part of the UK's withdrawal from Afghanistan next year.
But the summit has been overshadowed by a political row before Mr Cameron sets foot in Kazakhstan, as human rights groups demand that he takes the opportunity to stand up for the rights of ordinary Kazakhs who, they claim, are being oppressed by Mr Nazarbayev, a former Communist Party chief. Tony Blair has already faced criticism over his links to the regime. His foundation has a multi-million pound contract advising its government on political and economic reform.
Human Rights Watch called on Mr Cameron to ensure that his visit is not dominated by trade and politics alone. The group has presented him with a catalogue of alleged abuses perpetrated under Mr Nazarbayev. In a letter to the Prime Minister, David Mepham, the group's UK director, and Hugh Williamson, its executive director, urged him to "take the opportunity to press strongly on a range of human rights concerns".
"(We) have been documenting human rights abuses in Kazakhstan for 15 years," the letter added. "We are very concerned about the serious and deteriorating human rights situation, including credible allegations of torture, imprisonment of government critics, controls over the media and freedom of expression." The group has demanded an inquiry into the allegations.
A Downing Street spokeswoman said: "When the Prime Minister goes abroad, he has full and frank discussions with foreign leaders. Where the UK has concerns about human rights or other issues, he doesn't hesitate to raise them."
Mr Nazarbayev invited Mr Cameron when they met at the Olympics in London last summer.
Kazakhstan's human rights record is seen as better than that in some neighbouring countries, such as Uzbekistan. But opposition political leaders have been jailed and independent media outlets shut down. In 2011, clashes in the city of Zhanaozen between striking oil workers and police resulted in police shooting dead at least 15 people.
Pressure groups claim western leaders have been reluctant to criticise Mr Nazarbayev over human rights because of his country's huge reserves of natural resources. It is also the world's largest producer of uranium.
In the 1990s, after independence from the Soviet Union, a small minority of Kazakhs became rich through privatisation and other business deals which opposition politicians claimed were corrupt. Many Kazakhs suffered from the initial impact of economic reform. But after growth since 2010, inequality is now less pronounced than in other countries in the region, and unemployment is relatively low.
Register for free to continue reading
Registration is a free and easy way to support our truly independent journalism
By registering, you will also enjoy limited access to Premium articles, exclusive newsletters, commenting, and virtual events with our leading journalists
Already have an account? sign in
Register for free to continue reading
Registration is a free and easy way to support our truly independent journalism
By registering, you will also enjoy limited access to Premium articles, exclusive newsletters, commenting, and virtual events with our leading journalists
Already have an account? sign in
Join our new commenting forum
Join thought-provoking conversations, follow other Independent readers and see their replies