David Cameron would quit as Prime Minister after general election if he could not deliver on in-out EU referendum pledge
Nigel Morris
Tuesday 29 April 2014 10:21 Comments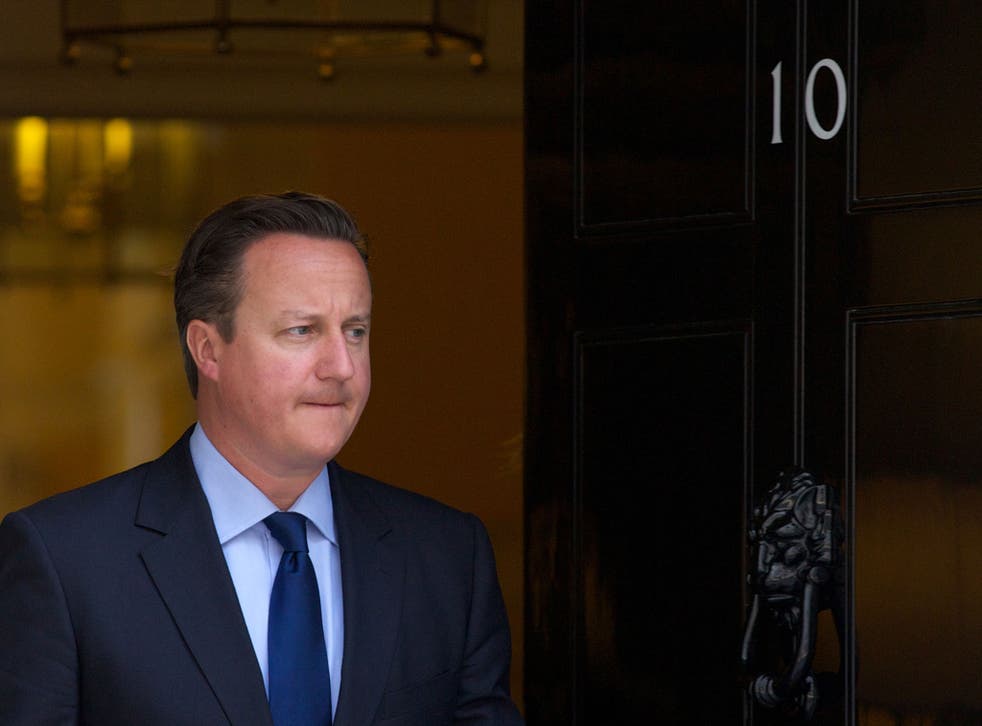 David Cameron pledged tonight to step down as Prime Minister after next year's general election if he could not deliver on his promise to hold a referendum on Britain's membership of the European Union.
His comments indicate that the pledge to stage the EU vote in 2017 would be a "red line" for the Conservatives in any post-election negotiations to form a Coalition government.
In a conference call with party stalwarts, Mr Cameron said he would not "barter or give away" his in-out referendum promise.
Last year the Prime Minister said he would wrest back powers from Brussels and put the deal he negotiates to the public in the first referendum on EU for more than 40 years.
Told by one activist that the public was sceptical about his ability to deliver on the promise, Mr Cameron said: "It would be very high up the list of priorities for an incoming government.
"This is not something I would ever barter or give away. I would not be prime minister of a government unless we could carry out our pledge of an in-out referendum.
"I think that is a really clear promise and a very clear statement to make."
Both Labour and the Liberal Democrats oppose a referendum unless more powers are transferred from Britain to Europe.
Mr Cameron said tonight it would be "eminently achievable" to renegotiate the terms of Britain's membership of the EU. He cited his success two years ago in pressing for a freeze in the bloc's budget.
Register for free to continue reading
Registration is a free and easy way to support our truly independent journalism
By registering, you will also enjoy limited access to Premium articles, exclusive newsletters, commenting, and virtual events with our leading journalists
Already have an account? sign in
Join our new commenting forum
Join thought-provoking conversations, follow other Independent readers and see their replies