David Davis's former chief of staff to launch new political party to 'reverse Brexit with no second referendum'
'I did my best to make Brexit work for a year - and it won't. There is no upside,' says James Chapman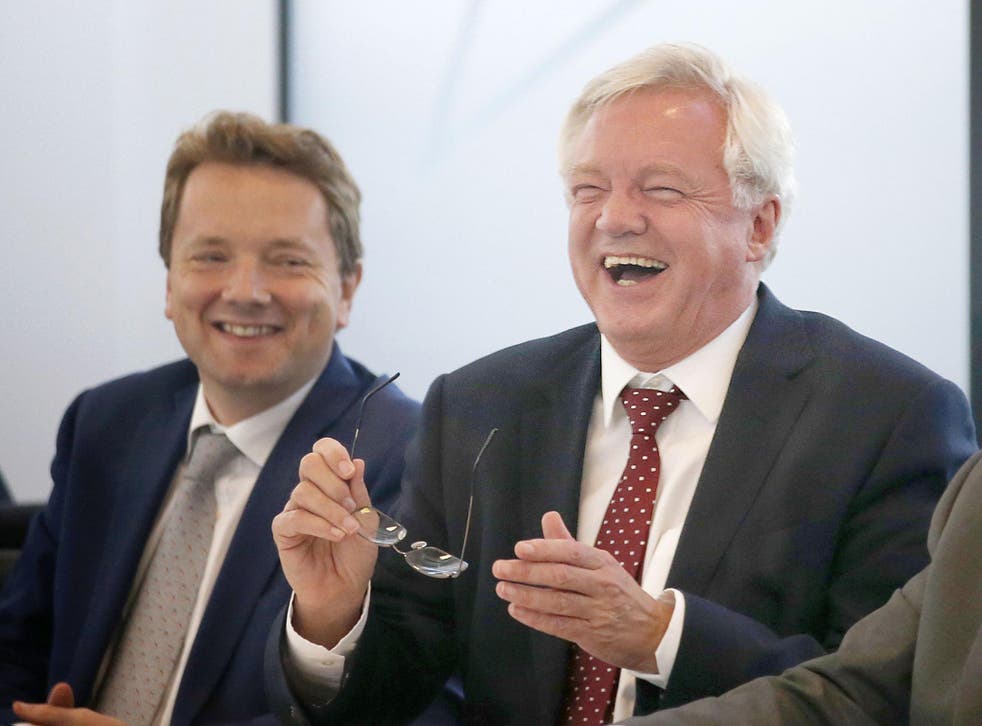 David Davis's former chief of staff is to launch a new political party to "reverse Brexit with no second referendum".
Hours after launching an extraordinary social media tirade against his old boss, saying he had witnessed him being "drunk, bullying and inappropriate", James Chapman announced the foundation of the Democrats party.
Mr Chapman, who left his role at the Department for Exiting the European Union because of his despair at the Brexit process, will launch the party at the People's March for Europe rally on 9 September.
Brexit Secretary: UK wants temporary EU customs deal
"I did my best to make Brexit work for a year – and it won't," he said. "There is no upside and it is clear that every sector of our economy will suffer for decades to come. Project Fear is Project Fact.
"The first duty of our politicians is to stand up for the interests of their constituents – and that means sound money and job opportunities for all. The MPs that have left Britain careering towards a cliff worse than Black Wednesday have failed in that duty and are guilty of misconduct in public office."
Mr Chapman said the People's March would welcome people of all political parties.
"But I will be announcing my intention to lead a new party, the Democrats, which will reverse Brexit with no second referendum," he added. "It's time for all of those with consciences to put nation before country and make sure we are Great Britain once again – not the Little Britain of Nigel Farage and Vladimir Putin's wet dreams."
The move is likely to draw comparisons to En Marche, the political movement started by French president Emmanuel Macron. En Marche billed itself as a centrist alternative to the entrenched left and right-wing parties.
Kaz Llewellyn, spokeswoman for the People's March, said she understood the Democrats would draw ideas from different political strands and would not be just a left, right or centrist party.
"There will not be one political persuasion but one vision," Ms Llewellyn said. But she refused to give further details on aspects of non-Brexit related policy.
Mr Chapman, who previously worked as political editor at the Daily Mail and also for George Osborne, caused controversy this morning after he attacked Mr Davis in a series of tweets.
UK news in pictures

Show all 50
Mr Chapman claimed his former boss has been "working three day week since day one" and that he had former Ukip leader Nigel Farage on speed dial.
He also criticised Mr Davis over comments about Labour's shadow Home Secretary Diane Abbott, referring to an encounter in which Mr Davis had to apologise for remarks made about Ms Abbott in private text messages after the vote to trigger Article 50.
Asked what he made of Mr Chapman's recent suggestion that the Brexit department is "in chaos", Mr Davis told LBC radio: "James when he came to me was, I mean he was a Remainer, we knew that.
"But he did a good job, he was a good chief of staff. I'm not going to criticise him, I just don't do that, I'm afraid."
Register for free to continue reading
Registration is a free and easy way to support our truly independent journalism
By registering, you will also enjoy limited access to Premium articles, exclusive newsletters, commenting, and virtual events with our leading journalists
Already have an account? sign in
Register for free to continue reading
Registration is a free and easy way to support our truly independent journalism
By registering, you will also enjoy limited access to Premium articles, exclusive newsletters, commenting, and virtual events with our leading journalists
Already have an account? sign in
Join our new commenting forum
Join thought-provoking conversations, follow other Independent readers and see their replies