David Davis says UK will refuse to pay Brexit divorce bill unless EU backs down on Northern Ireland proposal
Nervous Conservative MPs are sent letter insisting the Government will not cave in to the EU's plans for its rules to stay in place across Ireland 
Rob Merrick
Deputy Political Editor
Thursday 01 March 2018 09:47 Comments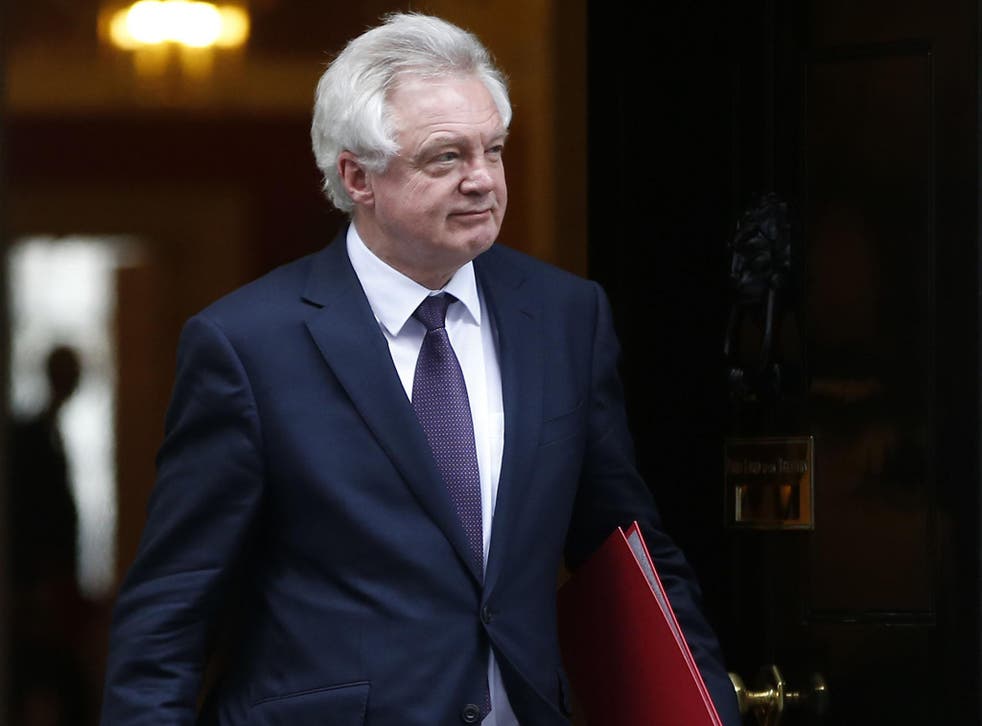 David Davis has renewed his threat that Britain will refuse to pay its huge Brexit "divorce bill" unless Brussels backs down on its proposal for Northern Ireland to remain under EU rules.
Nervous Conservative MPs have been sent a letter by the Brexit Secretary, insisting the Government will not cave in to the demands made in the EU's draft legal agreement published on Wednesday.
Mr Davis said the UK would "meet our obligations that we signed up to" to plug the hole in the EU budget until the end of 2020 and pay a "fair share of liabilities".
No 10 has put the bill at around £39bn, just over half of which is to meet liabilities from 40 years of EU membership, although the exact sum is uncertain.
But Mr Davis insisted the bill would not be paid unless "all of the issues" of concern to Britain were resolved, to reach an over-arching withdrawal agreement.
Theresa May has already rejected Northern Ireland remaining aligned with the Republic, if necessary to avoid a hard border, insisting "no United Kingdom prime minister could ever agree to it".
Other outstanding controversies include the EU's insistence that European Court of Justice must rule on future disputes arising from the agreement and the status of Gibraltar.
In the letter, Mr Davis wrote: "As also agreed to in December, the UK will meet our obligations that we signed up to under the current EU budget plan."
The biggest issues facing UK on leaving EU

Show all 8
But he added: "The UK continues to be clear that, as set out in the European Union's own guidelines, nothing is agreed until everything is agreed.
"This can only be finalised as part of the settlement of all the issues that we are working through."
The EU reacted with fury when, in December, Mr Davis suggested payment of the bill was contingent on the UK and the EU striking a long-term trade deal.
Philip Hammond, the Chancellor, was slapped down by Downing Street when he said it was "inconceivable" that Britain would refuse to pay a financial obligation it had recognised.
The draft text, to be agreed by October, means the UK will have to legally commit to the bill – and find a solution to the Irish border controversy – to avoid a no deal Brexit.
Furthermore, the EU has insisted the withdrawal agreement will only contain an outline framework for a possible trade deal, because there is no time to reach an agreement beyond the two-year transition period planned.
Register for free to continue reading
Registration is a free and easy way to support our truly independent journalism
By registering, you will also enjoy limited access to Premium articles, exclusive newsletters, commenting, and virtual events with our leading journalists
Already have an account? sign in
Join our new commenting forum
Join thought-provoking conversations, follow other Independent readers and see their replies