Labour MP David Lammy says comparison of Tory Brexiteers to Nazis 'wasn't strong enough'
Labour MP David Lammy says his comparison of Tory Brexiteers to Nazis 'wasn't strong enough'
'Of course we should not appease that, of course we should not appease that'
Labour MP David Lammy has insisted his comparison of hardline Brexiteer Conservatives with Nazis and advocates of South African apartheid "wasn't strong enough".
Presented with his remarks last month at a People's Vote march for a second referendum, the senior MP defended his views, and once again hit out at members of the European Research Group (ERG) of Brexit-supporting MPs within the Tory party.
"I'm just looking over there at Winston Churchill," he said at the rally in March. "On the 30 September 1938 he stood in parliament and said we would not appease Hitler. I'm looking across to Nelson Mandela, who would not give in to apartheid.
"We say, we will not give into the ERG. Will not appease."
Asked on the BBC's Andrew Marr Show whether it was an "unacceptable comparison", Mr Lammy replied: "I would say that it wasn't strong enough.
Farage launches his new Brexit Party: in pictures

Show all 10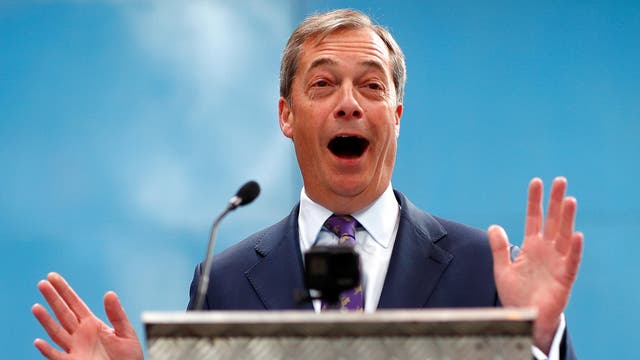 He continued: "In 1938 there were allies who hatched a plan for Hitler to annex part of Czechoslovakia, and Churchill said no, and he stood alone.
"We must not appease. We're in a situation now, and let me just be clear, I'm an ethnic minority. We have, in the ERG, in Jacob Rees-Mogg, someone who is happy to put on to his web pages the horrible, racist AfD party, a party that's Islamophobic and on the far right."
"I'm sorry, but very, very seriously, of course we should not appease that, of course we should not appease that," he added.
His remarks regarding Mr Rees-Mogg came after the senior Brexiteer faced widespread condemnation for quoting the leader of the far-right German party, the AfD. The organisation has provoked outrage in the country with its stance on race and religion, and last year called for "Islam-free schools".
Mr Rees-Mogg, who has previously denied supporting the AfD, told The Independent on Sunday: "Mr Lammy lessens his arguments by the use of such foolish language. It trivialises any comments he may make."
When it was put to Mr Lammy that he was saying Mr Rees-Mogg and former foreign secretary Boris Johnson are equivalent to Nazis, Mr Lammy said: "Ask Boris Johnson why he's hanging out with Steve Bannon."
Join our new commenting forum
Join thought-provoking conversations, follow other Independent readers and see their replies