David Laws: 'We're showing that coalitions can deliver both good government and radical decisions'
Back on the political frontline, David Laws is poised to extend his influence by authoring the next Lib Dem manifesto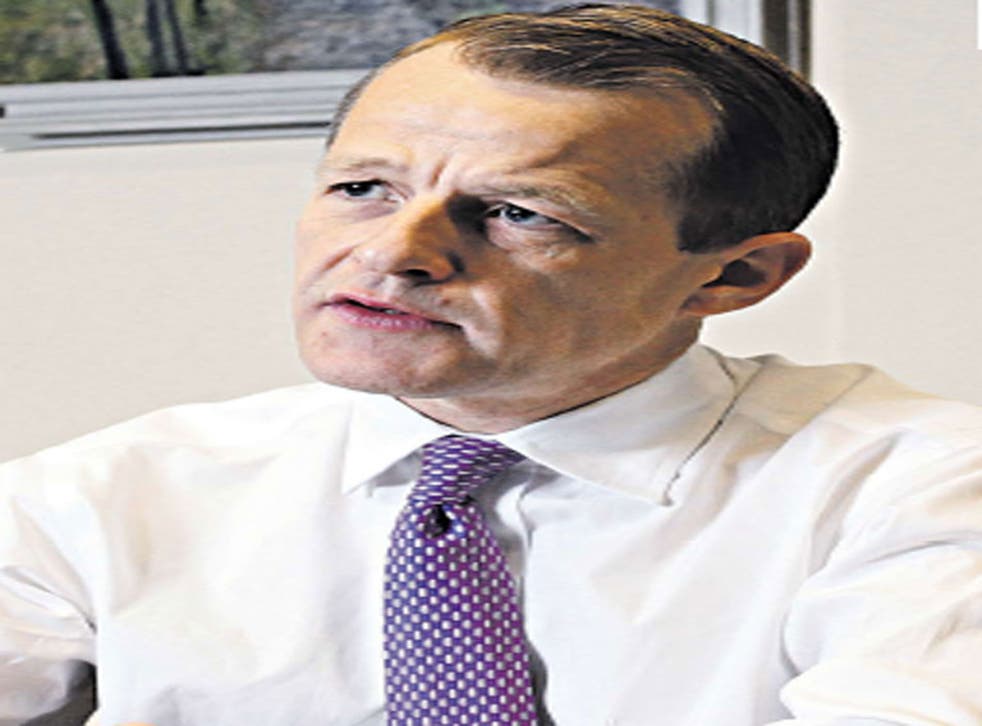 David Laws is the Liberal Democrats' man for all seasons. He sits at the heart of government, his office perched above the security-protected connecting door between Nick Clegg's Cabinet Office base and 10 Downing Street. He regularly attends meetings of the Quad, where the Coalition's big decisions are thrashed out by David Cameron, George Osborne, Mr Clegg and Danny Alexander. As well as being a Cabinet Office minister who attends the full Cabinet, Mr Laws is Michael Gove's deputy at the Department for Education. And he has just been put in charge of the Liberal Democrats' manifesto for the next general election.
The array of roles shows how the former banker at JP Morgan and Barclays has bounced back since returning to the Government last September. In 2010, his Cabinet career was interrupted after 17 days as Chief Treasury Secretary by revelations about his parliamentary expenses. Mr Clegg could not wait to get him back at his side, and Mr Laws was equally impatient to return.
"The advantages [of being outside government] were fairly well disguised," he quipped.
His forensic mind ranges across policies way beyond his education brief.
Mr Laws' manifesto role will mark a crucial stage in the Liberal Democrats' transition from a party of perpetual opposition to one that can be a partner in government. His message to his party is clear: no more unrealistic pledges like the 2010 commitment to phase out university tuition fees, which it never expects to have to implement.
His stance could put him on a collision course with Liberal Democrat activists, who have a real say over the manifesto in what remains a democratic party.
There is already pressure from some for the 2015 manifesto to cut the cap on tuition fees to £6,000 a year.
Mr Laws said the party is "nowhere near" a decision and insisted that the new system needed to "bed down".
Although the latest figures suggest university applications have dropped, the numbers he will study most closely will be those about students from disadvantaged backgrounds.
His manifesto message is also aimed at the Conservatives and Labour. It is a sign that the Liberal Democrats' self-confidence rating is a lot higher than their standing in the opinion polls. The big two parties will aim for power alone, and will set out a distinctive offer. Mr Laws wants them to acknowledge not only the inevitable constraints on spending but also the real prospect of another coalition.
"It's quite possible that there still won't be a single party majority after the next general election," he said. "The public have a generally sceptical view of political promises, unless they can see very clearly how they are going to be paid for.
"The demands on us have to have a really rigorous set of manifesto policies with a very clear sense of what our priorities will be, will be greater than ever before."
The Liberal Democrats' 2015 pitch is already clear. "We don't have confidence that Labour is serious on economic policy, or that the Conservatives have a strong enough policy commitment to creating a fairer society," said Mr Laws.
The Lib Dems have always offered both but might be taken more seriously next time. A silver lining to the cuts?
"Perhaps in the past people have known we stood for a fairer society but have wondered whether we could take some of the tough decisions on the economy. After this parliament, they will not be in any doubt about the economy and we have to go on demonstrating we are serious about a fairer society.
"Any second coalition is going to be challenging for the third party. You are either with the same party and the challenge is to make sure you continue to assert your identity. Or suddenly you are seen by the public to swap one party for another. There is no easy choice for the Lib Dems. We will be equidistant from the other two parties. Last time the [parliamentary] arithmetic was overwhelmingly the powerful factor. The public will decide it next time. Our influence will be much smaller than people tend to assume."
In 2010, the Liberal Democrats envisaged the two coalition parties would gradually diverge as the next election got nearer.
"It has not been the straight line we expected," said Mr Laws. "It is a more cyclical thing. You can have periods marked by greater disagreements and periods where there are swing-backs.
"The Coalition has matured massively in the last six months. There have been serious disagreements over Lords reform, parliamentary boundaries, Leveson, the autumn statement, climate-change policies.
"That is very healthy. It is quite possible to disagree one moment on an issue of fundamental importance and then reach agreement in a very mature and civil way on other policies."
Although coalitions have been rare in Britain, Mr Laws argued that the Government was "a model of decisive decision-making". He said: "We have shown that coalitions can be stable entities that deliver good government and radical changes. The country has absolutely nothing to fear from coalitions in future. No party will be able to frighten the electorate about the prospect of a hung parliament. In 2010 people said a coalition would collapse after five minutes and do nothing radical on policy. That is nonsense."
Mr Laws believes the last year of the five-year parliament will see the coalition partners display "a much greater sense of their separate identities", but warned that they would get no credit if they spent the last 12 months "bickering". He hopes most big policy decisions will be completed by then. He expects Liberal Democrat ministers to stay in their posts up to polling day in 2015. "To suddenly proclaim independence in the last dregs of the parliament would not be very plausible."
The schools minister rejected calls for the ring-fencing of the Liberal Democrats' flagship pupil premium for disadvantaged children so the money cannot mask spending cuts. He will not "handcuff" schools and bring back "micro-management" by "the man in Whitehall and Westminster." But he promised "further action" if the school inspectorate, Ofsted, finds the cash is not being used to bridge the gap between disadvantaged pupils and the rest. That could see successful heads helping other schools not using the money properly in order to spread best practice.
Mr Laws gets on well with Mr Gove and broadly shares the Education Secretary's goals. But he said the Liberal Democrats would veto profit-making companies setting up free schools, a move favoured by some Tories. "We are not going to have profit-making schools in the public sector while the Lib Dems are in government."
The scandal over his housing allowance claims which led to his 2010 resignation stemmed from his desire to keep his homosexuality private. Now it is in the open, does Mr Laws feel a sense of relief and more comfortable in his own skin? "Yes, after the difficult initial circumstances. The closer you can get to the truth both in your private life and in politics, the better."
He said his relationships "with most of the people close to me have been made easier, because a large part of my life that was secret no longer is".
Would he and his partner, James Lundie, a former Liberal Democrat press officer turned lobbyist, take advantage of the proposed law gay marriage? "Who knows?" Mr Laws laughed. They are not in a civil partnership.
He gets a lot of letters about gay marriage from his Yeovil constituents. Some question the need for it when same-sex couples can already enter a civil partnership, but Mr Laws is passionately in favour of the change.
"Maybe in terms of technicalities it won't make a huge difference. But regardless of the details and the controversies, it is a very clear statement of equality and something the Government should be very proud of pushing through," he said.
Quick questions
Where was the last place you went for dinner?
Kennington Tandoori
What was the last album you bought/listened to?
Rufus Wainwright's "Want"
What was the last book you read?
"The Tail"; a collection of essays on English education
What was the last gig/concert you attended?
Adele, Hammersmith
What was the last sporting event you attended?
Yeovil Town FC vs Notts County
What was the last film you saw?
Skyfall
Register for free to continue reading
Registration is a free and easy way to support our truly independent journalism
By registering, you will also enjoy limited access to Premium articles, exclusive newsletters, commenting, and virtual events with our leading journalists
Already have an account? sign in
Register for free to continue reading
Registration is a free and easy way to support our truly independent journalism
By registering, you will also enjoy limited access to Premium articles, exclusive newsletters, commenting, and virtual events with our leading journalists
Already have an account? sign in
Join our new commenting forum
Join thought-provoking conversations, follow other Independent readers and see their replies