Developers leave 420,000 homes with planning permission unbuilt, new figures show
It comes as ministers mull new 'use it lose it' powers to force landowners to develop sites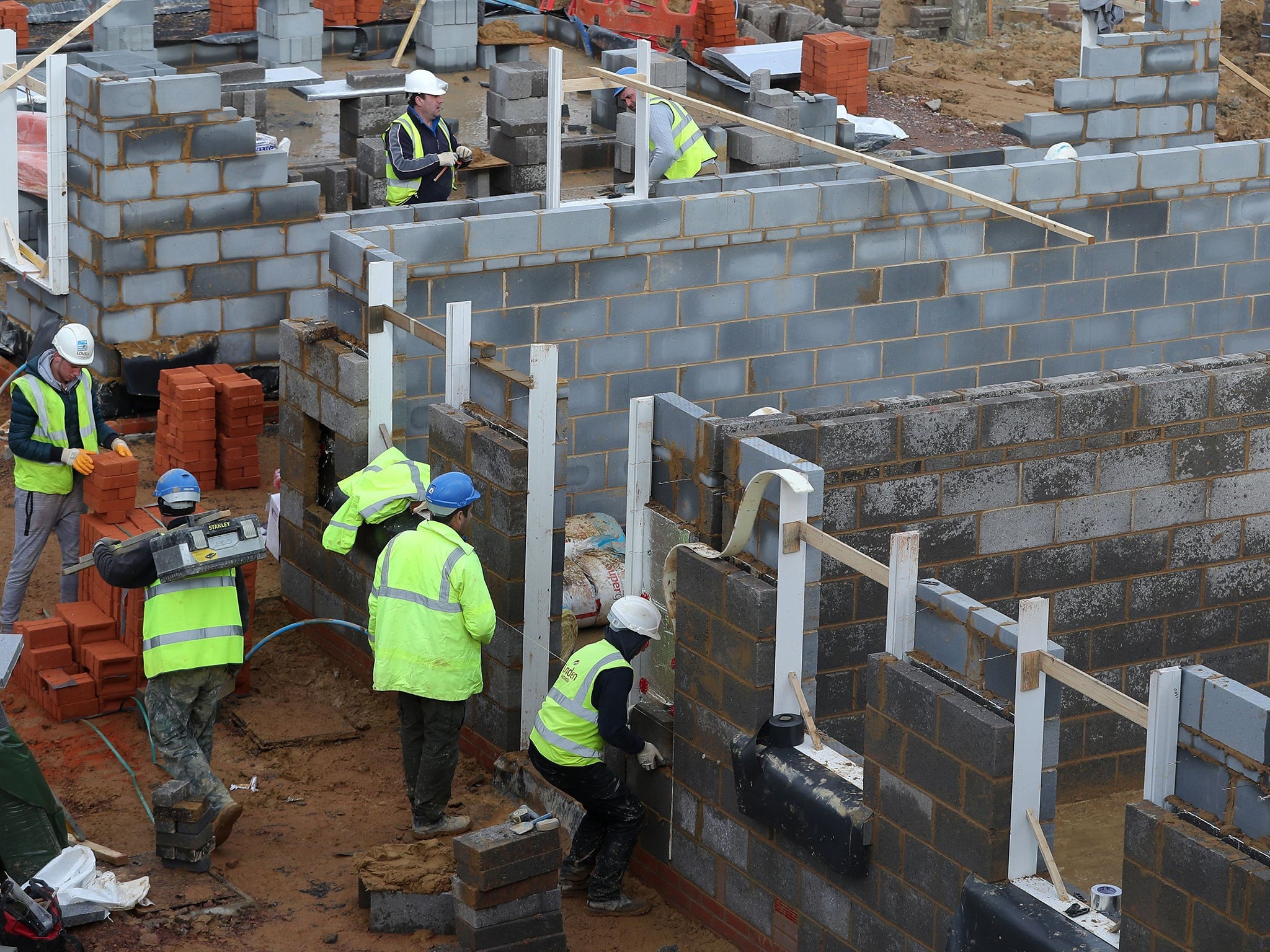 The number of homes that have not been built despite receiving planning permission has soared in the last year, new figures reveal, meaning sites for hundreds of thousands of new properties are being left undeveloped.
More than 400,000 homes have been granted permission but are still waiting to be built, according to analysis published by the Local Government Association (LGA) – a rise of 16 per cent in the past year.
The data also shows developers are taking significantly longer to build homes than they were four years ago. It now takes an average of 40 months from planning permission for a property to be completed – eight months longer than in 2013-14.
The findings will probably raise questions over why developers are taking more than three years to complete homes, and in many cases failing to build them at all, at a time when the UK is building around 50,000 fewer properties per year than is needed to meet current demand.
In 2015-16, the number of homes in England and Wales that had received planning permission but not been built was 365,146. A year later that had risen to 423,544.
Developers argue that a burdensome planning system stops them building properties more quickly, but the LGA said the new figures prove that delays are the fault of developers, not councils.
Councillor Martin Tett, the organisation's housing spokesman, said: "These figures prove that the planning system is not a barrier to house building. In fact the opposite is true. In the last year, councils and their communities granted twice as many planning permissions as the number of new homes that were completed.
"No one can live in a planning permission. Councils need greater powers to act where house building has stalled."
Arguing that town halls need to be given greater freedom to borrow money to fund new homes, Mr Tett added: "Our national housing shortage is one of the most pressing issues we face. While private developers have a key role to play in solving our housing crisis, they cannot meet the 300,000 house-building target set by the Government on their own.
"We have no chance of housing supply meeting demand unless councils can get building again."
The world's least affordable cities for housing
Show all 10
The LGA said nine in every 10 planning applications are approved, and that permission for 321,202 new homes was granted last year compared to 204,989 the previous year.
It called on the Government to give councils new powers to use compulsory purchase orders to seize land that is earmarked for housing but is being left unused.
Ministers have already said they are looking at introducing "use it or lose it" rules to prevent developers and landowners leaving sites undeveloped. A similar policy was proposed by then Labour leader Ed Miliband in 2013 but dismissed by ministers at the time.
Sajid Javid, the Secretary of State for Housing, Communities and Local Government, said last month: "There is definitely some hoarding of land by developers... the Government needs to play a more active, more muscular role."
Labour has said it is considering proposals to force landowners to sell land to public bodies at its current value, rather than the price it would be worth if it was earmarked for housing.
Housing charity Shelter estimates that more than 400,000 homes could be built on currently undeveloped land owned by the 10 biggest property developers.
However,
Andrew Whitaker, planning director at the Home Builders Federation, said: "Housing delivery is up 74 per cent in four years and the fact more applications are being submitted demonstrates builders' commitment to build more.
"Local authorities would better serve their residents by ensuring they have up-to-date local plans, more efficient processes and grant buildable permissions instead of continually accusing developers of land banking based on misleading and ill-thought-through research.
"The majority of permissions in this overly simplistic study are on sites where construction is already under way, or where a full permission that allows builders to actually start work has not yet been granted."
Budget 2017: Local authorities will be able to charge 100% premium on council tax on empty housing
The LGA's analysis comes as another report found that the proportion of young people on middle incomes who own their own home has fallen from a 65 per cent to 27 per cent in the past 20 years.
The study, by the Institute for Fiscal Studies, found house prices have increased seven times faster than average wages during the same period.
Almost 90 per cent of 25 to 34-year-olds now live in areas where average house prices are more than four times their annual after-tax family income – a figure that has almost doubled in the last 20 years.
John Healey, Labour's Shadow Housing Secretary, said: "This research should be a wake-up call for Conservative ministers. After almost eight years of failure on housing, the Government is still failing to tackle the fundamental problems with our broken housing market.
"Conservative Ministers have let down first-time buyers on ordinary incomes. They promised to build 200,000 new cut-price 'starter homes', but three years on not a single one has been built."
Dominic Raab, the housing minister, said: "Through schemes like Help to Buy, we're helping more people onto the housing ladder and last year saw the highest number of first-time buyers in the UK since 2006.
"We've recently cut Stamp Duty for first-time buyers to help thousands more.
"But we want to go further and faster and our ambitious plan backed by targeted investment will help even more people by delivering the homes Britain needs for young families, key workers and those on low and middle incomes".
Join our commenting forum
Join thought-provoking conversations, follow other Independent readers and see their replies