Diane Abbott: Labour has war chest ready to fund a snap general election
Exclusive: 'We have a lot of money put to one side in the event of a general election, we are general election-ready'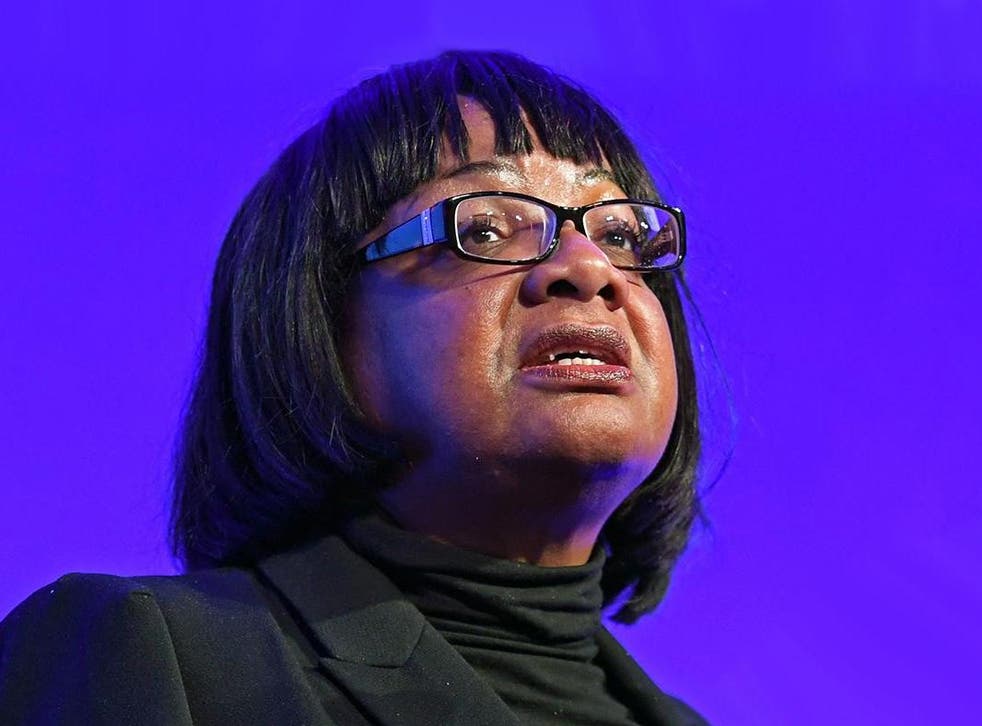 Labour has set aside a war chest to fund a snap general election and shadow cabinet ministers are meeting with civil service chiefs in preparation for a potential Jeremy Corbyn government, Diane Abbott has told The Independent.
The remarks from the shadow home secretary – a close ally and friend of the Labour leader – come amid speculation in Westminster that an election could be forced, or even called by Theresa May in an effort to break the deadlock over Brexit in the House of Commons.
In an interview, Ms Abbott said Labour's top team are currently preparing policies for the first 100 days of a Labour government, and one of her top priorities is to close Yarl's Wood and Brook House immigration detention centres should she ever hold one of the great offices of state.
She said the party had selected the vast majority of parliamentary candidates in marginal constituencies across the country, and claimed: "We've got a lot of money, actually, because the party has never been bigger."
Despite reports of the party facing financial difficulty, Ms Abbott added: "We have a lot of money put to one side in the event of a general election - we are general election-ready."
Under the Fixed-term Parliaments Act, the next vote is scheduled for May 2022. But there are two possible routes for a snap election in the legislation: either the prime minister dissolves parliament and calls an election after gaining the support of two-thirds of MPs in the Commons, or a motion of no confidence is passed in the government with a simple majority of MPs.
Mr Corbyn failed in his no confidence attempt in the Commons last month – after Ms May's historic Brexit defeat – but Ms Abbott remains adamant an election is still possible. "There are so many moving parts in the Brexit situation, but I think an election is possible and that's very possible and that's what we are campaigning for," she said.
"We can try the no confidence route again. There are rumours that you'll have heard that one way out for her is to call a general election, hoping the public will like her deal more than parliament does.
"The key would be the DUP [Democratic Unionist Party]. As long as the DUP are happy with her it is hard to get a motion of no confidence through, but in these strange times, anything could happen."
Referring to the snap vote in 2017, Ms Abbott added: "She [Ms May] had the general election, she thought she would hugely increase her majority and it's true that we went into the general election 20 points behind, but we actually made up that entire 20 points.
"I think if the general election had gone on for a week longer, we might well have won. If we could make up 20 points last time, I believe we can make up 20 points this time and that means we'll win."
Asked in her preparations for government whether she had held meetings with senior civil servants, Ms Abbott replied: "Well they are confidential meetings, it wouldn't be appropriate to say, but we are meeting. Each shadow cabinet member is meeting with key members of their departments.
"I think I've got one coming up soon actually," she added. "Home Office officials – it's all part of the preparing for government stuff."
But on the more immediate subject of Brexit – an issue she describes as "taking the oxygen out of the political atmosphere" – Ms Abbott warns MPs against accepting the prime minister's cash in return for support for a UK-EU deal that could end up damaging MPs' constituencies.
She made the comments after it emerged that Downing Street is considering injecting money into Leave constituencies as Ms May attempts to reach out for votes across the chamber before bringing her deal back to the Commons for a second vote later this month.
"I think they [Labour MPs] have to look at the long-term consequences for their constituencies for Theresa May's deal. One of the problems with Theresa May's deal is this question of what it's going to do to industry and manufacturing.
"I think every MP must look at the overall consequences of Theresa May's deal for their constituencies and the country as a whole."
UK news in pictures

Show all 50
Her language is more diplomatic than her colleagues when asked what she would tell those tempted to support the prime minister. Earlier this week, the Labour MP David Lammy offered: "More fool them. Socialists my arse. Cowards and facilitators. History will be brutal."
Ms Abbott said: "The real point is that [Ms May] is completely desperate and she has got a hardcore of Tory MPs who won't want to vote for her deal under any circumstances.
"And also it puts her in an impossible situation because the more she moves towards Labour, the more hostile some of her own MPs are going to be. She's between a rock and a hard place."
Asked what she thought the likelihood of a second Brexit referendum, she warned: "What I think about a second referendum is this – it's in the policies that were passed at conference, it's part of our policy portfolio. But what I always say of a second referendum is people should be careful what they wish for.
"It's by no means certain that if we had a second a referendum tomorrow that Remain would win, and that's the problem. Or it might win by a very small margin and then where are you?
"I just think a lot of people who are calling for a second referendum believe that it will just automatically reverse the first referendum and I don't necessarily think that's the case. However, I think that a second referendum remains on the table and if there was a second referendum I certainly think Remain should be on the ballot, and I would vote Remain."
Ms Abbott also poured cold water on the idea of a special Brexit conference of the Labour Party – something pro-referendum activists have been advocating in recent months to refine the party's policy.
"We've got a policy, so at this point I'm not sure a special conference is appropriate because we had a conference [in autumn 2018] which involved delegates from every constituency around the country," she said.
The shadow home secretary, who has now represented Hackney for over 30 years as an MP, also referred to her recent appearance on BBC Question Time – and the resulting row.
After participating in the show, Ms Abbott had complained the BBC had legitimised the "mistreatment, bias and abuse" she faces as a black woman in the public eye and her treatment could dissuade young women from black and ethnic minority groups from becoming involved in politics.
She also objected to a clash over polling during the programme, when Fiona Bruce, the new presenter of the programme, interrupted her when she correctly claimed that recent opinion polls suggested Labour was on a level pegging with the Tories.
Fiona Bruce clarifies polls remarks on Question Time after row over Diane Abbott treatment
Ms Abbott said she has still not received an apology from the broadcaster, but she rejected recent reports that she will no longer appear on the programme.
Asked whether she will contribute again, she replied: "Well, we'll have to see about that, but I'm not boycotting them."
Join our new commenting forum
Join thought-provoking conversations, follow other Independent readers and see their replies