Almost 80% of people on disability benefits 'have seen health worsen since introduction of Tories' new system'
Research from Disability Benefits Consortium says the PIP system is leaving most people worse off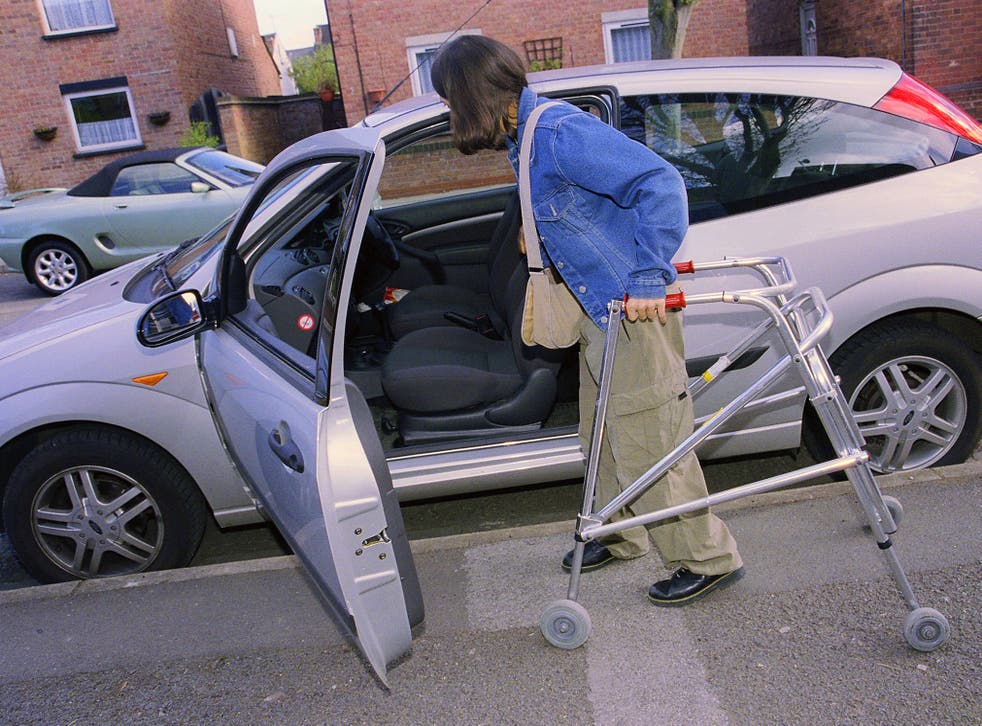 A new benefits system for disabled people is making their health worse, leaving many isolated and struggling to pay for food and bills, according to a new report.
A major survey by more than 80 organisations reported that 79 per cent of respondents said their assessments for personal independence payment (PIP) had made their health worse, due to stress or anxiety.
More than a third of those who have had their funding cut in the middle of a benefits shake-up said they were struggling to pay for food, rent and bills, while 40 per cent said they had become more isolated.
A small number even said the PIP assessment process was so stressful it was causing them to have suicidal thoughts.
The Department for Work and Pensions (DWP) said PIP was "a better benefit" than the old system, and more people received higher levels of support.
But members of the Disability Benefits Consortium (DBC) warned their findings from a survey of more than 1,700 people showed that PIP is failing "from start to finish".
Debbie Abrahams, the Shadow work and pensions secretary, said: "It is deeply shocking that eight in every 10 of those facing PIP assessments find it makes their health worse, and two thirds feel their claim was poorly represented by the assessor.
"This is an absolute indictment of the Tories' punitive assessments, and the miserable effect they are having on people trying to access desperately needed support."
The research marks the first time that PIP, which is designed to help people with extra costs caused by long-term illness or disability, has been assessed in this fashion since it replaced the old system of disability living allowance (DLA).
The DBC survey found:
Almost three quarters (71 per cent) of respondents found the PIP application form "hard" or "very hard", and 11 per cent of respondents were unable to complete it at all
More than half (58 per cent) said assessors did not understand their condition
Around two thirds (64 per cent) who saw their claim form felt it "badly reflected" the answers they had given in their face-to-face assessment
The findings reflect long-standing concerns around PIP, such as a lack of understanding from assessors over mental health conditions and inaccuracies in assessments.
Phil Reynolds, co-chairman of DBC and senior policy adviser at Parkinson's UK, said: "For the first time, these findings paint the true picture of what it is like to go through the complex assessment process for PIP.
"Shockingly, a small number of people told us the experience of claiming PIP was so distressing that it has caused new conditions to emerge – or even caused suicidal thoughts.
"It is clear that PIP is failing many people from start to finish, so it is vital the Government work with us to get a grip on PIP and support everyone who needs it, instead of making their health worse."
UK news in pictures

Show all 50
The DBC wants Government to urgently review PIP and make improvements, including simplified application forms, better knowledge for assessors and indefinite awards for people with progressive conditions, removing the need for them to constantly be reassessed.
Half the survey respondents said they were receiving less money under PIP than they were previously entitled to under DLA, or had lost their award completely.
A quarter of these said they were not able to get to medical appointments after their funding was cut.
The report also shows the number of decisions being overturned at appeal is increasing.
In 2013/14, 26 per cent of decisions were changed in favour of the applicant. In the fourth quarter of 2016/17, this had increased to 64 per cent.
Analysis suggests in 2016, around one in every 14 decisions made on PIP was eventually overturned in the claimant's favour, either at mandatory reconsideration or appeal.
The DBC say this suggests the assessment process is failing to make accurate decisions, leading to further stress for the applicant.
It is estimated people also face a 17-week wait for their appeal, without access to the financial support they need in the meantime.
A DWP spokeswoman said more than a quarter of PIP claimants received the highest rate of support, compared to 15 per cent under DLA.
"We are committed to supporting people with disabilities and health conditions, which is why we introduced PIP to replace the outdated DLA system," she said.
"PIP is a better benefit which takes a much wider look at the way an individual's health condition or disability impacts them on a daily basis, and is tailored to suit each individual's needs.
"The latest official research shows that 76 per cent of PIP claimants are satisfied with their overall experience."
More than 2.4 million PIP decisions have been made, and of these 8 per cent have been appealed against, and 3 per cent have been overturned.
The DWP says in the majority of successful appeals, decisions are overturned because people have submitted more oral or written evidence.
PA
Join our new commenting forum
Join thought-provoking conversations, follow other Independent readers and see their replies