Disabled face losing homes under benefit cutbacks
Leaked documents warned ministers that reform would penalise the most vulnerable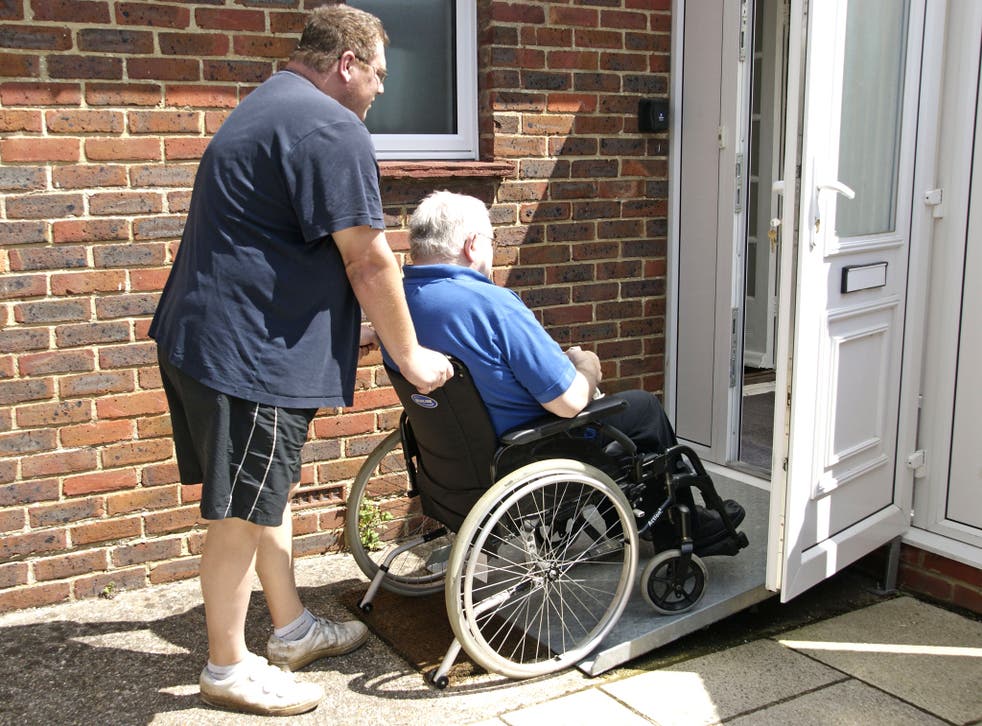 Some of Britain's most vulnerable disabled people could be forced out of their homes and into institutionalised care because of cuts to carers' allowances, Government papers show.
Money relied upon by 19,000 disabled people to pay for carers, who allow them to maintain an independent life, cannot be guaranteed under reforms that would see local authorities handed the duty of providing the payments instead.
The outcome of a High Court legal challenge seeking to prevent the Independent Living Fund (ILF) being scrapped – launched by six disabled people backed by the protest group Inclusion London, who argue they were not properly consulted – will be made public today.
But documents released during the course of the hearings and seen by The Independent show that advisers at the Department for Work and Pensions (DWP) accept that many disabled people will see their allowances cut as a result of the changes.
Under partly redacted papers previously marked "restricted", trustees for the fund maintained by the DWP advised the Secretary of State Iain Duncan Smith: "Users are unlikely to receive the same level of funding after reassessment. This may undermine care packages and may mean that some users, such as those with particularly high care packages, may not be able to live independently in their own homes."
A Government spokesman also said that the changes mean "most users are likely to see some reduction in current funding levels," and that "there can be no guarantees on how the devolved funding is used" by local authorities as money for the allowances cannot be ring-fenced.
Despite these concessions, he maintained: "It is absolutely critical that any decision to close the fund is positioned and received as a reform, not a cut to support." He added: "It is also important that we do not create any expectation that individual awards can be protected into the future."
The ILF was closed to new recipients in 2010, and now the Coalition wants to move current users on to an alternative system.
To the outrage of those concerned, today's Judicial Review announcement will be delivered in a courtroom with restricted access to disabled people. A member of staff described the process of getting a person in a wheelchair into the courtroom as "very complicated".
Juliet Marlow, 43, who has juvenile rheumatoid arthritis and diabetes, said she is only able to live at home in Hampshire with her husband thanks to the £2,000 a month she receives from the ILF to pay for carers. "They help me with everything," she said. "Getting meals, getting dressed, showers, work, going to university, cleaning. It's not just about surviving, it's about having a life."
A DWP spokesperson said it was working "to ensure the remaining users have their needs met in a single cohesive system." The spokesperson added: "Nearly 1.6 million disabled people across the UK already receive support through local authority and devolved administrations social care arrangements."
Register for free to continue reading
Registration is a free and easy way to support our truly independent journalism
By registering, you will also enjoy limited access to Premium articles, exclusive newsletters, commenting, and virtual events with our leading journalists
Already have an account? sign in
Register for free to continue reading
Registration is a free and easy way to support our truly independent journalism
By registering, you will also enjoy limited access to Premium articles, exclusive newsletters, commenting, and virtual events with our leading journalists
Already have an account? sign in
Join our new commenting forum
Join thought-provoking conversations, follow other Independent readers and see their replies