Dismal turnout – but Prescott's rival still gets enough votes to beat him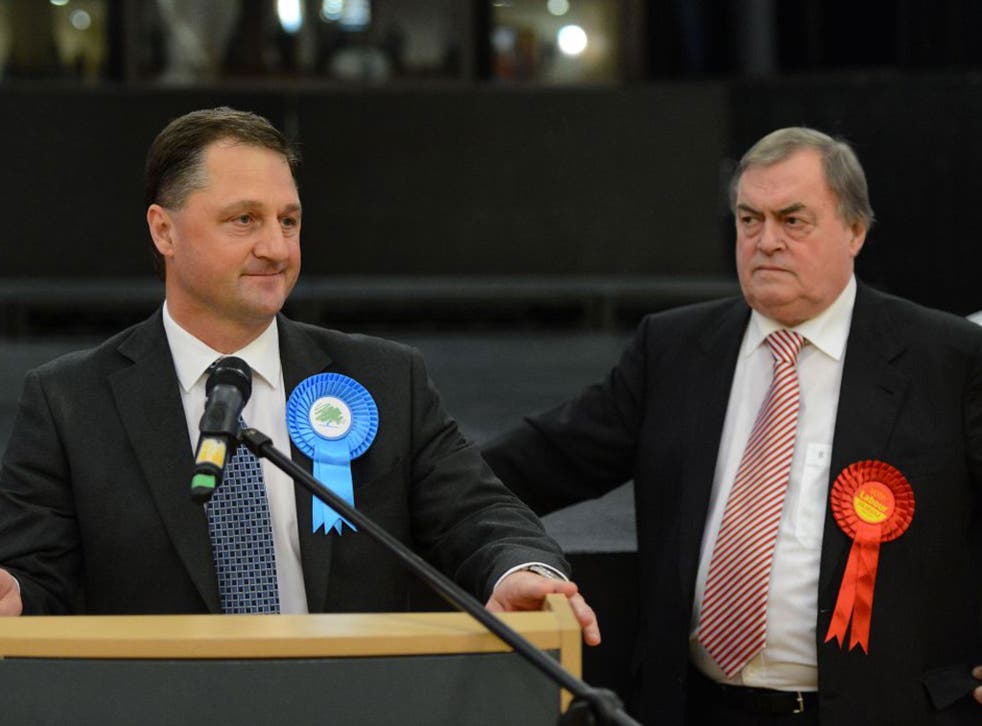 A dismal turnout tainted the first ever police commissioner elections as voters shunned the major political parties in favour of independent candidates – and handed a humiliating defeat to Lord Prescott.
Labour branded the contests a "complete shambles" as it emerged only one in six adults had bothered to cast a ballot for the 41 posts for police and crime commissioners in England and Wales – the lowest peacetime turn-out in an election since the Second World War.
In the West Midlands – the largest policy authority area outside London – just 12 per cent of electors went to the polls. It even emerged that not a single vote had been cast at a polling station in Newport, Gwent.
The determined few who voted displayed a rebellious streak as the two best-known candidates – the former Deputy Prime Minister Lord Prescott in Humberside and the former Tory minister Michael Mates – failed in their bids to oversee local police forces.
Twelve independents stunned the parties by winning elections. A former policeman Ian Johnston triumphed in Labour-loyal Gwent, where he was an officer for 33 years, while a former detective Martyn Underhill won in the Conservative stronghold of Dorset. Independents were also returned in North Wales, Warwickshire, Lincolnshire, Norfolk, West Mercia, Kent, Surrey, Hampshire and Gloucestershire and Avon and Somerset.
The Government faced concerted criticism yesterday over the handling of the contests, with complaints over the lack of publicity given to voters about the elections. There also protests about the timing of the contests in November, which had been forced on the Home Office by the Liberal Democrats. The outcome will raise serious doubts over the democratic legitimacy of the victors, who will gain the power to hire and fire chief constables, fix police budgets and set policing priorities for the forces they oversee.
It will also be a blow to senior Conservatives who have cast doubt on strike ballot results where a minority of trade unionists took part. Boris Johnson, the London Mayor, has called for a threshold to be passed before industrial action is legal.
The Electoral Commission announced yesterday it would conduct an urgent inquiry into the contests, describing the turn-out as of "concern for everyone who cares about democracy".
Jenny Watson, its chairman, said: "These were new elections taking place at an unfamiliar time of year, which is why we have made clear at every stage that it would be important to engage effectively with voters.
"The Government took a number of decisions about how to run these elections that we did not agree with."
Theresa May, the Home Secretary, said: "I'm obviously disappointed in the turn-out but these were first elections and first elections are always difficult. I'm sure next time round we will see an increase in the turn-out because next time round people will be used to the idea of police and crime commissioners, they'll have seen them in action and, of course, there will be an incumbent who will be challenged."
But Yvette Cooper, the shadow Home Secretary, said: "As the Government's flagship police reform policy, these elections have been a complete shambles.
"Theresa May and David Cameron need to explain why they have spent so much money on elections that have had such low public support, why they provided so little public information and why they chose to hold elections in November too." Labour won the majority of large urban forces, including the West Midlands, Greater Manchester and South Yorkshire, although the Tories were jubilant at defeating Lord Prescott in his Humberside backyard.
The Conservatives won control of most of the largely rural and suburban police force areas, such as Thames Valley, Essex and Northamptonshire. They also captured areas expected to fall to Labour including Leicestershire and Dyfed-Powys.
But Ed Miliband's party triumphed in Bedfordshire, where the Tory vote was thought to have been depressed by the jungle antics of local Conservative MP Nadine Dorries.
Register for free to continue reading
Registration is a free and easy way to support our truly independent journalism
By registering, you will also enjoy limited access to Premium articles, exclusive newsletters, commenting, and virtual events with our leading journalists
Already have an account? sign in
Register for free to continue reading
Registration is a free and easy way to support our truly independent journalism
By registering, you will also enjoy limited access to Premium articles, exclusive newsletters, commenting, and virtual events with our leading journalists
Already have an account? sign in
Join our new commenting forum
Join thought-provoking conversations, follow other Independent readers and see their replies