'Do you ever think you're incompetent?: Chloe Smith gets 'Paxmaned' after Government's fuel tax U-turn
Political commentators compared the disastrous interview with a scene from political comedy The Thick of It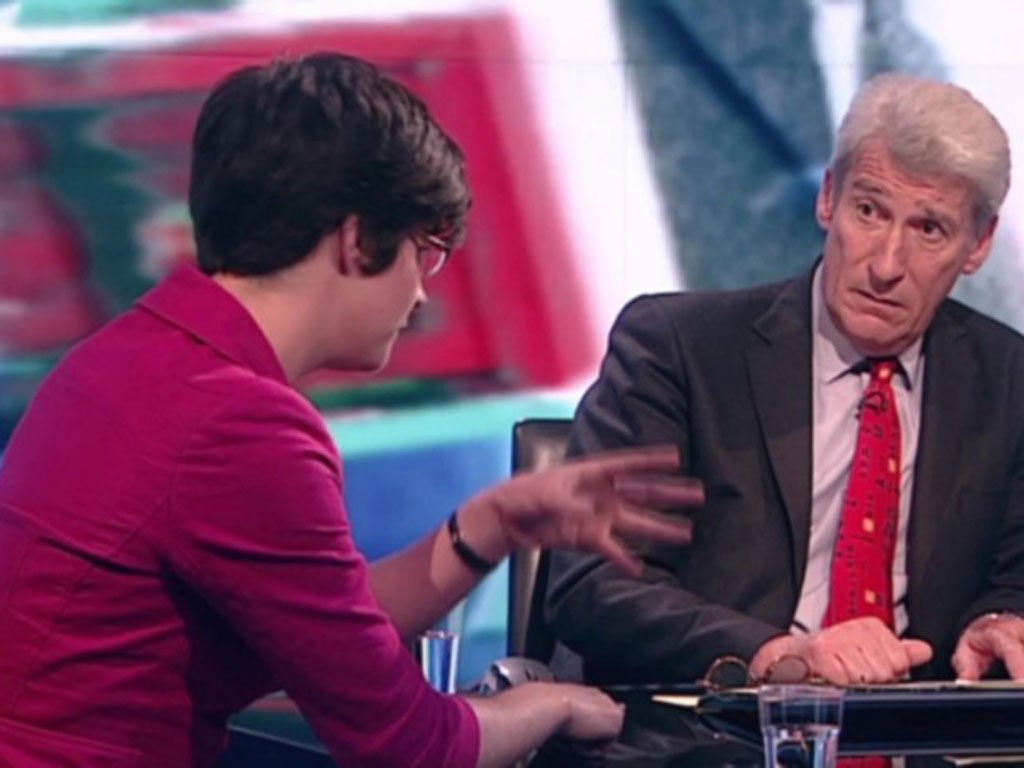 It should have been a rare day of good news and good headlines for the Government.
George Osborne, a politician who enjoys trying to wrong foot his opponents, stood up and unexpectedly announced during routine Parliamentary questions that he was scrapping the planned 3p rise in fuel duty due to come into effect in August.
But far from coup he was hoping for within 24 hours Mr Osborne's surprise announcement had unravelled – undone by mismanagement, a junior minister being "Paxmaned" and the complete inability of the Treasury to provide a plausible explanation of where the money to pay for it was coming from.
Even the Sun, which had championed the fuel freeze in the first place, turned its teeth on the Government describing the u-turn as "the final unravelling of the most shambolic budget in memory".
The whole affair was not so much an example of an "ominshambles" (although it was) – but like watching an entire episode of the political comedy The Thick of It which spawned the phrase.
The first mistake made by Mr Osborne was the surprise itself.
Either fearful that the news would leak out before he could announce it or perhaps because the decision had been rushed at the last minute the Chancellor somehow managed to 'forget' to tell his Cabinet colleagues what he was planning to do.
That led Justine Greening, who most people would assume as Transport Secretary, would have been in the loop on petrol prices, to give an interview to the Daily Telegraph ruling out a freeze.
Embarrassing but not disastrous.
But then someone had the bright idea of putting Chloe Smith, a junior Treasury minister, on Newsnight.
Until yesterday Ms Smith, 30, had been considered something of a rising Government star.
Despite suggestions that David Cameron only appointed because he wrongly thought she was an accountant until this week she had proved a safe pair of hands.
But on last night she was unable to convincingly answer a single question posed to her by Jeremy Paxman.
"When were you told?" he asked her seven times. She couldn't say.
"How are you paying for this?" She didn't have a clue.
"Do you ever think you're incompetent?" Ouch.
One respected Westminster journalist watching tweeted: "That is one of the five worst ministerial interviews I have ever seen in 12 years."
Her only support came from the ever off-message Tory backbencher Nadine Dorries who to use Ms Smith's discomfort to compound her boss's problems.
"If Osborne sent Chloe on (Newsnight) re scrapping 3p he is a coward as well as arrogant."
By this afternoon at Prime Minister's Questions the whole policy had unravelled. Not just in presentational terms but practically as well.
The Prime Minister's spokesman was unable to say how the Government knew – just two months into the financial year - that there would be enough spending shortfall by departments to pay the £550 million the freeze will cost.
Aides were also unable to explain why is deficit reduction was the Government's primary focus they were breaking their own rules by spending millions of pounds on a tax cut.
Not only that, but the £500 million only pays for the freeze until January when Mr Osborne will face the same dilemma yet over again. Over a year the total cost of the measure would cost the Treasury a further £1 billion.
Quite a lot of money when you're in the middle of the biggest public spending squeeze for a generation.
In contrast to those real dilemmas the disaster of Chloe and the problems of the off-message Nadine will likely pale into embarrassed insignificance.
"Nadine is Nadine", sighed the Prime Minister's press secretary.
"What can you do?"
Join our commenting forum
Join thought-provoking conversations, follow other Independent readers and see their replies