Dominic Raab: Who is the former Brexit secretary and why has he quit Theresa May's government?
Everything you need to know about the outgoing secretary of state for exiting the EU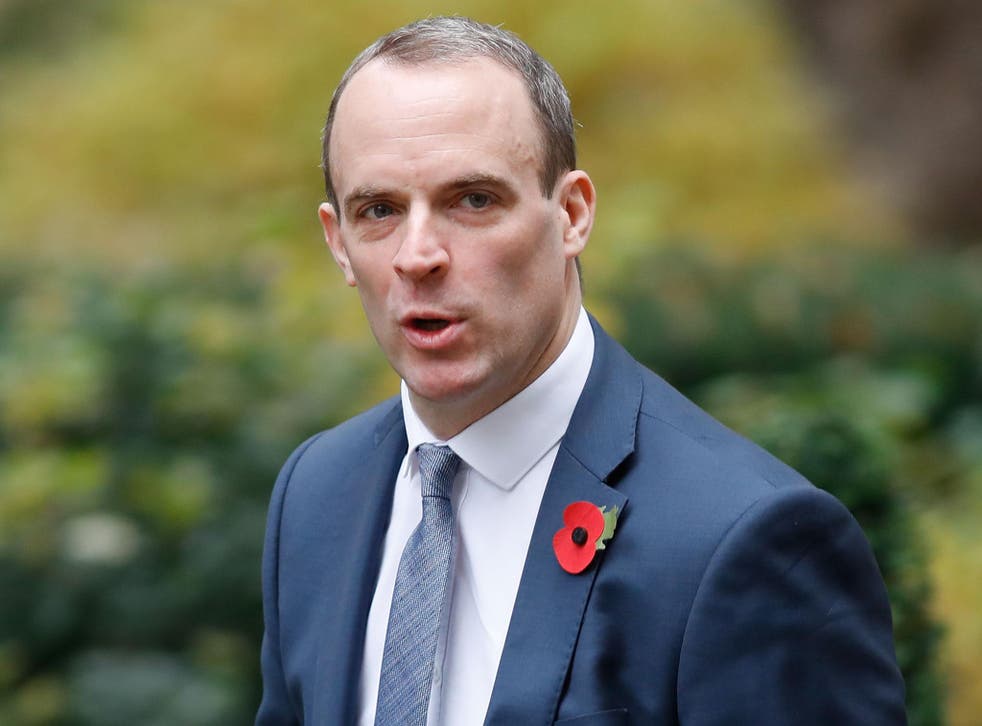 Dominic Raab, the Brexit secretary, has resigned from Theresa May's government after the cabinet approved an agreement to leave the European Union.
On announcing his resignation, Mr Raab said he could not "in good conscience support the terms proposed for our deal with the EU".
Six other ministers, including work and pensions secretary Esther McVey, have also resigned over the agreement.
Here is everything you need to know about Mr Raab:
Who is he?
Mr Raab is a keen Brexiteer and self-declared Thatcherite. He replaced David Davis, the previous Brexit secretary, after the latter's resignation in July.
He was previously the minister for housing and also served as junior justice minister.
He studied at both Oxford and Cambridge and was a lawyer before becoming MP for Esher and Walton, in Surrey, in 2010.
Mr Raab also spent time working for the Foreign Office before serving as Mr Davis' chief of staff.
What did he achieve as Brexit Secretary?
Mr Raab was in the role for little over four months and on several occasions was accused of being Brexit secretary in "name only", with civil servant Olly Robbins and his Europe Unit at the Cabinet Office taking the majority of the responsibility.
In a written statement to the Commons, Ms May said that she would take the lead in the negotiations and Mr Raab would be "deputising", all but confirming theories that it was in fact Mr Robbins in charge.
Mr Raab was widely ridiculed last week after he said "had not quite understood" the importance of cross-Channel trade to the UK economy.
Speaking at an event for tech firms, Mr Raab said Ms May was pursuing a future trade deal that recognised the "peculiar geographic economic entity" of the UK, as an island nation.
Why did he quit?
Reports suggest that Mr Raab felt as though he had been "bypassed" by Ms May and had been left out of crucial stages of the negotiating process.
Speaking about the deal Mr Raab, who was the UK's chief negotiator, said he did not support the regulatory regime that has been proposed for Northern Ireland.
He has claimed it is a "very real threat to the integrity of the United Kingdom".  
"No democratic nation has ever signed up to be bound by such an extensive regime, imposed externally without any democratic control over the laws to be applied," he said. 
Have there been other controversies?
Among his more surprising outbursts have been labelling feminists "obnoxious bigots" and saying men get "a raw deal" in 2011; declaring that food banks are used mainly by people with temporary cash flow problems in 2017; and suggesting, just three months ago, that immigration had pushed up housing prices "by something like 20 per cent" – a figure later questioned by the UK Statistics Authority.
Mr Raab was previously a member of a private Facebook group that called for the return of workhouses and the sale of all council homes, and previously called for Britain to use negotiations with the EU to scrap workers' rights.
As housing minister, his department was also at the centre of scandal this year after The Daily Mirror reported that his diary secretary was selling sex on a sugar daddy website.
When the newspaper's undercover reporter met the 20-year-old and asked about her boss, she replied: "I know everything about him" – although, as turned out that seemed mainly to refer to his lunchtime habits.
"He has the same sandwich every day," she said. "He has the same baguette with the same smoothie with a pot of fruit every day. It's from Pret. He has the chicken Caesar and bacon baguette, superfruit pot and the vitamin volcano smoothie."
Anything else to know?
He's a married father-of-two with a black belt in karate.
Register for free to continue reading
Registration is a free and easy way to support our truly independent journalism
By registering, you will also enjoy limited access to Premium articles, exclusive newsletters, commenting, and virtual events with our leading journalists
Already have an account? sign in
Register for free to continue reading
Registration is a free and easy way to support our truly independent journalism
By registering, you will also enjoy limited access to Premium articles, exclusive newsletters, commenting, and virtual events with our leading journalists
Already have an account? sign in
Join our new commenting forum
Join thought-provoking conversations, follow other Independent readers and see their replies