Dominic Raab urged to end Saudi Arabia arms sales during visit to Riyadh
Campaigners say Raab lacks 'moral authority' over Yemen until the UK bans sales of weapons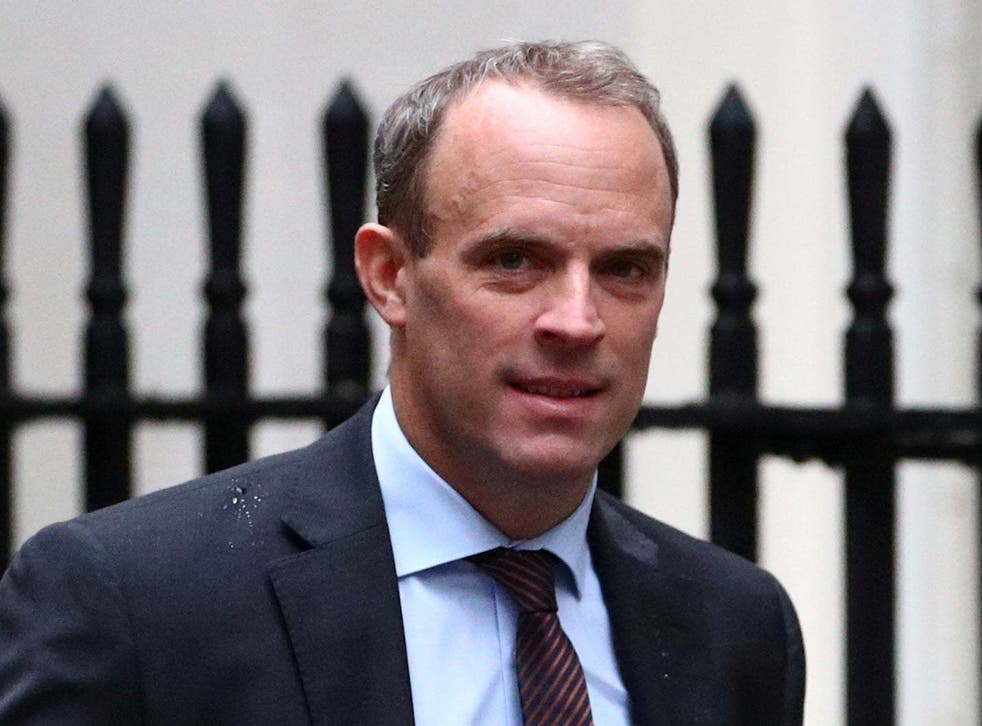 Dominic Raab has been urged to insist Saudi Arabia fixes its "abysmal human rights record" and to ban arm sales from the UK as he embarks on his first official visit to the Gulf state.
Campaigners urged the foreign secretary to call for an end to the ongoing conflict in Yemen and implement an immediate embargo on sales of British arms to Riyadh amid a deepening humanitarian crisis.
Mr Raab is expected to hold talks on the conflict with Saudi leaders during his two-day visit, where he will also meet Yemeni president Abdrabbuh Hadi.
It comes after international outrage over the murder of journalist Jamal Khashoggi by Saudi agents as well as the imprisonment of human rights activists.
The Foreign Office said he would raise issues where there were "differences" between the UK and Saudi Arabia "including on human rights and values" during meetings with senior figures, including Saudi foreign minister Prince Faisal bin Farhan and national security adviser Dr Musaad Al Aiban.
But campaigners said the foreign secretary lacked "moral authority" until the UK ends all arms sales to the Saudi administration, which is supporting the Yemeni government in its conflict with the Iran-backed Houthis.
Andrew Smith, of the Campaign Against Arms Trade (CAAT), said: "Dominic Raab has said he will raise the crisis in Yemen, but talk is not enough. It is a crisis that has been fueled and exacerbated by UK arms sales.
"Neither Raab nor his colleagues can have any moral authority while they continue to arm and support the brutal Saudi dictatorship and its allies. These arms sales are immoral, and, as the Court of Appeal confirmed last year, they are also illegal."
Mr Smith accused the government of showing a "total disregard" for the people of Yemen and said the only way to have a positive impact was to implement an immediate embargo on all arms sales to Saudi Arabia.
Arms sale licences cannot be granted in the UK if there is a risk that weapons are used in contravention of international law.
UK news in pictures

Show all 51
Last year, the Court of Appeal ruled it was unlawful for the UK to sanction arms exports without assessing whether the war being waged by a Saudi-led coalition had broken international law.
Liz Truss, the trade secretary responsible for export controls, admitted two "inadvertent" breaches only months after the ruling – but an independent probe later cleared ministers of personal responsibility.
The rules also allow the continuation of arms sales under existing licences.
Polly Truscott, a foreign affairs expert at Amnesty International, urged Mr Raab to intervene for human rights activists, who faced pressure ahead of the G20 summit in Riyadh in November.
She said: "Mr Raab needs to be unequivocal in his call for the release of Loujain al-Hathloul [who defied the ban on women driving] and other brave women's rights activists.
"Any discussion of the terrible situation in Yemen needs to confront the uncomfortable reality that Saudi Arabia and the UK are currently part of the problem – Saudi Arabia with its indiscriminate airstrikes on civilians, the UK with its arms sales to Riyadh.
"For years, ministers have soft-pedalled on Saudi human rights issues, largely in deference to supposed 'strategic' interests.
"It's time for Mr Raab to insist that the Saudi authorities fix their abysmal human rights record."
Mr Raab is due to spend two days in Saudi Arabia after visits to Oman and Turkey earlier this week.
Speaking ahead of his arrival, Mr Raab said: "Saudi Arabia is one of our closest trade partners and plays an important role in keeping Britain safe.
"As a valued partner, we have to work closely together to tackle the crisis in Yemen, terrorism and climate change as well as pursuing reform and engaging on human rights issues."
Join our new commenting forum
Join thought-provoking conversations, follow other Independent readers and see their replies