Don't Menshn escape! This woman is everywhere
You've got to page 32, and thought you had managed to avoid Louise Mensch. Sorry! Her Twitter rival launches today to cash in on the football
Jane Merrick
Sunday 24 June 2012 00:00 Comments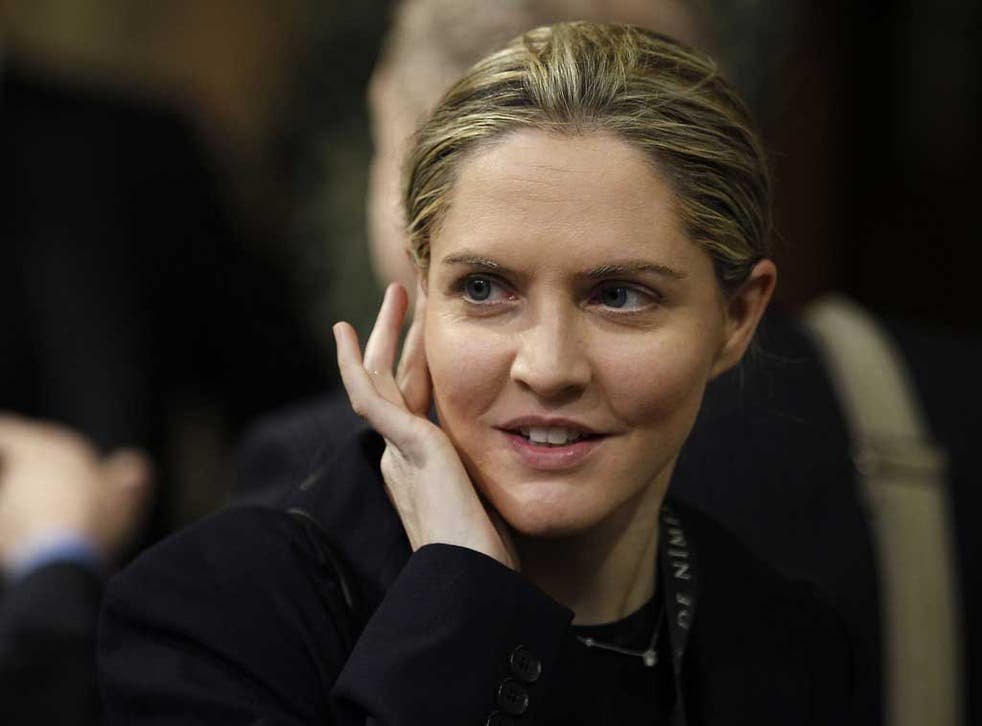 Louise Mensch is planning to capture the online enthusiasm for tonight's England quarter-final game against Italy in Euro 2012 by launching the UK version of her online messaging service Menshn. The Conservative MP and internet entrepreneur has brought forward the launch of her rival to Twitter to today to encourage people to use it to chat about the football.
Menshn, which allows people to talk about specific topics in "rooms" rather than the freewheeling, often random style of Twitter, was launched in the US last week to mixed reviews. Critics have described Menshn as too complicated and limited.
Mrs Mensch and her co-founder Luke Bozier, a former tech adviser to the Labour Party, had originally planned to launch the UK version later this summer to coincide with the Olympic Games, but the volume of traffic on Twitter triggered by the international football persuaded the pair to advance the date.
Last night Mrs Mensch responded to criticism of the service by insisting that Menshn was a "niche complement" to Twitter. "We wanted to offer a permanent water cooler for people who want to talk live," she said. "It isn't at all a rival to Twitter, it is a niche complement."
Asked whether she hoped to make a lot of money from the start-up, she said: "You don't worry about that too much. If you're an entrepreneur on the web, and you give people a good experience, then the money will follow. This week Twitter crashed because of the volume of Euro 2012 traffic. We were originally planning to launch for the Olympics, but the American launch attracted such interest that we thought we had to just go for it."
The UK version will start with two topics: UK politics and Euro 2012. At the end of the competition, the latter will become a general football "room" on the site. In the US Menshn started with three politics topics and has just added "tech" and "women".
The launch of the UK site means that the US version will also be open to UK users from today.
Mr Bozier said that Menshn is now integrated with Twitter, so that users can post comments and replies to both sites at the same time. He said he hopes the new site will offer a better service for users who want to stay "on topic".
Menshn allows up to 180 characters for each message, rather than the 140-character limit on Twitter.
Mr Bozier said the new site would offer a "clean environment, free of spam [junk mail] and trolling [inflammatory, extraneous, or off-topic messages]". Frank Zimmerman, an internet "troll", was sentenced earlier this month for posting abusive and threatening emails to Mrs Mensch after harassing her on Twitter.
The site launched at midnight last night and it is expected to gain peak interest during tonight's England match against Italy. Mrs Mensch and Mr Bozier hope that the other launch topic, UK politics, will draw in people who want to discuss political news and comment in the Sunday newspapers and interviews, starting with Tony Blair's first appearance on the The Andrew Marr Show on BBC1 in nearly a year.
Renaissance Woman?
Apparently not content with simply having it all, Louise Mensch wants more than that. Here are the many strings to her bow:
Author: Successful "chick lit" author by her 20s, penning such racy titles as Venus Envy and A Kept Woman.
MP for Corby since 2010: She's made her name defending Rupert Murdoch and appealing directly to the PM to give her a ministerial post.
Rock Chick: Married her second husband, Peter Mensch, a year ago. He's the manager of the Red Hot Chili Peppers.
Mother of three children, who, as she told James Murdoch during a select committee hearing, she insists on picking up from school despite Westminster commitments.
Internet entrepreneur: After defeating an internet "troll" in court, her latest guise as founder of Menshn could bring her her greatest success yet.
Register for free to continue reading
Registration is a free and easy way to support our truly independent journalism
By registering, you will also enjoy limited access to Premium articles, exclusive newsletters, commenting, and virtual events with our leading journalists
Already have an account? sign in
Join our new commenting forum
Join thought-provoking conversations, follow other Independent readers and see their replies