London set for second Donald Trump protest as 'tens of thousands' expected to march against UK response to travel ban
Demonstrations opposing Mr Trump's state visit invite are planned over the coming months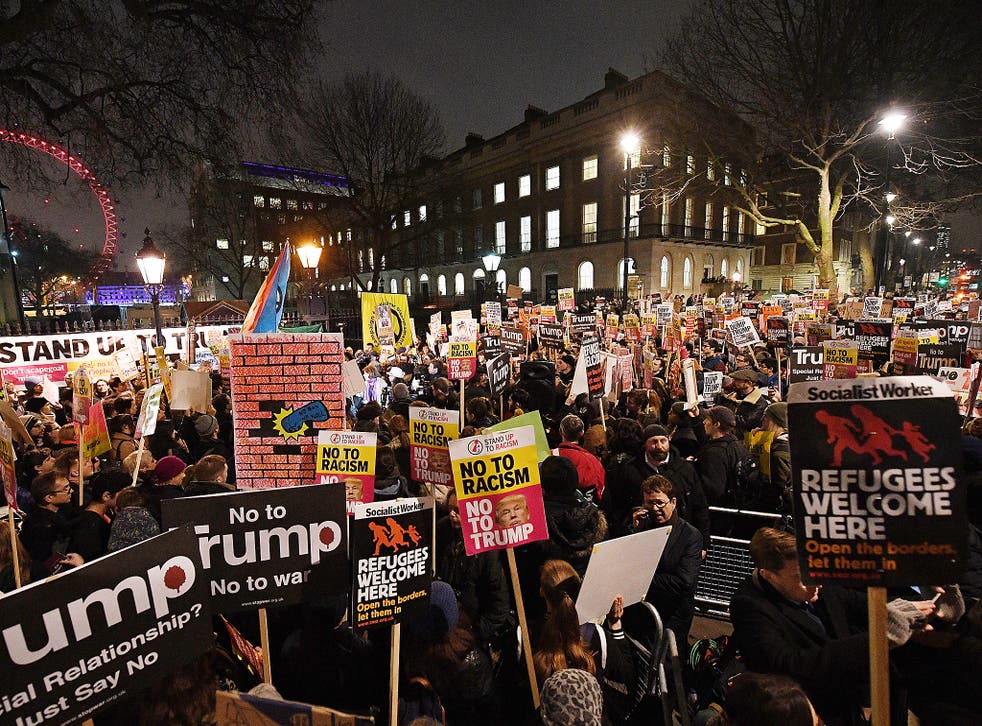 Thousands of protestors are once again expected to descend on London this weekend, to demonstrate against Donald Trump's immigration ban and his scheduled visit to the UK.
Protest group, Stand Up To Racism said "tens of thousands" of people, including shadow home secretary Dianne Abbott, will join Saturday's march from the US Embassy in Grosvenor Square to Downing Street.
It follows more than last month's London Women's March which was attended by more than 100,000 people and an estimated 30,000 strong march on Downing Street earlier this week.
Protest outside Downing Street sees tens of thousands demonstrate against Trump's immigration ban
"There will be another massive show of opposition to Mr Trump in London with campaigners, including Muslim organisations, coming to central London to send a clear message to Theresa May that Trump's not welcome here," said Sabby Dhalu, from Stand Up To Racism.
The organisation has called the US President's travel ban as "an appalling attack on human rights" and said that it is "unacceptable that Theresa May has not come out and condemned this".
Mr Trump's executive order suspended refugee resettlement in the US for 120 days and barred Syrian refugees indefinitely. It also barred travel from seven predominantly Muslim countries - Syria, Iran, Iraq, Yemen, Libya, Sudan and Somalia.
Theresa May initially stopped short of criticising the executive order, but later called it "divisive and wrong".
An online petition entitled "Prevent Donald Trump from making a State Visit to the United Kingdom" has also garnered more than 1.8 million signatures.
This weekend's march will be followed by a #StandUpToTrump summit in the capital later this month and demonstrations in London, Glasgow and Cardiff are also planned for 18 March.
Join our new commenting forum
Join thought-provoking conversations, follow other Independent readers and see their replies