Donald Trump will not serve a second term as President, says Michael Gove
Ex-cabinet minister who interviewed President says he will lose next election – and could even quit before then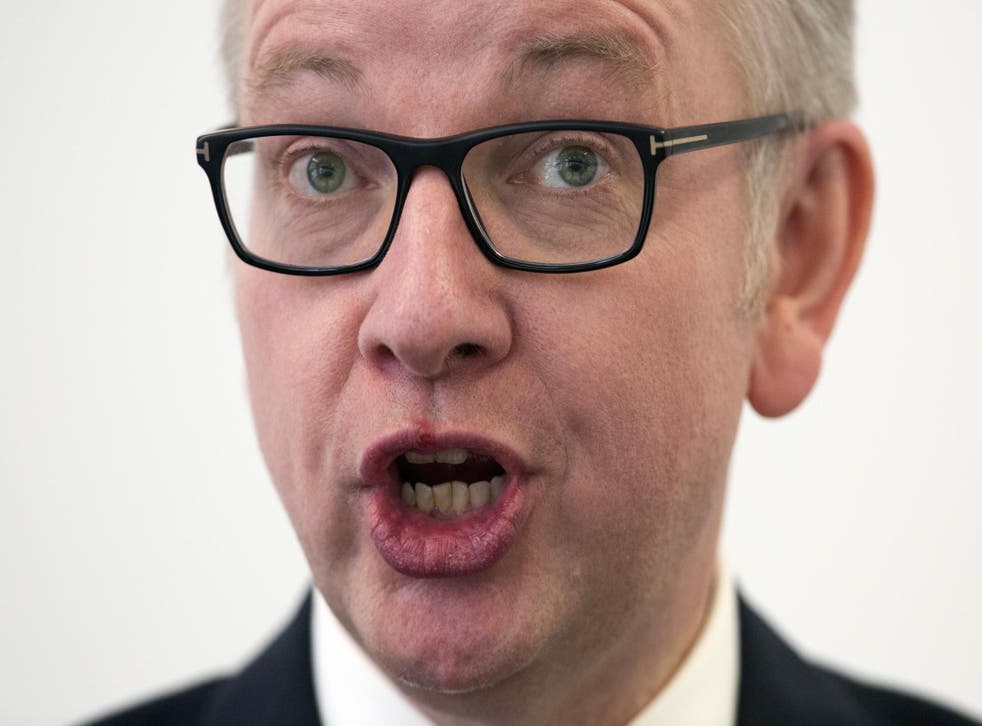 Michael Gove has revealed he believes "clearly narcissistic" Donald Trump will not win a second term in office in the White House.
The ex-Cabinet minister who interviewed the President said he believed Mr Trump's ego and determination to succeed would mean he would fight through to the next election, before losing to the Democrats.
He made the comments in an interview with Christian Today, in which he also slates Mr Trump's infamous travel ban as "sectarian" and inconsistent.
The former education secretary also reveals he has not spoken to David Cameron since the leadership contest, which saw the implosion of Mr Gove's political career, and admits he should not have stood as a candidate in the first place.
The Tory MP made headlines round the world with his interview with Mr Trump, but giving his view on whether the President has the character to see through his term in office, he said: "On the one hand he is someone who is clearly narcissistic or egotistical enough to want to be seen as a success, and therefore he'll want to show his critics that he can meet this challenge.
Trump attacks media during rally
"On the other hand though there is just a sheer unpredictability about the way in which he sometimes responds to events, that it would be impossible I think to predict with accuracy.
"My hunch is that he will see through this term and then he will lose the next election. Knowing that he might lose, he might find some means of quitting while he thinks he is ahead, though I suspect that his ego will mean he will both want to see what he can do in office and he will believe that he can prevail against whoever the Democrat opponent is."
The erstwhile leadership hopeful stepped back into the spotlight as a journalist when he won the first interview with Mr Trump for any foreign writer.
With his piece commissioned by The Times, Mr Gove did not confirm or deny media mogul Rupert Murdoch's presence at the interview with the US President, saying: "I think it's entirely fair for people to make a set of conclusions or assumptions about that. I won't comment on them if you don't mind ... I haven't said anything about it at this stage."
But Mr Gove also shed new light on the fall-out from the leadership contest in which he politically knifed Boris Johnson after initially supporting his bid, and the referendum in which he abandoned his friend Mr Cameron to campaign to Leave the EU.
He said: "With the benefit of hindsight, I should have not been so quick to say that I was going to support Boris in the first place and probably should never have run myself.
"But anyway, after what happened, I think probably the right result for the country emerged."
Mr Gove confirmed that he has spoken to Mr Johnson since the contest, but adds: "David – the opportunity hasn't arisen, and my view is that...what's the right thing to say? Yes, I think David was a great prime minister, I think he achieved a great deal.
"I think he has every right to feel that the way in which things turned out in the end give him the right to feel, well, you know, 'I didn't necessarily get the recognition or the appreciation that everything I have put into this job necessarily deserves'.
"So my view is that I entirely respect his right to have left Parliament, devote himself to other causes outside Parliament, and make judgments himself about how he spends his time and who he talks to and I don't make any criticism."
Register for free to continue reading
Registration is a free and easy way to support our truly independent journalism
By registering, you will also enjoy limited access to Premium articles, exclusive newsletters, commenting, and virtual events with our leading journalists
Already have an account? sign in
Join our new commenting forum
Join thought-provoking conversations, follow other Independent readers and see their replies