Scottish Conservative leader Ruth Davidson joins calls to cancel Donald Trump's state visit
MSP calls the Muslim Ban 'a cruel and divisive policy which discriminates against citizens of the host nation'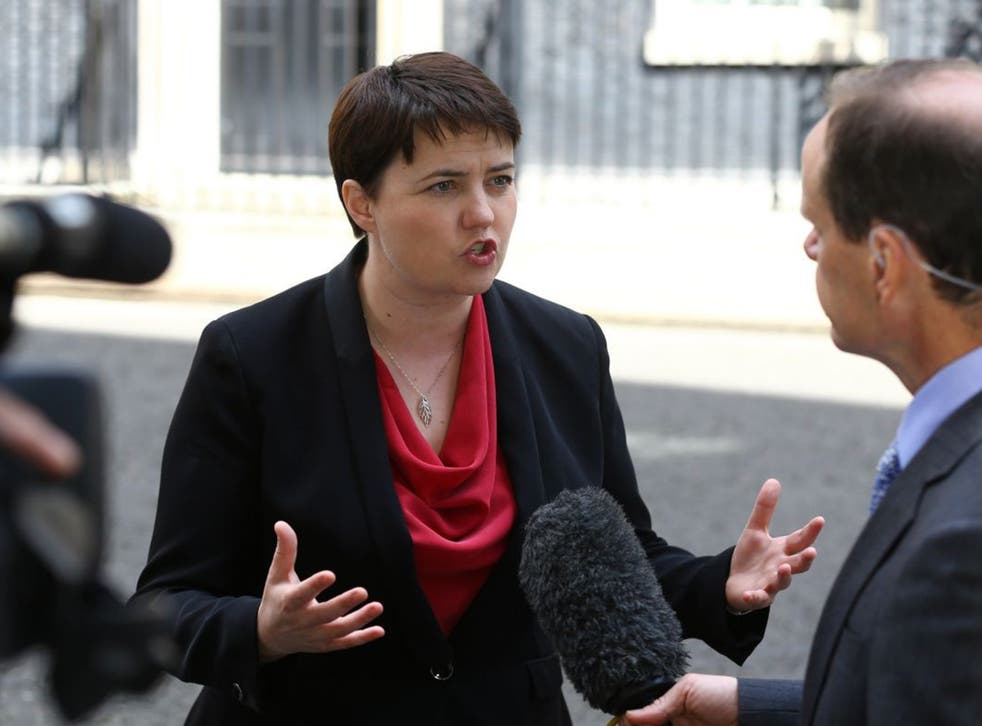 Ruth Davidson, the leader of the Conservative Party in Scotland, has joined calls to cancel Donald Trump's planned state visit until he repeals his ban on immigration from some Muslim countries.
Issuing a statement, Ms Davidson said the President should not be welcomed to Britain "while a cruel and divisive policy which discriminates against citizens of the host nation".
Ms Davidson said: "State visits are designed for both the host, and the head of state who is being hosted, to celebrate and entrench the friendships and shared values between their respective countries".
"A state visit from the current President of the United States could not possibly occur in the best traditions of the entreprise while a cruel and divisive policy which discriminates against citizens of the host nation is in place".
She said she hoped Mr Trump "immediately reconsiders his Muslim ban".
The MSP follows a growing list of Tories who have called on Theresa May to block Mr Trump's visit to the UK, which was scheduled for later this year, following the signing of an executive order banning all citizens of seven Muslim-majority countries from entering the US – including those who already have green cards, visas and dual citizenship with other countries.
Nadhim Zahawi, the Conservative MP for Stratford-upon-Avon, said he and his wife would be unable to visit their children who are studying in the US because they were born in Iraq – despite only holding British citizenship.
The politician, who fled Iraq as a Kurdish refugee with his parents in the 1970s, said the order made him feel like a "second-class citizen".
When Ms May was challenged to condemn the order during a joint-press conference with Turkish President Recep Tayyip Erdogan she initially said that "United States is responsible for the United States' policy on refugees" but later attempted to backtrack by saying she did not support the order.
She has now ordered Foreign Secretary Boris Johnson and Home Secretary Amber Rudd to call their counterparts in the US to "make representations" about the Muslim ban.
Meanwhile, a Government source told The Independent Mr Johnson and his team were also in contact with Mr Trump's top adviser Steve Bannon and his son-in-law and adviser Jared Kushner.
Nearly 400,000 people have signed a petition on the Government's e-petitions website calling for Ms May to scrap the state visit – meaning Parliament must consider it for debate.
In pictures: Protests, pomp and Donald Trump

Show all 30
Ms May announced the visit in the hours before the executive order was signed on Friday during a visit to Washington in the hopes of negotiating a trade deal after Britain leaves the EU.
The visit is set to include Mr Trump being granted an audience with the Queen at Buckingham Palace and an opportunity to address both Houses of Parliament in Westminster Hall.
But outspoken Tory MP Sarah Wollaston said Mr Trump should not be allowed to speak in Westminster Hall, which is the oldest chamber in Parliament and has been the site of addresses from revered world leaders such as Nelson Mandela, saying it had "great significance and should be reserved for leaders who have made an outstanding positive difference in the world".
She added that those who wish to "fawn" on him could do but not in Parliament.
Join our new commenting forum
Join thought-provoking conversations, follow other Independent readers and see their replies