Donald Trump told he won't escape the 'biggest protest in British history' by moving his state visit
Local politicians in Birmingham have pledged to greet any trip by the President with mass protests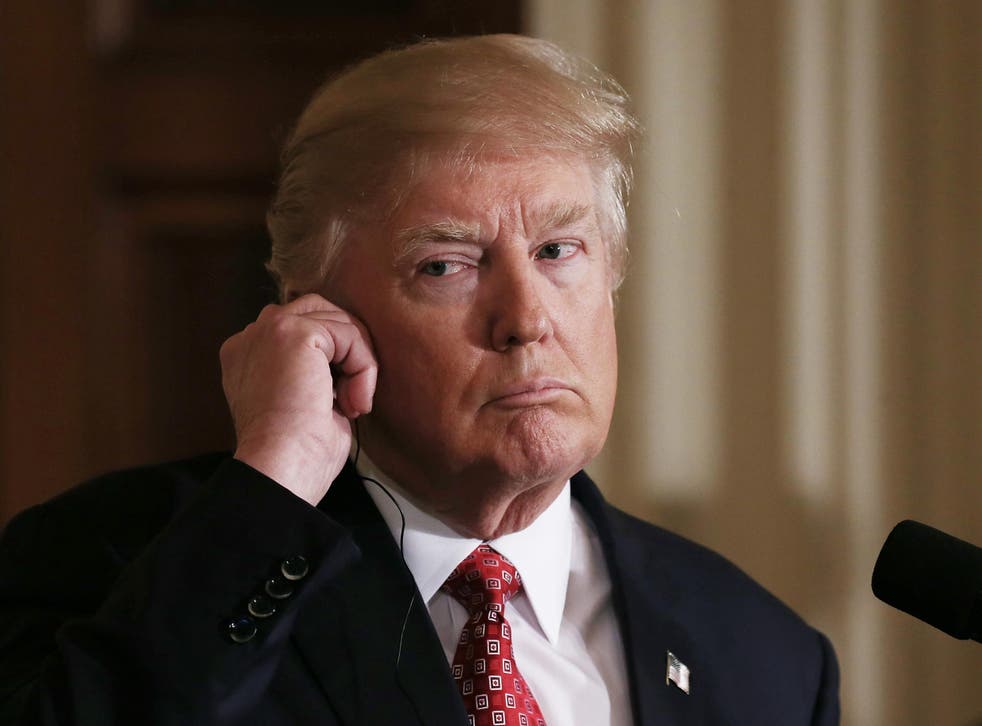 Donald Trump's state visit will be greeted by the biggest anti-racism protest in British history no matter where in the country the Government moves it to, campaigners have said.
Local politicians and activists in Birmingham reacted with anger to suggestions that the trip could be relocated to their city – and pledged to flood the streets with protesters to greet the "hateful" President.
The idea of moving the protest to avoid demonstrations in London has reportedly been suggested to the White House, with a rally at the National Exhibition Centre apparently on the cards.
Donald Trump's state visit to UK will occur 'around June', London police chief says
Shabana Mahmood, Labour MP for Birmingham Ladywood, said Mr Trump and his "hateful" politics were no more welcome in her city than they were in London.
"Birmingham is a wonderfully diverse city, home to people of every background, every faith," she said.
"President Trump with his hateful and divisive rhetoric, policies and Muslim ban is not welcome here."
Kerry Jenkins, Labour councillor for the city's Hall Green Ward, said Mr Trump was a "racist and a misogynist who is using his power to divide".
"If these rumours are proven I will be calling on all colleagues and citizens to stand together and demonstrate as we have done many times before in our great city when far right politics has reared its ugly head," she said.
Salma Yaqoob, a Birmingham campaigner who previously sat on the city council, warned that if "Donald Trump comes to the great city of Birmingham, our diverse communities will take to the streets in our thousands".
Cities and towns across the UK have already staged demonstrations against the US President and the cosy approach taken by Theresa May towards his administration.
People took to the streets in 36 different locations across the country at the end of last month, with the biggest demonstration in London. There, as many as 40,000 people packed Whitehall at just 36 hours notice.
The cross-party Stop Trump Coalition formed in the wake of those protests. It enjoys support from Labour, SNP, Green and Liberal Democrat MPs – as well as the general secretaries of major trade unions, including Unison, GMB, FBU, RMT, and the TUC.
Journalists and celebrities including Lily Allen, Paloma Faith, and Frankie Boyle have also officially signed up to the initiative.
Owen Jones, writer and co-founder of the group, said: "Donald Trump's state visit will be marked by the biggest protest against racism and hatred in our country's history.
"It doesn't matter where he goes. We will march in our millions against him, and our government's collusion, in every town and city in Britain."
The current biggest protest in Britain's history took place against the Iraq war, when at least a million people took to the streets in London in concert with other protests around the globe.
Trump considers "brand new" travel ban
On Sunday morning, David Lidington, the leader of the House of Commons, confirmed that there was no "set venue" for the state visit, adding that discussions about its details were "still ongoing".
"The Trump visit is still under discussion between the two governments," he told the BBC's The Andrew Marr Show.
"As with any State visit there's a whole range of variables so the diaries of the key players on both sides, what makes up a good programme, when's the right timing."
In pictures: Women of the world march against Trump

Show all 32
Ms May invited Mr Trump on a state visit to Britain while she was visiting him in Washington DC. The Prime Minister pledged to renew the "special relationship" between Britain and the US and to work closely with the controversial American President.
There is currently no date confirmed for the trip, but senior police officers have suggested it could be "around June".
Mr Trump assumed office in January, despite losing the popular vote by millions, and began his administration with a crackdown against foreigners that was declared illegal by US courts.
Join our new commenting forum
Join thought-provoking conversations, follow other Independent readers and see their replies