Public support Speaker Bercow on barring Donald Trump from Parliament speech, poll finds
The public is however split on the state visit at large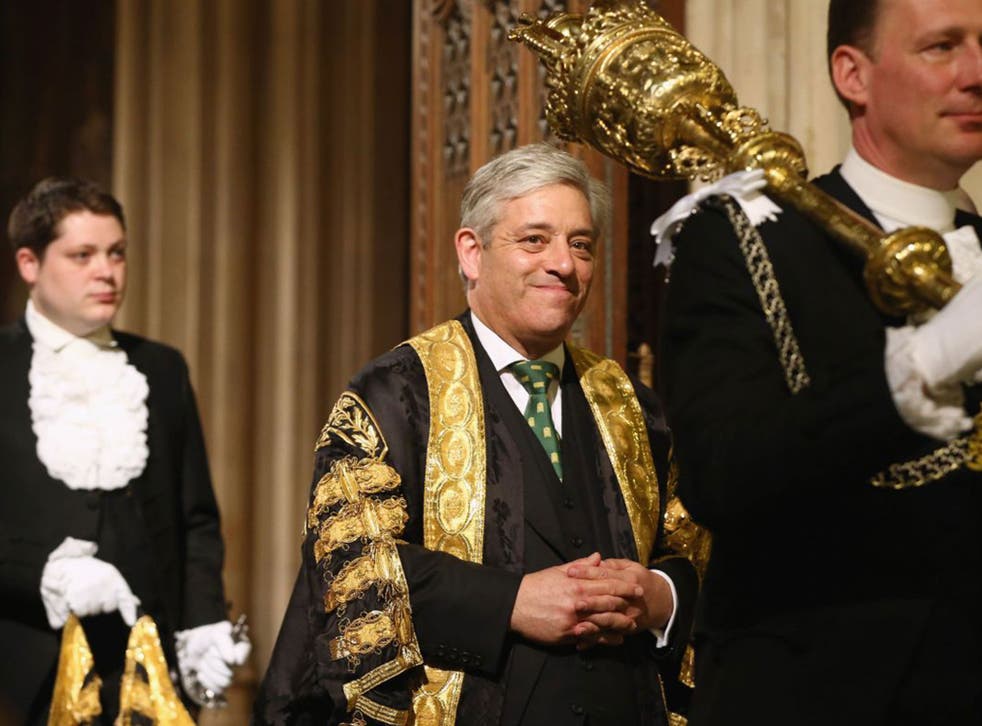 The public is broadly split on the subject of Donald Trump's forthcoming state visit to the UK, a new poll for The Independent has found.
Forty-five per cent of the public agree that Commons Speaker John Bercow was right to block Mr Trump from speaking in Parliament, compared with a smaller 39 per cent who disagree.
However, 47 per cent say that when he comes he should meet the Queen – despite widespread opposition to his policies.
A majority of people disagree with the President's "Muslim ban", which was cited by Mr Bercow when he said he would be "strongly opposed" to a visit by Mr Trump to the House of Commons.
A minority of the public does support the policy, however – with 29 per cent backing a similar travel ban for the UK. The figure rises dramatically to three-quarters when polling just Ukip voters.
Older members of the public are also rather more likely to agree that the UK should introduce its own such ban than younger members – just 15 per cent of 18 to 24-year-olds agree with the policy against 35 per cent of over-65s.
It was reported as Parliament went into recess that government officials had abandoned an plan for Mr Trump to speak in Parliament, a decision that would avoid a showdown with Mr Bercow and in effect hand him a perceived public victory.
It was not clear whether Mr Trump would ever address Parliament, as not all state visits include a parliamentary address.
Some cabinet ministers are also said to be suspicious of Mr Bercow's motives for intervening on the issue – a highly unusual topic for the politically neutral Speaker to pontificate on.
One told The Daily Telegraph newspaper this weekend that they believed Mr Bercow "orchestrated" the episode to secure his backing for a further term as Speaker.
Mr Bercow, a former Conservative MP who was elected to the speakership with the support of Labour MPs, has long been the target of a persistent group of Tory traditionalists who dislike his modernising approach and accuse him of bias against them.
In pictures: Protests, pomp and Donald Trump

Show all 30
Conservative MP James Duddridge has tabled an early-day motion – in effect a petition – calling for Mr Bercow to be ousted, but as yet only he has signed it.
The Prime Minister invited Mr Trump to come to the UK on a state visit while she met him in Washington DC. The visit is understood to be in June when Parliament is not sitting, though this has not yet been officially confirmed.
ComRes interviewed 2,021 GB adults online between 8 and 10 February 2017. Data were weighted to be demographically representative of all GB adults. Data were also weighted by past vote recall. Voting intention figures are calculated using the ComRes Voter Turnout Model. ComRes is a member of the British Polling Council and abides by its rules.
Join our new commenting forum
Join thought-provoking conversations, follow other Independent readers and see their replies