Douglas Alexander: 'Ukip poses a challenge to all parties. I take it very seriously'
Labour's election chief tells Andrew Grice why they are launching a new team dedicated to monitoring the challenge from Nigel Farage's party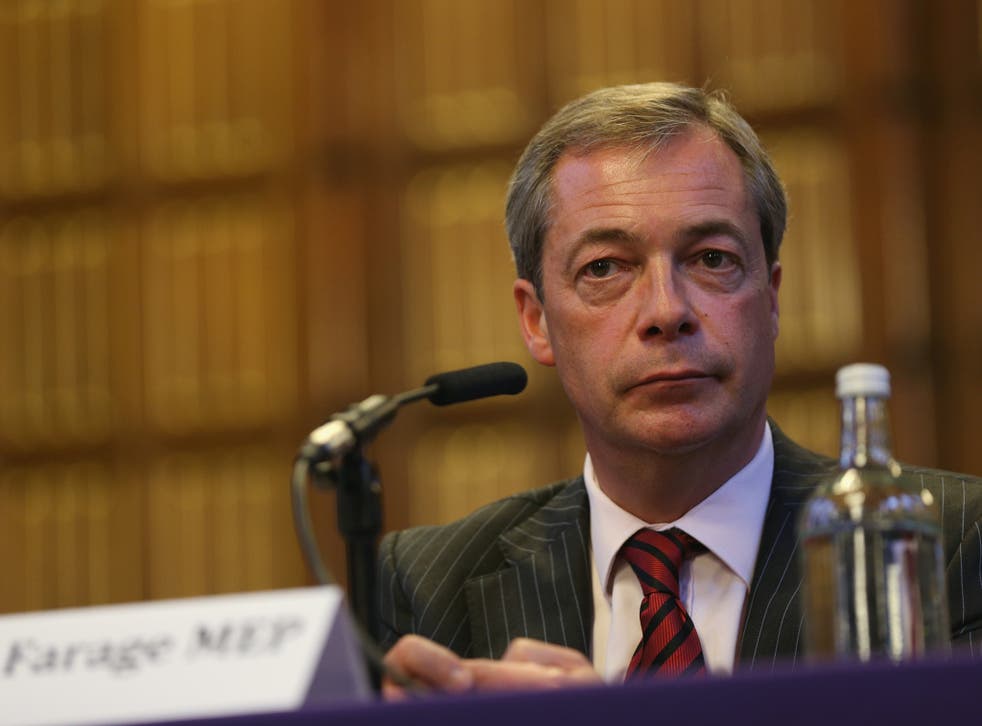 Labour is to target the UK Independence Party for the first time after growing complaints from MPs, candidates and activists that it is not taking the threat from Nigel Farage's party seriously enough.
In a recognition that Britain is now in an era of four-party politics, a team of officials at Labour's national HQ in Westminster will monitor the anti-EU party. A leaflet attacking Ukip will be issued by Labour shortly.
The moves were revealed in an interview with The Independent by Douglas Alexander, the shadow Foreign Secretary, who is in charge of Labour's general election strategy. It comes amid fears that Ukip could woo Labour's traditional working class supporters in its northern heartlands and might deprive Labour of victory in marginal seats in the Midlands and South at next year's election. An academic study last week suggested that Ukip has more working class support than any of the three main parties.
Mr Alexander said: "I take Ukip very seriously. The truth is that Ukip presents an electoral challenge to all political parties. The way to defeat Ukip is not to be a better Ukip but to be a better Labour Party. That means making sure the EU works better for Britain but also tackling the cost of living crisis, promoting jobs and growth and protecting the NHS."
Labour has recruited a staff member to work full-time on Ukip. Officials who monitor the Conservatives and Liberal Democrats will also keep a watchful eye on Mr Farage's party. "We have got staff dedicated to exposing the gap between the rhetoric of Ukip and its record. Inevitably, Ukip's policies will come under sustained scrutiny in the weeks and months ahead," said Mr Alexander.
Labour draws lessons from last month's Wythenshawe and Sale East by-election in Manchester, where Ukip came second but Labour retained the seat with a comfortable 8,960 majority. The party campaigned on local and bread-and-butter issues rather than Europe. Similarly, Mr Alexander said "the centrepiece" of Labour's campaign for the European Parliament and local government elections on 22 May will be "the cost of living crisis".
Labour's first anti-Ukip propaganda will be a leaflet that does not mention Europe. It asks: "Think that you should have to pay to see your GP? Ukip does." It includes the theme "Ukip doesn't share your values", claiming that a vote for Ukip is a vote for higher taxes for working people; huge tax giveaways for the rich; deep cuts in public services; scrapping workers' rights and ending the requirement for people on benefits to look for work.
In a briefing for Labour parliamentary candidates on Monday, Mr Alexander will announce that the party has now has more than 100 full-time organisers "embedded" in its key seats for the general election – more than at the time of Tony Blair's landslide victory in 1997. He will tell them: "Labour has proved we can protect our vote from Ukip, by focusing on the issues that really matter to people, tackling the cost of living crisis and getting Britain's economy back on track."
In the interview, Mr Alexander delivered a rebuke to former Labour ministers such as Peter Hain and John Healey, who have warned that the party is underestimating the Ukip threat. "The depth of concern people feel about Ukip is not always matched by depth of understanding," he said. He pointed to opinion polls showing that the "fuel in Ukip's tank" comes from an anti-politics rather than anti-EU mood, and finding that its supporters regard the economy and welfare as more important than Europe.
Admitting there is a risk of Labour being seen as part of a remote political class, Mr Alexander said: "Of course we need to show we are a genuine alternative to an unpopular, Conservative-led government. But we need to set ourselves a higher standard than a party offering anger like Ukip. We need to offer answers. Our offer is going to be inherently different to a party of protest because we are an alternative party of power. Our policies, outlook and messaging need to reflect the experiences of people in communities right across the country."
Ukip's appeal to blue collar workers is a sensitive issue for Labour. Mr Alexander said: "Of course we are looking to win support across every section of society. We win support by speaking to voters on the issues they most care about. There are two different ways to tackle Ukip. The Conservative way is to first ignore, then insult and then mimic it. That has failed. The way to defeat Ukip is not to be a replica of Ukip but to be a remedy for the politics Ukip represents. That means giving people hope, a sense of possibility and confidence that there is a genuine alternative to the way politics is practiced."
The shadow Foreign Secretary was instrumental in devising Labour's policy on whether it would offer an in/out referendum on EU membership. Ed Miliband announced last week that one would be "unlikely" before 2020 if Labour forms the next government, but promised the public a vote if a new EU treaty transfers power to Brussels.
Now Labour's stance has finally been resolved, Mr Alexander is keen to take the attack to David Cameron. Labour Party polling shows that only 16 per cent of Ukip supporters believe Mr Cameron will keep his promise to hold a referendum in 2017 if he remains prime minister, while 73 per cent do not. Overall, people are divided on whether to believe the Prime Minister; 45 per cent think he will keep his promise but the same proportion does not.
Mr Alexander said: "All of us accept know that Europe needs to change. Because of the external pressure of Ukip, and the internal political pressure of his own backbenchers, the Prime Minister has got himself in a position where he can't offer a sensible strategy for securing change. The gap between what David Cameron's backbenchers will tolerate and what other European leaders will accept remains achingly wide."
Asked whether Labour could weaken the UK's bargaining power in Europe by taking the referendum threat off the table, Mr Alexander replied: "The weapon David Cameron is wielding is pointing at his own head. His negotiating strategy seems to be 'give us what we want or I will blow my brains out.' "
Mr Alexander rejected criticism that Labour's policy will prove difficult to explain on the doorstep. He summarised it as: "If there is a transfer of sovereignty from Britain to Brussels in the future, then there will be an in/out referendum. But that is not our priority, which is tackling the cost of living crisis."
He concluded: "Of course people want change so the EU works better for Britain. But they also want a government focused on the most immediate priorities for our country. The defining issue for the general election will not be Europe. It is going to be the economy and the fact that people feel worse off at the end of the parliament than the beginning."
Register for free to continue reading
Registration is a free and easy way to support our truly independent journalism
By registering, you will also enjoy limited access to Premium articles, exclusive newsletters, commenting, and virtual events with our leading journalists
Already have an account? sign in
Register for free to continue reading
Registration is a free and easy way to support our truly independent journalism
By registering, you will also enjoy limited access to Premium articles, exclusive newsletters, commenting, and virtual events with our leading journalists
Already have an account? sign in
Join our new commenting forum
Join thought-provoking conversations, follow other Independent readers and see their replies