Douglas Carswell tells Ukip to stop blaming foreigners as youth poll shows Nigel Farage is even less popular than Nick Clegg
Eurosceptic party fails to command support among 17- to 22-year-olds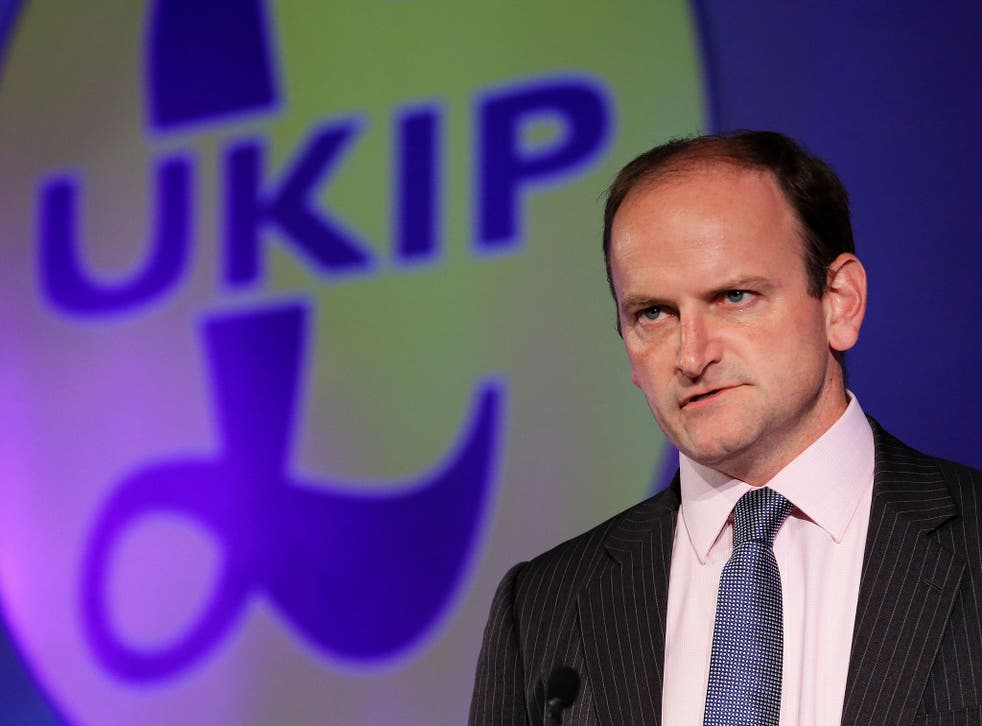 Douglas Carswell, one of Ukip's most senior figures, has called on the party to stop making "the mistake of blaming outsiders" for Britain's problems and described disliking foreigners as "not merely offensive, but absurd".
The former Tory MP's comments came as a damning new poll showed Ukip had failed to win the support of young voters ahead of the general election in May, who were found to be six times more likely to choose the Green Party.
Mr Carswell, whose by-election victory over his former party in October made him one of Ukip's most influential faces and one of their two members in the Commons, said it was "interdependence that put the Great into Great Britain".
His comments come after party leader Nigel Farage defended the language used by Ukip candidate Kerry Smith, who mocked gay party members as "p******s", joked about shooting people from Chigwell in a "peasant hunt" and referred to someone as a "C****y bird".
Mr Farage also made headlines last month when he blamed his lateness to a paid-for party event on "immigrants" causing greater traffic on the M4.
Writing in the Mail on Sunday, Mr Carswell said: "Far from being a party that tolerates pejorative comments about people's heritage and background, Ukip in 2015 has to show that we have a serious internationalist agenda.
"Ahead of May's General Election, we now have to show the whole country that we have what it takes to win big. That means an optimistic, internationalist and inclusive agenda for the whole country."
Ukip gaffes and controversies

Show all 18
Meanwhile, a poll of 502 17-22 year olds by Opinium for The Observer found that Labour enjoyed an eight-point lead over the Tories among the age group when it came to May's general election, ahead by 26 per cent to 18 per cent.
But of the 17 per cent who said they would vote outside the main three Westminster parties, almost seven in ten (69 per cent) intend to give their support to the Green Party with only 16 per cent choosing Ukip.
And young people were also found to be predominantly pro-European, with 67 per cent saying they would vote to remain a member state.
Finally, they were unimpressed by Mr Farage as a leader, with only 13 per cent agreeing that he did a good job and 64 per cent disagreeing – a net negative rating that was even worse than Nick Clegg's.
Register for free to continue reading
Registration is a free and easy way to support our truly independent journalism
By registering, you will also enjoy limited access to Premium articles, exclusive newsletters, commenting, and virtual events with our leading journalists
Already have an account? sign in
Register for free to continue reading
Registration is a free and easy way to support our truly independent journalism
By registering, you will also enjoy limited access to Premium articles, exclusive newsletters, commenting, and virtual events with our leading journalists
Already have an account? sign in
Join our new commenting forum
Join thought-provoking conversations, follow other Independent readers and see their replies