Downing Street deny energy U-turn after claims Cameron wants to 'get rid of all the green crap'
Number 10 say they 'do not recognise' phrase attributed to David Cameron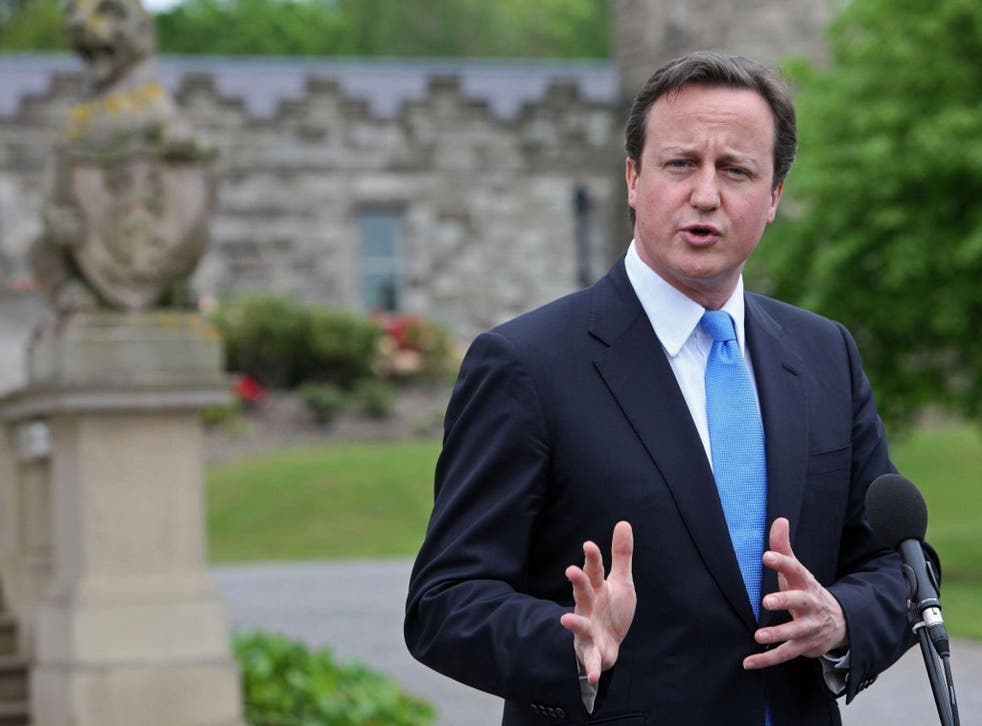 Downing Street has denied that David Cameron is dropping his environmental commitments, after an article said the Prime Minister had instructed his aides to "get rid of all the green crap" in relation to green levies.
A report by The Sun newspaper claimed Mr Cameron was making a major U-turn on environmental issues, and ordering aides to remove green levies which push up energy bills.
Referencing the environmental levies placed on fuel bills, the paper quoted an unnamed senior Tory source as saying: "The Prime Minister is going round Number 10 saying 'We have got to get rid of all this green crap'. He is totally focused on it.
"We used to say 'Vote Blue, Go Green', now it's 'Vote Blue, Get Real'."
But a senior Downing Street source said they "do not recognise this phrase that they [The Sun] are using on their front page."
Deputy Prime Minister Nick Clegg today argued the reported comments by the Prime Minister did not reflect Mr Cameron's views, adding "it isn't all crap" as he stressed the importance of the levies.
Speaking on LBC radio, Mr Clegg said: "It is worth remembering that a lot of the policies that we have got support tens of thousands of people who work in the booming green energy sector, actually keep bills down in the long run because if you don't insulate people's homes today they are going to be spending more on their gas and electricity bills in the future heating their homes.
"Crucially some of these policies are there to help the most vulnerable."
"The Prime Minister and I, funnily enough, were discussing it just yesterday so it so happens I don't think that's a fair reflection of his views.
"We both want to see policies, where we are control of them in government, made as cost-effective as possible without cutting our commitment to reducing carbon commitments and looking after the environment."
The alleged comments come after Mr Cameron attempted to highlight his commitment to the environment ahead of the 2010 general election with a trip to the Arctic Circle to view the impact of global warming, where he was pictured riding with huskies through the snow and told voters they could "Vote Blue, Go Green".
He has regularly stated his determination to lead the "greenest government ever". In a four minute speech at the Department of Energy and Climate Change in May 2010, he pledged a "new way of doing climate change", asserting that "nowhere are long-term decisions more needed than actually in the fields of energy and climate change and environment."
He added: "We've got a real opportunity to drive the green economy to have green jobs, green jobs and make sure we have our share of the industries of the future."
But last month he told the House of Commons he wanted to "roll back" the green levies which add an average £112 a year to households' energy bills to fund renewable power subsidies and programmes to insulate homes.
Downing Street said this did not mean the PM had abandoned his commitment to the environment.
"He has been quite clear about rolling back the impact of levies on energy bills, but only last week in Sri Lanka he was talking about the importance of tackling climate change," a Number 10 source said.
Mr Cameron also used a recent trip to Sri Lanka visit to stress he believed the evidence of global warming was "growing" and thought it right to take "preventative and mitigating steps" to combat it.
Responding to speculation that man-made climate change could have been responsible for the devastating typhoon in the Philippines, the PM said then: "I'll leave the scientists to speak for themselves about the link between severe weather events and climate change.
"But the evidence seems to me to be growing. As a practical politician, I think the sensible thing is to say let's take preventative and mitigating steps given the chances this might be the case."
Register for free to continue reading
Registration is a free and easy way to support our truly independent journalism
By registering, you will also enjoy limited access to Premium articles, exclusive newsletters, commenting, and virtual events with our leading journalists
Already have an account? sign in
Register for free to continue reading
Registration is a free and easy way to support our truly independent journalism
By registering, you will also enjoy limited access to Premium articles, exclusive newsletters, commenting, and virtual events with our leading journalists
Already have an account? sign in
Join our new commenting forum
Join thought-provoking conversations, follow other Independent readers and see their replies