New Downing Street briefing room costing £2.6m revealed in first-look images
Labour Party says it was 'expecting something a bit more impressive'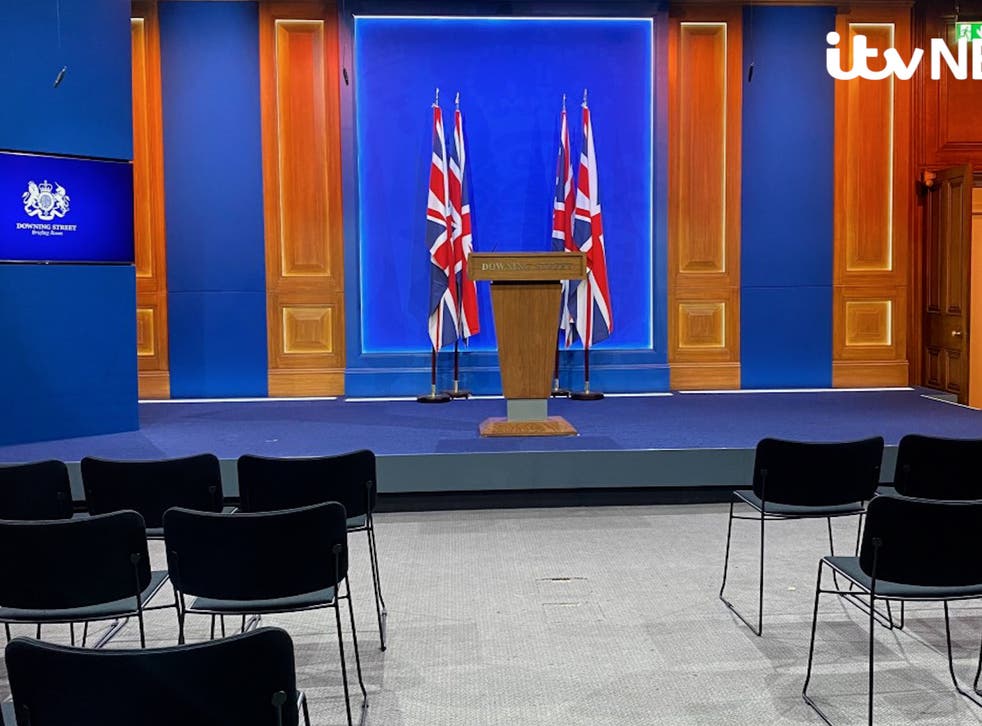 The first glimpse of Downing Street's new White House-style briefing room has been revealed, following criticism that more than £2.6m had been spent on the renovations while NHS workers were denied a pay rise.
Images published by ITV News showed the room in No 9 kitted out with cameras, rows of chairs for journalists and a parade of union flags.
The flags stand firm behind a lectern from where the prime minister's press secretary, Allegra Stratton, will take reporters' questions and act as the face of the government.
Rachel Reeves, the shadow chancellor of the Duchy of Lancaster, said: "Given how much money Boris Johnson has thrown at his latest vanity project, we were expecting something a bit more impressive."
Read more:
A freedom of information (FoI) request, published by Press Association last week, revealed that the briefing room had cost £2,607,767.67, largely excluding VAT.
Costs detailed in the FoI response included £1,848,695.12 for the "main works", £198,023.75 on "long lead items", and £33,394.63 on broadband equipment.
The launch of the televised briefings had been anticipated as early as the autumn but it was announced in January this would be delayed due to the regular coronavirus press conferences being held at No 10 during lockdown.
Earlier this month, the prime minister faced criticism for a separate renovation project – this time on the No 11 flat which he shares with his fiancée, Carrie Symonds, and their young song, Wilf – which reportedly cost tens of thousands of pounds.
Additional reporting by PA
Register for free to continue reading
Registration is a free and easy way to support our truly independent journalism
By registering, you will also enjoy limited access to Premium articles, exclusive newsletters, commenting, and virtual events with our leading journalists
Already have an account? sign in
Register for free to continue reading
Registration is a free and easy way to support our truly independent journalism
By registering, you will also enjoy limited access to Premium articles, exclusive newsletters, commenting, and virtual events with our leading journalists
Already have an account? sign in
Join our new commenting forum
Join thought-provoking conversations, follow other Independent readers and see their replies