UK has sold £3.6 billion worth of arms to Saudi Arabia since conflict with Yemen began, report finds as DSEI begins
Government accused of hypocrisy and 'rolling out the red carpet' to repressive governments as Excel centre prepares to host huge arms fair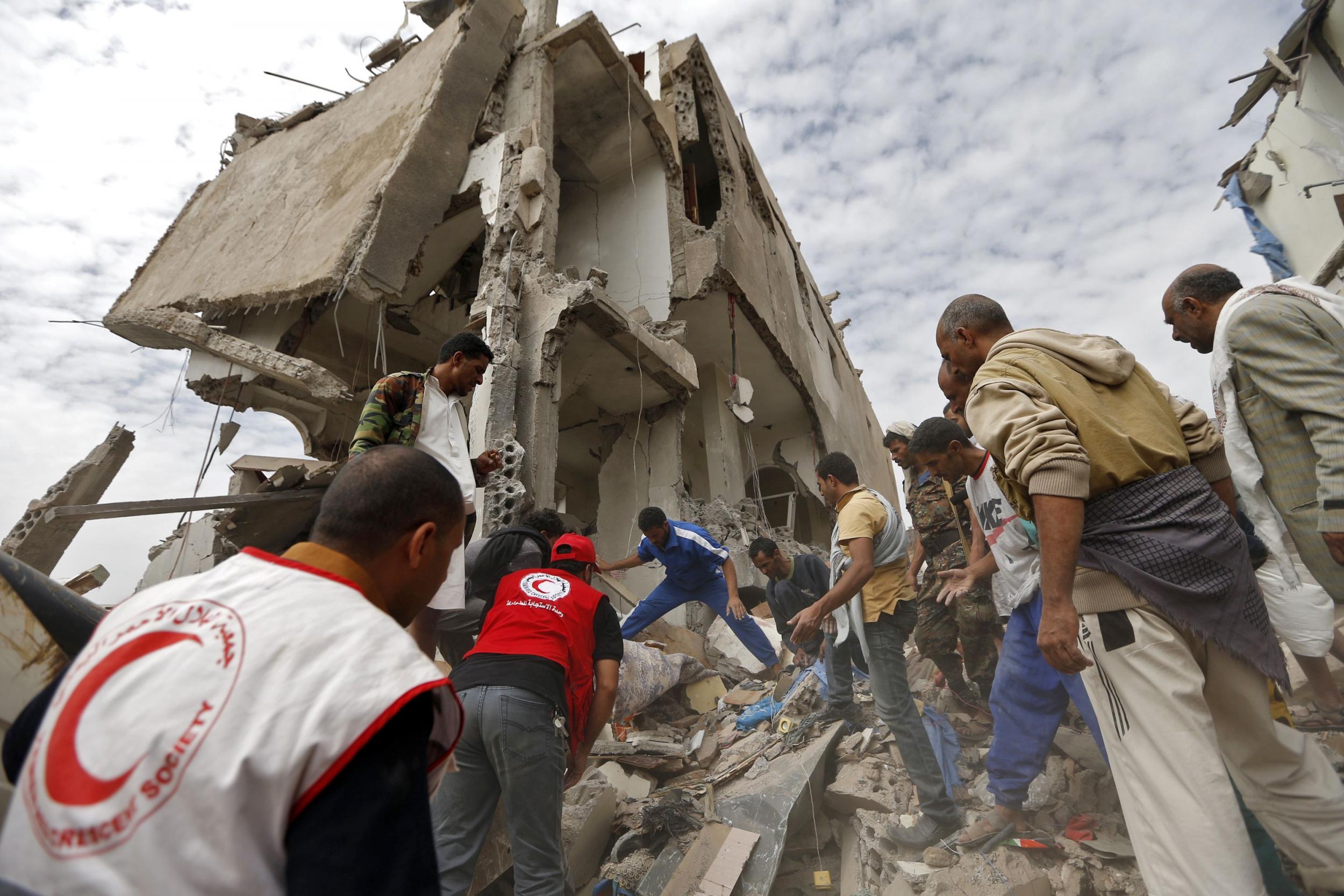 As the world's largest arms fair prepares to open its doors in London, campaign groups are highlighting that the UK has sold £3.6 billion worth of arms to Saudi Arabia since the devastating conflict in Yemen began.
According to the latest report from campaign group Control Arms, the UK, France and the US have been three of the biggest suppliers of arms to the Saudi regime since the war in Yemen broke out in 2015, despite the fact that thousands of civilians, including children, have been injured in the conflict.
Oxfam is calling on the UK to immediately "stop the arms sales and push for a ceasefire" and has accused ministers of "double standards" because of the Government's official endorsement of the Defence Systems and Equipment International (DSEI) arms fair, taking place at the Excel Centre this week.
Various campaign groups have accused the Government of "rolling out the red carpet" to invited delegates from some of the world's most repressive governments, including Saudi Arabia, Bahrain and Turkey, at DSEI.
In a new report, Control Arms concurs with other groups including Campaign Against the Arms Trade (CAAT) in finding the UK alone has agreed to £3.6 billion worth of arms sales since the Saudi backed coalition began its air strikes in Yemen, with an estimated 13,000 people having been killed in the confluct since March 2015 and creating a humanitarian disaster.
The Saudis involved themselves in the country's civil war to back President Abed Rabbo Mansour Hadi after Iran-allied Houthi fighters seized control of Yemen's capital Sana'a
Amnesty International has accused the UK of being in breach of the UN treaty to regulate the international arms trade, effectively ignoring its obligations by continuing to supply arms even where there is a real risk they will cause a serious violation of human rights.
Oxfam is among the organisations calling on the Government to stop the lucrative sale of arms and push for international ceasefire.
The UK Government's aid budget for Yemen is set at £139 million for 2017-18, with Amnesty International calling this a "shameful contradiction" in comparison to the billions generated by the sale of arms to oppressive regimes.
"The USA and UK are fuelling serious violations that have caused devastating civilian suffering though multibillion-dollar arms transfers to Saudi Arabia that vastly overshadow their humanitarian efforts," said Lynn Maalouf, Deputy Director for Research at Amnesty International's Beirut office.
"Weapons supplied in the past by states such as the UK and USA have helped to precipitate a humanitarian catastrophe. These governments have continued to authorise such arms transfers at the same time as providing aid to alleviate the very crisis they have helped to create. Yemeni civilians continue to pay the price of these brazenly hypocritical arms supplies."
Saudi Arabia has repeatedly said that it does all all it can to reduce civilian casualties and upholds international law. It has launched investigations into a number of incidents where civilians have been killed, but campaigners have flagged far more alleged incidents.
Protests began outside the Excel centre in east London last week and are expected to intensify when the DSEI fair begins on Tuesday.
A judge last year acquitted eight people who had taken part in peaceful protests in 2015 of "obstructing the public highway" after they successfully used the unusual defence that they had been trying to prevent greater crimes from taking place when they either locked onto or laid down in front of vehicles carrying weapon including tanks into the arms fair.
District Judge Angus Hamilton said last May that Stratford Magistrates' Court had been presented with "clear, credible and largely unchallenged evidence that criminal wrongdoing had occurred at past DSEI exhibitions involving the sale of arms to countries which then use those arms against civilian populations, and the sale of arms that were inherently unlawful, such as cluster munitions and items designed for torture."
To the dismay of humanitarian campaigners, the UK High Court ruled in July that the UK Government can continue selling arms to Saudi Arabia after Lord Justice Burnett found it had not been established that the Saudi forces were deliberately targeting civilians.
The biennial autumn arms fair first took place in London in 2001 and opened its doors for the first time on the day of the September 11 attacks on the World Trade Centre. The event now attracts more than 35,000 visitors and exhibitors, including representatives from the world's ten biggest arms companies.
10 examples of Saudi Arabia's human rights abuses
Show all 10
Clarion Defence and Security, which runs DSEI, says all exhibitors are subject to the UK Export Control Act designed to ensure equipment and services on offer comply with both UK and international law. Prohibited goods, known as Category A items, include those designed for execution, torture, restraint, riot control, certain cluster munitions and land mines.
The Independent has contacted DSEI for a statement but received no reply ahead of publication. DSEI organisers have previously said they take legal compliance seriously.
Keynote speakers at this year's fair will include Defence Secretary Michael Fallon, International Trade Secretary Liam Fox and the chiefs of staff of the British armed forces.
Although the UK Government has officially supported DSEI since its inception, several politicians in opposition have criticised it over the years, with London's Labour Mayor Sadiq Khan this year calling for it to be banned, in contrast to his predecessor Boris Johnson, who supported it.
"The DSEI arms fair is not an event that I support. ExCeL is a commercial space for hire. I am opposed to London being used as a market place for the trade of weapons to those countries that contribute to human rights abuses," Mr Khan said.
A motion on arms sales to Saudi Arabia has been proposed for debate at the Labour Party conference which takes place in Brighton later this month after its leader Jeremy Corbyn called for the sale of arms to regimes committing alleged war crimes to end.
The government insists that its arms export licensing systems is robust and subject to strict rules. Foreign Office minister Alan Duncan told parliament recently: "The government take their export control responsibilities very seriously and operate one of the most robust defence export control regimes in the world. We rigorously examine every application case by case against consolidated EU and national arms export licensing criteria."
Join our commenting forum
Join thought-provoking conversations, follow other Independent readers and see their replies