DUP deal: SNP threatens formal dispute with UK Government over £1bn Northern Irish cash injection
'Any sense of fairness sacrificed on the altar of grubby DUP deal to let PM cling to power' Nicola Sturgeon tweeted about the deal
Katrine Bussey
Wednesday 28 June 2017 16:59 Comments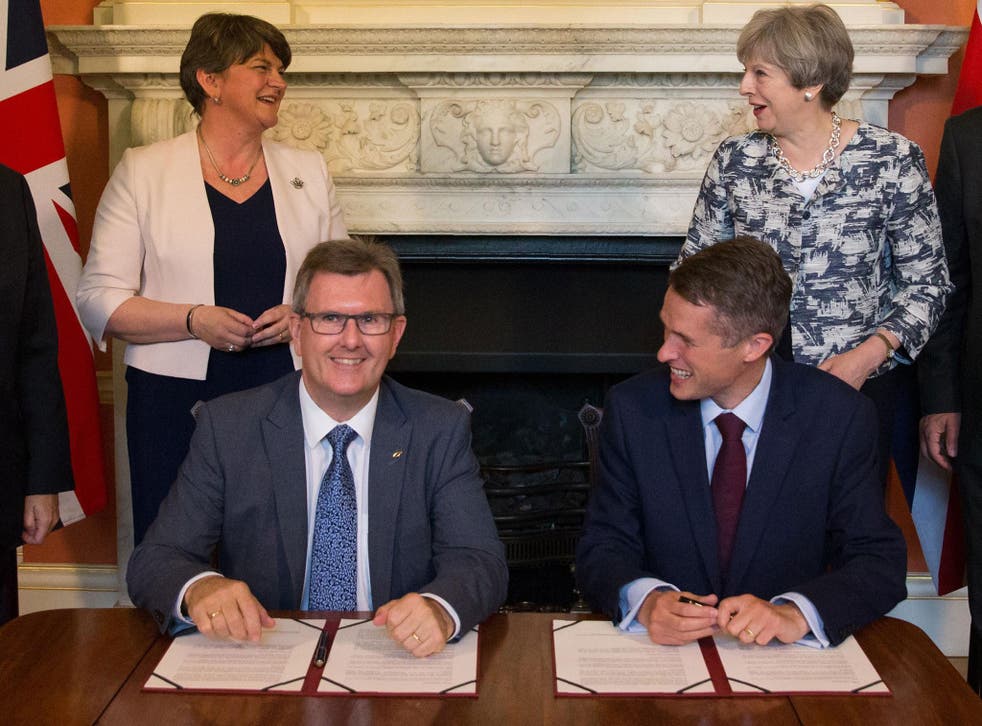 The Scottish Government has threatened to invoke formal dispute resolution procedures with the UK Government as the row over the Tories' £1 billion deal with the Democratic Unionist Party (DUP) intensified.
Political leaders in Scotland and Wales reacted furiously to the agreement, which will see Northern Ireland benefit from additional cash while Theresa May will gain the support of DUP MPs in crucial votes at Westminster.
Welsh First Minister Carwyn Jones has already described it as a "straight bung" to prop up a "faltering" Conservative minority government while his Scottish counterpart Nicola Sturgeon tweeted: "Any sense of fairness sacrificed on the altar of grubby DUP deal to let PM cling to power."
Meanwhile, Scottish Finance Secretary Derek Mackay told MSPs at Holyrood the Conservatives were "ripping off Scotland to the tune of £2.9 billion" and said it "feels like daylight robbery".
Mr Mackay claimed it is "unacceptable" the funding for Northern Ireland will not be subject to the Barnett formula's spending rules, which determine how resources are allocated to different parts of the UK.
Increased spending on devolved issues, such as health and infrastructure, for one part of the country will usually result in additional money for other areas.
Mr Mackay is demanding urgent talks with Liz Truss, Chief Secretary to the Treasury, and Welsh Finance Secretary Mark Drakeford in a bid to find a "satisfactory solution" that is "fair and reasonable to all".
In a letter to Ms Truss, he stated: "As this is an issue of such significance to the Scottish Government, if we cannot agree we will look to pursue a more formal mechanism to resolve the situation by invoking the formal dispute resolution mechanism."
Answering questions on the issue in the Scottish Parliament, Mr Mackay said he had first raised his concerns with Ms Truss a week ago - but said he had been given "no reassurances whatsoever" on potential funding for Scotland.
He told MSPs: "If this matter cannot be resolved with HM Treasury, then we will invoke formal dispute resolution proceedings to ensure that this matter is resolved.
"The UK Government's deal prioritises expenditure on Northern Ireland at the cost of all other parts of the UK and leaves Scotland almost £3 billion worse off than it would be if funding had been allocated using the well-established arrangements.
"We don't grudge Northern Ireland a penny - we just want fairness for every other part of the UK, not least in Scotland.
"The spending areas for additional funding for Northern Ireland are devolved areas - infrastructure, health including mental health, education, broadband, deprivation. All within the scope of Barnett."
The agreement is a "clear breach of the statement of funding policy undermining devolution and undermining that deal that we had across the devolved administrations", Mr Mackay insisted.
He added both Scotland and Wales had been "overlooked in this grubby deal with the DUP" as he accused the 13 Scottish Conservatives at Westminster of "selling Scotland down the river to the tune of £2.9 billion".
He dismissed suggestions the funding for Northern Ireland was similar to city deals - to which the Barnett formula does not apply.
Mr Mackay said: "Any suggestion that this funding arrangement is analogous to previous funding for city deals in Scotland is also wrong and not in any way comparable, as city deal funding is conditional on match funding from the Scottish Government's own budgets and also requires contributions from local authorities and other regional partners in Scotland (again from their own budgets).
"There is no match funding expectation with the £1 billion offered to Northern Ireland."
The Scottish Government has previously invoked dispute resolution procedures with the UK Government during a row over whether Scotland should receive additional cash as a result of spending for the London 2012 Olympics.
PA
Register for free to continue reading
Registration is a free and easy way to support our truly independent journalism
By registering, you will also enjoy limited access to Premium articles, exclusive newsletters, commenting, and virtual events with our leading journalists
Already have an account? sign in
Join our new commenting forum
Join thought-provoking conversations, follow other Independent readers and see their replies