The DWP is forcing a rape victim to pay the Bedroom Tax on her police-installed panic room
Iain Duncan Smith's department is launching a legal challenge in the Supreme Court to that 'A' has to pay the charge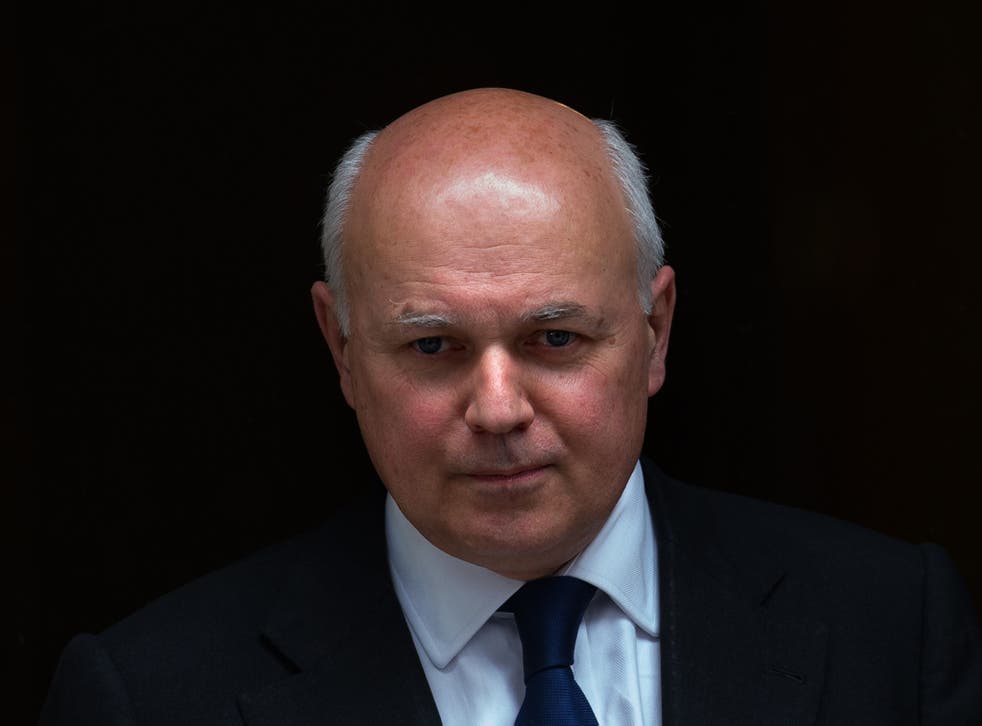 The Department for Work and Pensions is trying to force a rape victim to pay the so-called "Bedroom Tax" on her police-installed panic room, it has emerged.
Ministers were told by the Court of Appeal on Wednesday that the DWP's policy was unlawful and discriminatory – but they have now said they will challenge that ruling at the Supreme Court.
The woman, known only as "A" for her own protection and safety, is a victim of rape, assault, harassment and stalking at the hands of an ex-partner.
In response to the continued threat against her, police installed a reinforced panic room in her home, as well as other measures such as reinforced doors, alarms directly linked to the police station and a special marker on the house.
The DWP however says "A"'s panic room counts as a spare bedroom and that she must pay the charge, equal to a 14 per cent cut in her housing support.
Rebekah Carrier, "A"'s solicitor, said her client was terrified for herself and her child, who she lives with.
"These changes to housing benefit have had a catastrophic impact upon vulnerable people across the country," Ms Carrier said.
"Our client's life is at risk and she is terrified. The anxiety caused by the bedroom tax and the uncertainty about this case has been huge. She lives in a property which has been specially adapted by the police, at great expense, to protect her and her child.
"The prospect of having to move to another property– where she will not have any of these protections – or take in a lodger has loomed large for her during the three years it has taken this case to come to the Court of Appeal.
Ms Carrier said an investment had been made by the state in "A"'s home and that forcing her to leave it was a "false economy", especially since new security would be required to be installed at any new property.
As well as Ms Carrier of Hopkin Murray Beskine Solicitors, "A" is also represented by barristers Karon Monaghan QC, Matrix Chambers, and Caoilfhionn Gallagher and Katie O'Byrne of Doughty Street Chambers.
The charity Women's Aid is also supporting the legal challenge against the Department for Work and Pensions.
What does five more years of the Tories mean for Britain?

Show all 8
The legal battle over the bedroom tax policy comes as the National Housing Federation asked the DWP to clarify whether recent changes to the shared accommodation rate of housing benefit will have an impact on supported housing.
Charities have warned that domestic abuse and sexual assault victims who live in rape crisis centres, a form of supported housing, could be affected or lose their spaces.
Polly Neate, Chief Executive of Women's Aid, told the Independent: "We want the Government to clarify the definition of the social sector in relation to this policy, and whether supported housing will be exempt from the Shared Accommodation Rate of housing benefit based on the Local Housing Allowance.
"Housing Benefit is an important source of income for refuge services, so cuts to it would cause a significant problem for them."
A spokesperson for the Department of Work and Pensions said it "fundamentally" disagreed with the Court of Appeal's Ruling in favour of the rape victim "A".
"We are pleased that the court found – once again – that we have complied with the Public Sector Equality Duty," a spokesperson said.
"We fundamentally disagree with the court's ruling on the ECHR, which directly contradicts the High Court. We have already been granted permission to appeal to the Supreme Court.
"We know there will be people who need extra support. That is why we are giving local authorities over £870m in extra funding over the next five years to help ensure people in difficult situations like these don't lose out."
Join our new commenting forum
Join thought-provoking conversations, follow other Independent readers and see their replies