Ed Davey pledges citizen's basic income for carers as he launches Lib Dem leadership campaign
Acting leader faces challenge from two rivals in race to claim job permanently in August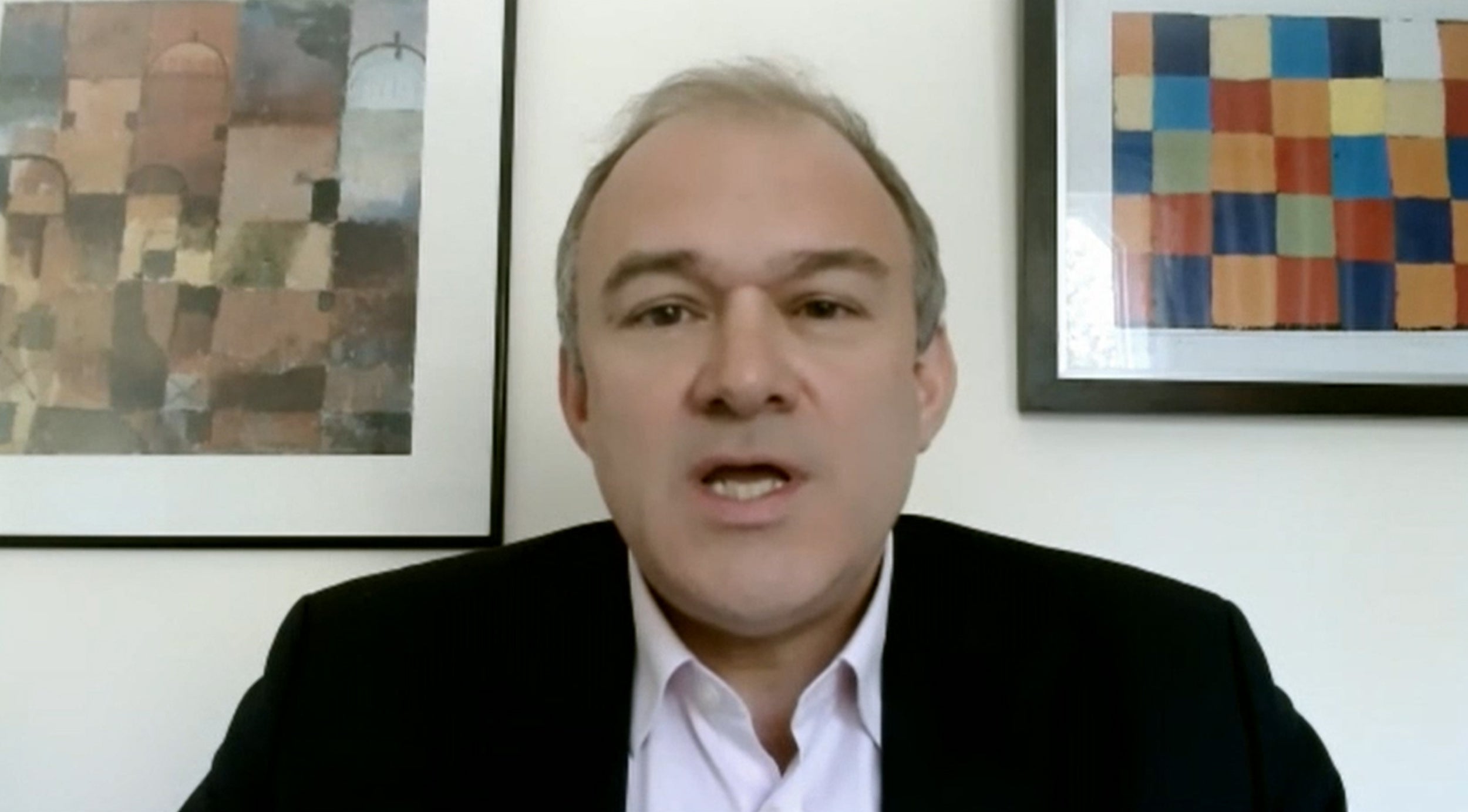 Liberal Democrat acting leader Ed Davey has formally launched his bid to take the job permanently with a promise of a citizen's basic income to help support carers.
The former cabinet minister said that the plan for guaranteed cash support would form part of a "caring revolution" under his leadership.
He said that his own experience of raising a disabled child and looking after for his terminally ill mother as a teenager after his father's death had given him a personal insight into the raw deal suffered by too many carers.
Sir Ed's 12-year-old son John has an undiagnosed neurological condition which means he can not walk or talk properly. He did not say the word 'Daddy' until he was nine years old.
Davey was defeated by Jo Swinson in last year's Lib Dem leadership battle and has held the post on an acting basis since her resignation following the party's poor results in December's general election.
The new leader was initially due to be chosen in July, but the contest was postponed because of the coronavirus outbreak and the postal ballot of members is now due to take place over the summer, with the winner announced on 26 August.
Davey, 54, is by far the most experienced candidate, having entered parliament as MP for Kingston and Surbiton in 1997 and served as energy secretary form 2012-15.
But the other declared challengers - environment spokeswoman Wera Hobhouse and education spokeswoman Layla Moran - argue that the party needs a fresh start, and Davey's campaign may suffer from his association with the coalition government with Tories under David Cameron and Nick Clegg.
Launching his formal campaign, Sir Ed said: "Carers play a tremendous role in our society as we're seeing so clearly with coronavirus.
"But far too often carers get a raw deal - as I've seen through my own experience caring for close family during my life. I'm determined to change that and build a truly caring society.
"A caring revolution starts by properly recognising the unpaid work so many do looking after loved ones - and a Citizens' Basic Income could do just that.
"I also want a new deal for bereaved children and their families. From quality mental health care to more support for young carers, there is much to do. We must build a more caring society post-Covid, and improve the lives of millions.
Liberal Democrat MPs including Ed Davey (centre), Layla Moran (middle row, second from left) and Wera Hobhouse (middle row, far right) (PA)
"These are challenging times for our country - from the deepest recession in 300 years to climate change and Brexit. But I've had to rise to challenges before in my life and I'm determined to lead the Liberal Democrats to rise to today's challenges.
"Liberal Democrats want a more liberal, greener and more caring society and I believe we can be at the heart of making that happen."
Davey won the endorsement of Lib Dem frontbenchers Christine Jardine and Sarah Olney.
Meanwhile, Ms Moran's campaign was bolstered by the backing of defence spokesman Jamie Stone, who said: "If the general election taught us one thing, it's that we as a party have to change.
"In the days of Boris Johnson and Keir Starmer we're going to have to look different and we're going to have to do things differently. I believe that Layla is just what we need."
Join our commenting forum
Join thought-provoking conversations, follow other Independent readers and see their replies