Ed Miliband admits: We won't reverse cuts if we win in 2015
Labour leader seeks voters' trust on economy, as Osborne is told deficit has risen year-on-year
Andrew Grice
Saturday 22 June 2013 00:25 Comments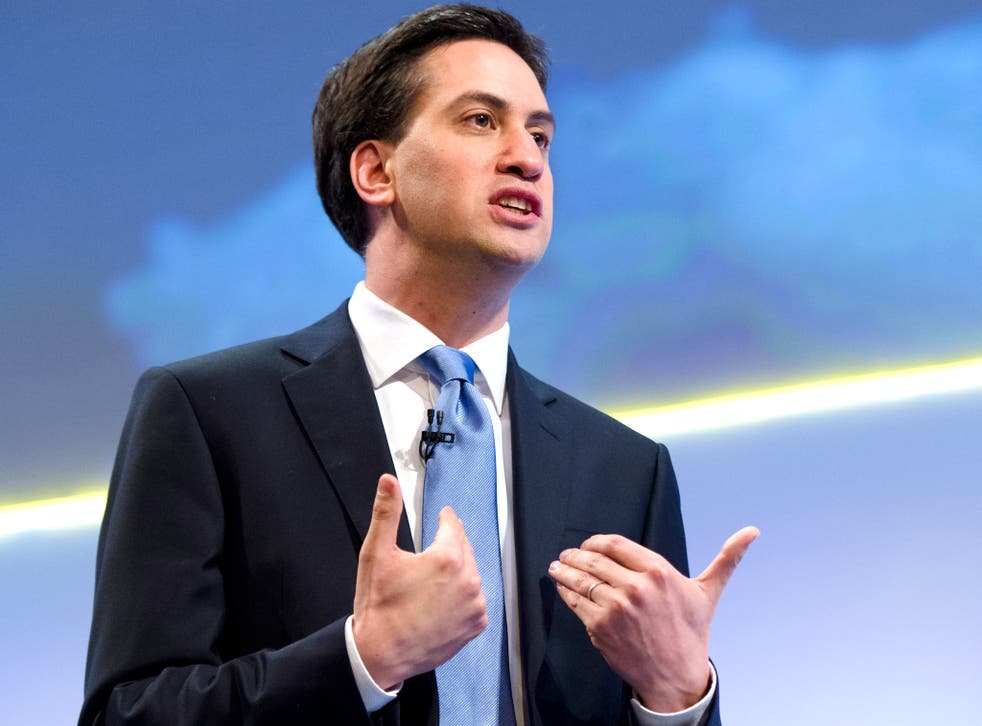 Ed Miliband will tell the Labour Party today that it would not be able to reverse the £11.5bn of spending cuts to be unveiled by George Osborne next week if it forms the next government.
In a speech to his party's national policy forum about the "hard reality" a Labour government would face, Mr Miliband will say: "We won't be able to promise now to reverse them because we can only do so when we can be absolutely crystal clear about where the money is coming from."
The Labour leader will tell the Birmingham conference: "If we win the election, we will come to power in tougher economic circumstances than we have seen in generations and that will have to shape the way we govern. Our starting point for 2015-16 will be that we cannot reverse any cut in day-to-day, current spending unless it is fully funded from cuts elsewhere or extra revenue – not from more borrowing."
In an unpalatable message for some Labour MPs, trade unionists and party members in his audience, Mr Miliband will say: "People will only put their hope in us if we show how we will make a difference. But people will only put their trust in us if we show we are credible. Only if we have the discipline to face the challenge of our times, can we change the direction of our country."
But he will answer Labour critics who fear the party would become a pale imitation of the Conservatives by suggesting that Labour would spend more than Mr Osborne by borrowing to fund infrastructure projects to "invest in the long term". Labour's 2015 manifesto may pledge to build a million new homes in five years.
Mr Osborne will present his government-wide spending review for 2015-16 on Wednesday. He suffered a setback yesterday when the Office for National Statistics (ONS) said government borrowing rose slightly in 2012-13 compared with the previous year, meaning the Chancellor can no longer claim it is falling year on year. Underlying public sector borrowing was £118.8bn, up from £118.5bn in 2011-12, after the ONS revised down its 2011-12 total by £2.4bn. The figures could change again.
There was better news for Mr Osborne when the latest monthly figures showed that borrowing fell to £12.7bn in May, down from £15.6bn a year earlier.
Income tax and national insurance contributions (NICs) in May showed strong growth of 6.9 per cent and 8.5 per cent respectively on a year ago. As The Independent reported on Thursday, many bankers appear to have delayed their bonuses until April to benefit from the cut in the top rate of tax on earnings of more than £150,000 a year. Rowena Crawford, a senior research economist at the Institute for Fiscal Studies, said: "Unfortunately, rather than reflecting strong growth in underlying incomes, this growth is more likely to reflect some high-income individuals pushing part of their income –such as bonuses and special dividends – from the last tax year into the current tax year so as to benefit from the reduction in the top rate of income tax from 50p to 45p."
Monthly borrowing fell to £8.8bn on a different measure which takes into account a £3.2bn one-off windfall from Swiss banks in retrospective tax payments under a deal covering Britons with undeclared bank accounts, and a £3.9bn contribution from the Bank of England's quantitative easing fund. But public sector net debt – the total amount the country owes – rose to £1.19 trillion, up from £1.1tn a year ago.
Chris Leslie, a Labour Treasury spokesman, said: "With borrowing now confirmed as rising last year, these figures are another damaging blow to George Osborne's economic credibility."
The Treasury argued that its policies were working. "The Government is taking tough decisions to deal with the deficit: today's data shows that borrowing is lower than was previously predicted," said a spokesman.
Register for free to continue reading
Registration is a free and easy way to support our truly independent journalism
By registering, you will also enjoy limited access to Premium articles, exclusive newsletters, commenting, and virtual events with our leading journalists
Already have an account? sign in
Join our new commenting forum
Join thought-provoking conversations, follow other Independent readers and see their replies